BWW Press Release: RESIDENT ALIEN, AV TIM FOUNTAIN at Elsker Kulturscene
Stykket vil ha Skandinaviapremiere på Elsker kulturscene, Kristian IVs gate 9, den 2. oktober 2020.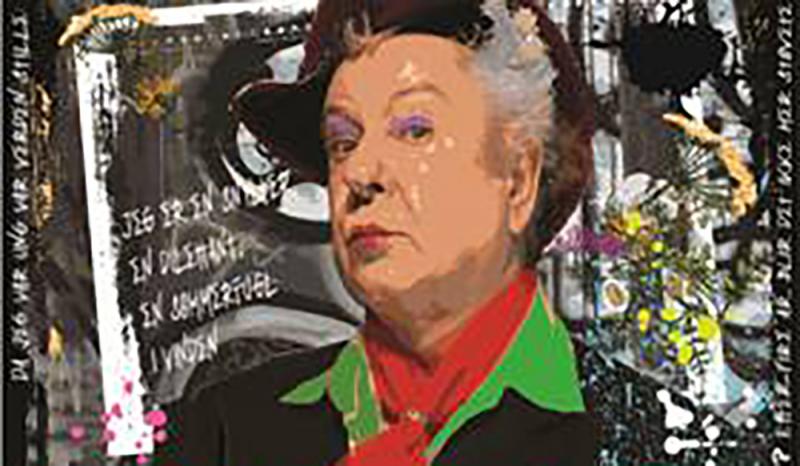 Forestillingen handler om Quentin Crisp (1908-1999) som døde bare en måned før sin 91-dag. Før det hadde hans frittalende tanker, skriverier og alternative livsstil inspirert generasjoner. Da han vokste opp i London-forstaden Sutton, sminket han seg, brukte neglelakk og farget håret i en tid få våget å skille seg ut og ble sjikanert av samfunnet. I en periode var han gutteprostituert og var i over 30 år aktmodell. I årene 1940-81 bodde han på hybel i London, deretter og livet ut i New York. Morten Rudå spiller rollen som Quentin Crisp.

Forestillingen ble til som et Koronaprosjekt i en tid med lediggang på grunn av permiterringer, tapte inntekter og alt det medfører. Jostein Pedersen har alltid drømt om å oversette Resident Alien med Rudå som Quentin Crisp. "Er du gal, sa Morten Rudå for 20 år siden, jeg er alt for ung. Det er forresten du også!" Nå er tiden inne. Alle er blitt mer voksen og skjønner mer av Quentin Crisps tekst som er forbausende aktuell også i dag. Det blir Skandinavia-premiere og de er forbauset over hvor aktuell Quentin Crisp er.

Stykket 'Resident Alien' av Tim Fountain, er en to-akters monolog der Crisp forteller om sitt liv og tar opp aktuelle moralske dilemmaer. Stykket gikk først på Bush Theater i London, deretter New York Theatre Workshop i New York og turnerte Australia. Til manges overraskelse, har han et stort publikum over flere generasjoner der mange av temaene er aktuelle i dag. Dette er en forestilling som ikke bare passer for bare LBTH publikum, men for alle aldersgrupper. Vi søker særlig å nå et yngre publikum da vi mener dette er en festlig måte å oppleve historien på og for å vise at rebeller har levd i tidligere tider også. Hans skriverier gjennom bøker og spalter kom ofte fra middagsavtalene som ble betalt av de inviterte. Han vasket aldri rommet sitt, kjøpte sjelden klær og ertet på seg både homobevegelsen og monarkiet. BBC-serien "A Naked Civil Servant" (1975) sørget for det definitive gjennombrudd etterfulgt av flere bøker, dokumentarer, film, tv- og teater og som ettertraktet intervjuobjekt. I engelsktalende land ble han ofte kalt "vår tids Oscar Wilde".Til sin død ble en avtale med Crisp omtalt som "den heteste billetten i New York". Etter en middag som varte i tre døgn (!), skrev og dediserte Sting sangen "Englishman in New York" til Crisp. Den ble øyeblikkelig en klassiker.
Ole Christian Øen, regi.
Arbeider som Kulturprodusent for Indre Østfold Kommune. Utdannelse i regi og som skuespiller fra Storbritannia. Pedagog og instruktør for en rekke teatre, skoler, NRK og festivaler. Han arbeider både med komiske revyer, urfremførelser og originale musikaler.
Morten Rudå, skuespiller
Har teaterutdannelse fra USA og har arbeidet som skuespiller og pedagog både i USA og Norge. Han behersker både musikkteatret, klassikerne, komedie og krim. Som Tootsie Knutsen var han i mange år en av landets fremste dragdronninger. I USA gjorde han stor lykke som Oscar Wilde i stykket Oscar. Han har hatt tålmodighet når det gjelder rollen som Quentin Crisp. Først nå synes han at tiden er inne.
Jostein Pedersen, oversetter
Journalist og forfatter med fartstid fra Norge og Storbritannia. I mange år var har han ansvarlig for engelskspråklig drama i NRK. Da han så stykket om Quentin Crisp i London, drømte han om å oversette det spesielt til Morten Rudå.
Tim Fountain, forfatter
Født i Dewsbury, West Yorkshire og vokste opp i en pub. Studerte drama ved universitetet i Hull. Etter visninger ved Birmingham Rep og the Royal Court Young Writers' Programme, vant han Pink Papers prestisjetunge pris for skuespillet Last Bus to Bradford. Har vært dramaturg for the Bush. Stykkene hans settes stadig opp. Han underviser ved universitetet i Strathclyde og RADA. Han har skrevet en biografi om Quentin Crisp og stykket Resident Alien (1999).
Art design, plakat og program: Stephan Lee Udbjørg
Språkkonsultent: Per Tofte
Lys og lyddesign og Scenografi: Kompani Alter Ego v/ Fredrik Bjerkan
Kostymeansvarlig: Arnt Øystein Solvang
Stykket vil ha Skandinaviapremiere på Elsker kulturscene, Kristian IVs gate 9, den 2. oktober 2020.
Det spilles videre dobbeltforestillinger lørdag 3. oktober og dobbeltforestillinger søndag 4. oktober.