Playwright Responds To Current Climate With Futuristic Cautionary Tale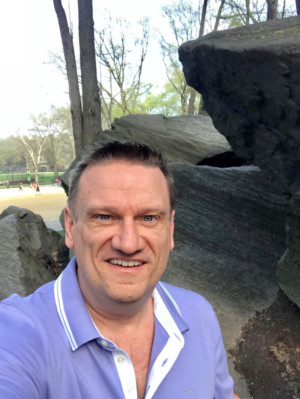 Playwright Gregory G. Allen will have the NJ premiere of his one act play Hiding in Daylight presented as part of the Take Pride, Bloomfield! series happening in Bloomfield, NJ on Saturday, May 19th at 3pm. This program runs January through June, 2018 at the Bloomfield Library and was made possible by an Incubation Grant from the New Jersey Council for the Humanities.
The series examines the LGBTQ community through literature, film, and other experiences while building upon the energy and initiative of the LGBTQ organization Bloomfield Pride.
The May 19th event will be a semi-staged reading and members of Bloomfield's professional theater company 4th Wall Theatre will perform and partake in a Q&A afterwards with the playwright. The piece features: Beth Baur (co-founder of New Jersey School of Dramatic Arts in Bloomfield), Ted Cancila, Bruce McCandless, and Gwen Ricks-Spencer (Executive Director of 4th Wall). This dystopian LGBT tale shares the story of two couples who come together to remember life before a gay purge and must decide if they can continue the risk of a weekly dinner together.
"LGBT Americans have felt we are under attack the last few years and are reacting in
different ways," Allen says. "I decided to raise my voice by writing this futuristic play to show how each change in policy today could lead to something even bigger and scarier in the future."
Allen is an award-winning author who has been in the entertainment industry for 30 years as a writer, actor, filmmaker, and director. As an author, advocate and a public speaker, he has championed for autism awareness, equality, teaching children "it's okay to be different", and telling numbers of stories of the LGBT community. He has been featured and interviewed in The Advocate, Huffington Post, PBS One-on-One with Steve Adubato, Sirius Radio The Morning Jolt, and Next Magazine.
"I've been with my husband for 18 years, married for ten, but lately I've been worried those rights could be reversed," Allen says. "With The Handmaid's Tale such a hit and 1984 on Broadway last summer, I wanted to share a fictionalized projection of what could possibly happen in the future to spark conversation to get people to stand up now."
Instead of simply submitting the play to theaters, Allen has used his play as a movement for pride organizations across the country. Groups are utilizing the one hour play with four characters to be read aloud in front of an audience and then hold conversations afterwards about the story and how we can keep it from coming true. Numerous pride centers and theaters around the country have reached out to the playwright for copies of the play to decide about adding to their calendars. After the New Jersey Premiere there are events already planned in Key West, Florida and Dallas, Texas. For more information, visit: http://bit.ly/LGBTDystopianPlay
"I think it's important for the LGBT community and their allies to support arts that hold up a mirror to their lives," Allen says. "I appreciate 4th Wall (who is producing the LGBT award-winning musical, Fun Home in June) for joining me in working on this premier to get this story heard."
The May 19th event is free and open to the public and takes place at the The Little Theater at the Bloomfield Library, 90 Broadway Street Bloomfield NJ. 973-566-6200. For mature audiences.