Photo Flash: The Development Wing Hosts 4th Annual BROADWAY UNDER THE STARS Gala
Despite a torrential rainstorm midway through the performance, the 4th Annual Broadway Under the Stars played to an SRO crowd in an elegant tent on the historic Tewksbury, New Jersey property of Cherie King, The Development Wing and her husband composer, lyricist and book writer, Jonathan Brielle, Artistic Director of The Development Wing and Vice President, The Johnny Mercer Foundation. Scroll down for photos from the festivities!
Presented by The Development Wing, which has dedicated itself to nurturing new musicals, via partnerships with regional, not for profit theaters, the exclusive, intimate one-night-only benefit concert featured Broadway brightest talents performing songs from several new musicals. A special treat was the inclusion of several newly discovered songs by master tunesmith, the legendary Johnny Mercer.
Cocktails and exquisite hors d'oeuvres were served poolside under gorgeous skies. While guests nibbled on such treats as Beef Short Rib Mini Sliders with Pickled Caramelized Onions & Gruyere Cheese served with a shot of Guinness Stout; Oysters with Mignonette served with a Mini Bloody Mary; Smoked Salmon on a Cumin Roasted Baby Potato served with Lemon Preserves, Creme Fraiche & Caviar and Crab Puff with fried parsley and capers, they perused the tempting array of art, luxury items and one of a kind experiences on display in the Silent Auction.
Kudos for the delectable nibbles to Becky Geisel and Joan Nitti of BEX Eatery and Catering Company, one of the finest caterers and purveyors of healthy gourmet cooking in Hunterdon County.
After cocktails, guests filled the tent as the band played. Co-hosts Jonathan Brielle & Michael Bush doing their best "Bing Crosby & Bob Hope" launched into a smart rendition of the Hoagy Carmichael & Johnny Mercer Academy Award winning "In the Cool, Cool, Cool of the Evening" to the delight of the audience. Brielle followed this with the passionate "I Saw Broadway" from his new musical 40 Naked Women, a Monkey and Me.
Following the opening speeches & welcomes, the crowd was treated to a non-stop concert of tunes from four new musicals: three from Brielle including Himself and Nora, which following a critically acclaimed run at The American Theatre Group's Hamilton Stage is close to financing for a move to Broadway; 40 Naked Women, a Monkey and Merecently seen as in a well received staged reading and Nightmare Alley, a major hit at this summer's New York Musical Theater Festival. As well, the show also featured selections from John Meyer's Heartbreaker, Two Months with Judy Garland. The songs were performed by a dazzling group of Broadway's brightest stars including Cole Burden, LiAnne Marie Dobbs, Rose Hemingway, Ken Pyrmus, Don Rebic and Christine Reisner. They were solidly backed by Brielle and his All Star Band an extraordinary group of musicians who have among them scores of Broadway show credits. The All Stars include Musical Director Jeff Klitz, Piano, Paul Pizzutti, Drums, Mike Hall, Bass, Larry Saltzman, Guitar, Jim Hynes, Trumpet, Ryan Keberle, Trombone, Dan Willis, Reeds and Vito Chiavuzzo, Reeds.
Some of the many highlights included Cole Burden & LiAnne Marie Dobbs' rousing rendition of "River Liffey' from Himself and Nora; Ken Prymus performing "Last Second Chance' from Nightmare Alley; Don Rebic and Christine Reisner on the delightful, "Two Heads are Better than One"; Rose Hemingway doing "Mystery" from Nightmare Alley in which she stars: Cole Burden's powerful rendition of "I Surrender" also from Nightmare Alley" and LiAnne Marie Dobbs, poignant rendition of "When Do the Words Come True" from Meyer's "Heartbreaker.... ", written shortly after Judy Garland's funeral.
Jonathan Brielle who sparkled throughout the entire night as combination elegant host, brilliant musician and totally engaging performer offered the crowd a very special gift in the form of a newly discovered gem by the master Johnny Mercer "I Want to be in Love Again" that brought the audience to its feet. Following the cast bows, the entire company launched into the soulful tune for which Mercer is probably best known, "Moon River".
All this just 60 miles from Broadway! A spectacular fundraiser for The Development Wing and a rare experience for an eclectic audience that included theatrical producers, local residents, many from the horse-back riding community, hedgefunders and executives and just folks who appreciate great songs.
Photo Credit: Ting Pau Oei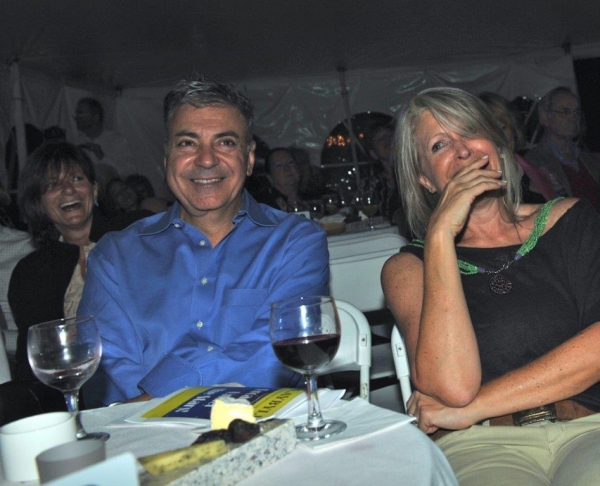 Dr. Silvana Spertus, renowned architect and artist, Arturo Palumbo and DWI Event Chair Cherie King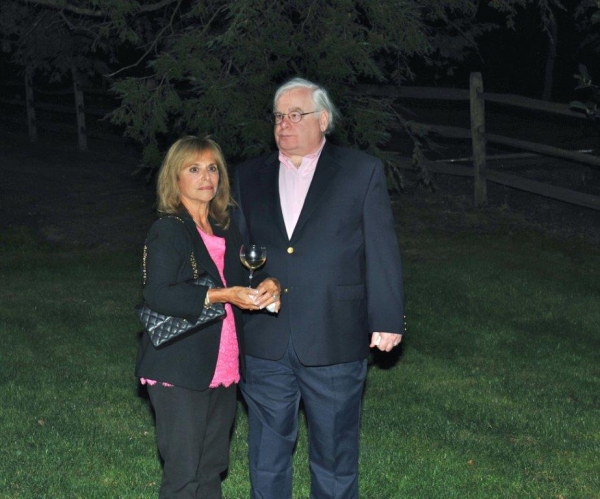 Producers Nancy and Arthur Lee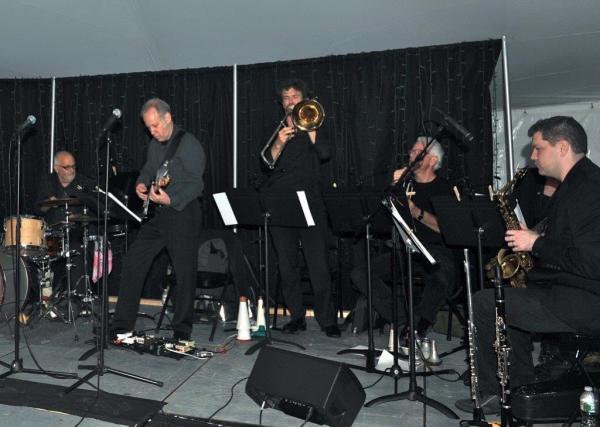 Brielle Band Paul Pizzutte, drums, Larry Saltzman, guitar, Ryan Keberle, trombone, Jim Hynes, trumpet, Dan Willis, reeds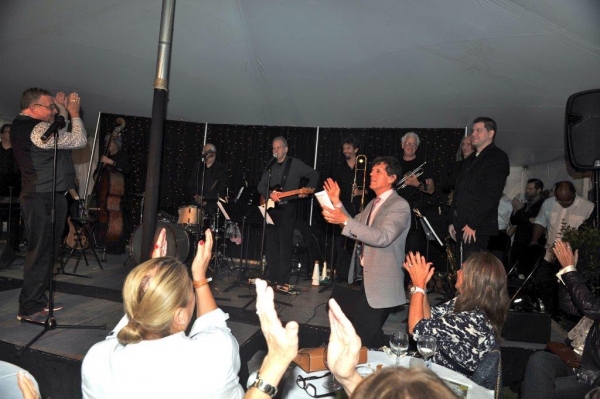 Michael Bush & Jonathan Brielle lead the applause for The Brielle Band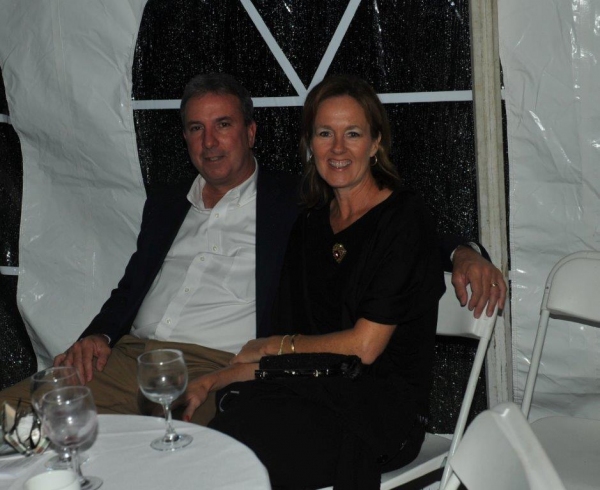 Local residents John & Sheila Bedard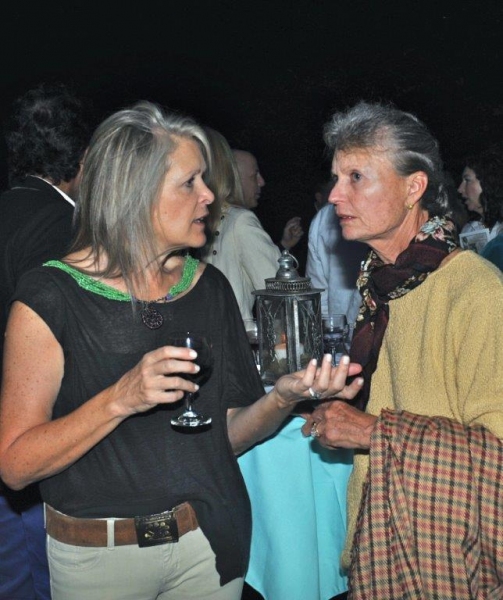 Cherie King and former Brazilian Dressage Champion, Suzana Oei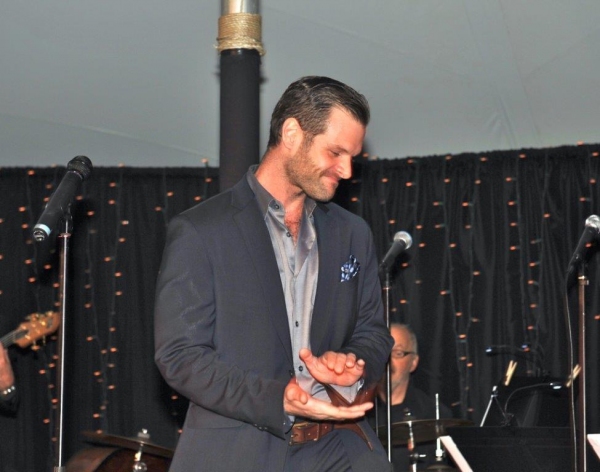 Nightmare Alley star, Cole Burden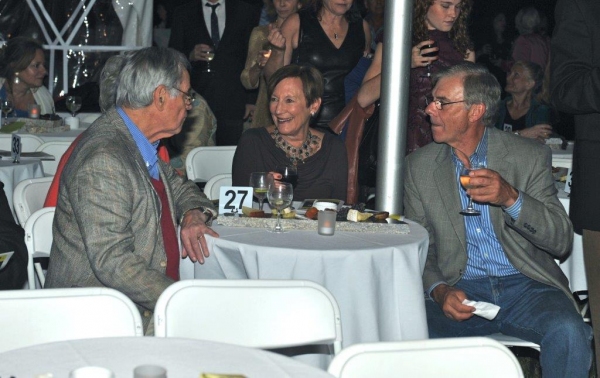 Bob and Barbara Maralus of Crossroads Theater and Geoff Tiffany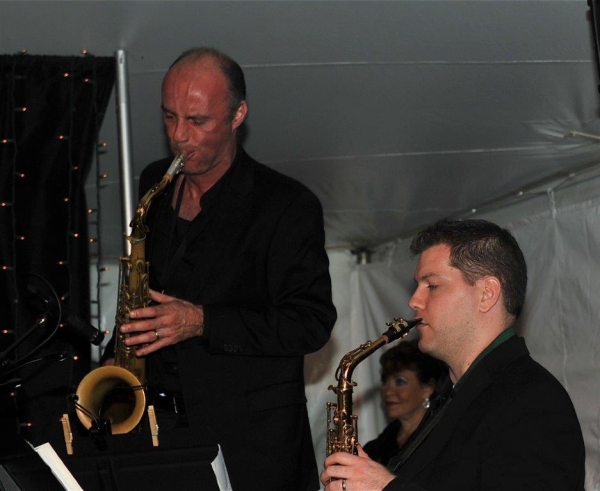 Sax players Dan Willis and Vito Chiavuzzo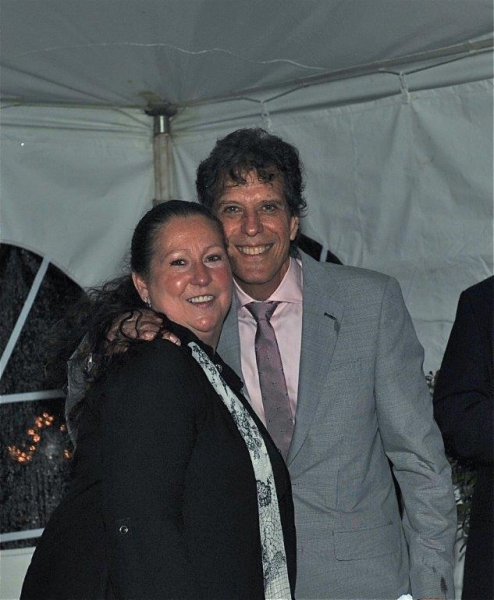 Attorney Leslie Cooper and Jonathan Brielle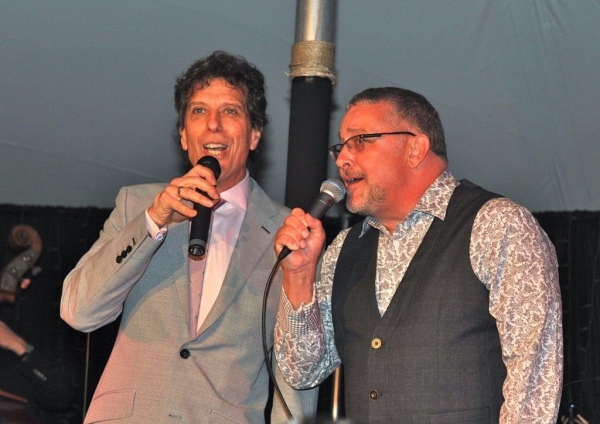 Co-hosts Jonathan Brielle and Michael Bush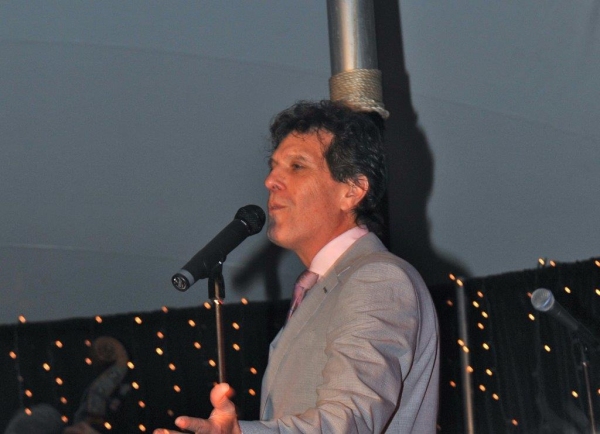 Jonathan Brielle sings his song I Saw Broadway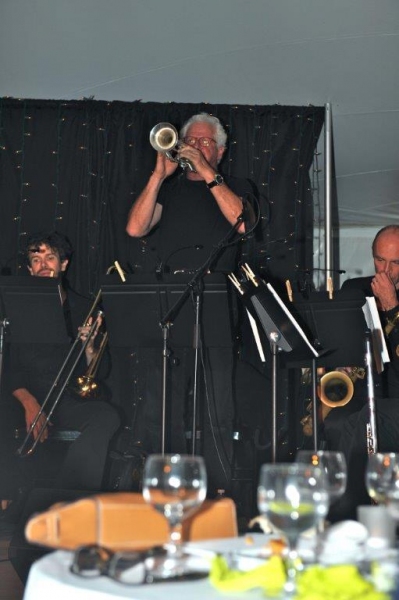 Arranger and Trumpet player Jim Hynes plays a solo of a recently discovered Johnny Mercer tune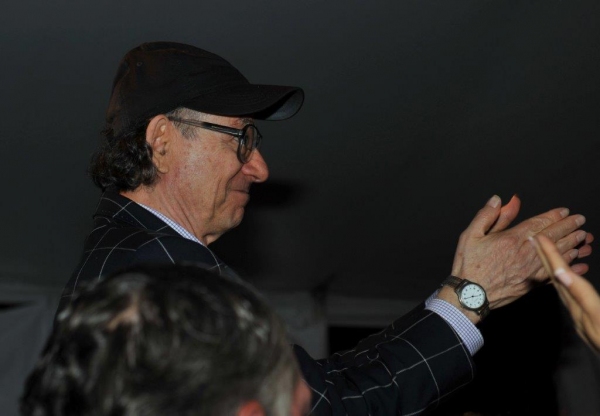 Playwright Composer John Meyer Heartbreaker, Two Months with Judy Garland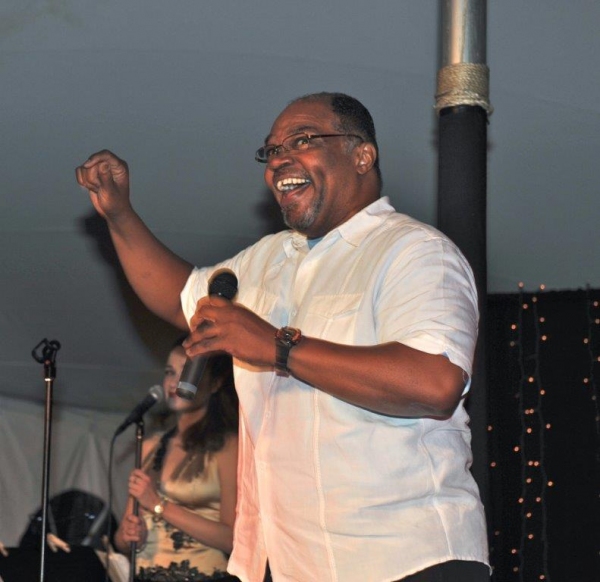 Broadway vet Ken Prymus sings a song from Nightmare Alley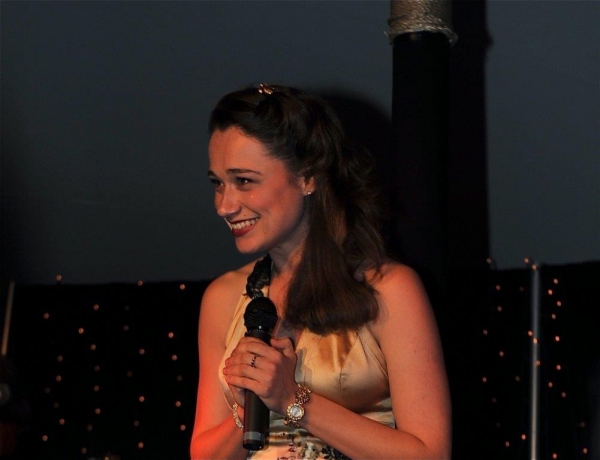 LiAnne Marie Dobbs receiving kudos from author John Meyer after singing his song from 'Heartbreaker, Two Months with Judy Garland'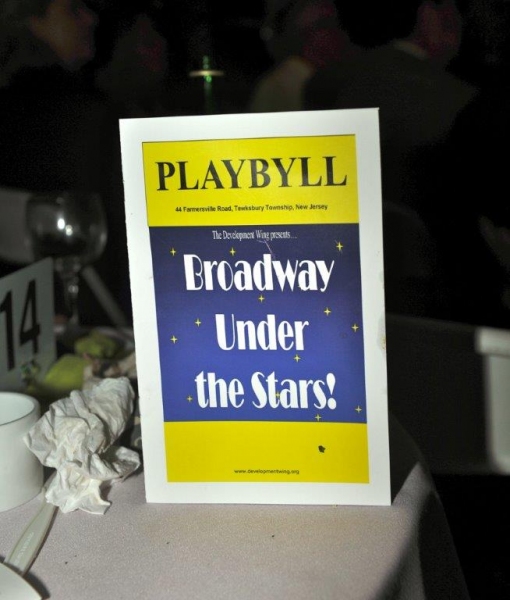 PLAYBILL for the evening's performance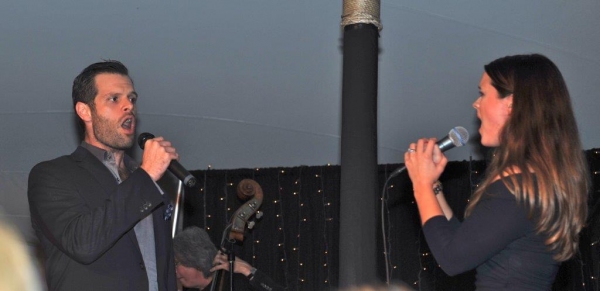 Cole Burden and Rose Hemingway sing the heartfelt duet from Nightmare Alley, 'Nobody Home - I Still Hear It All'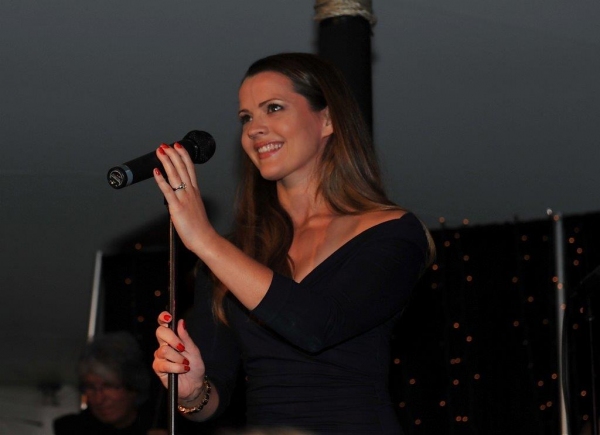 A smiling Rose Hemingway receiving cheers after singing 'Mystery' from Nightmare Alley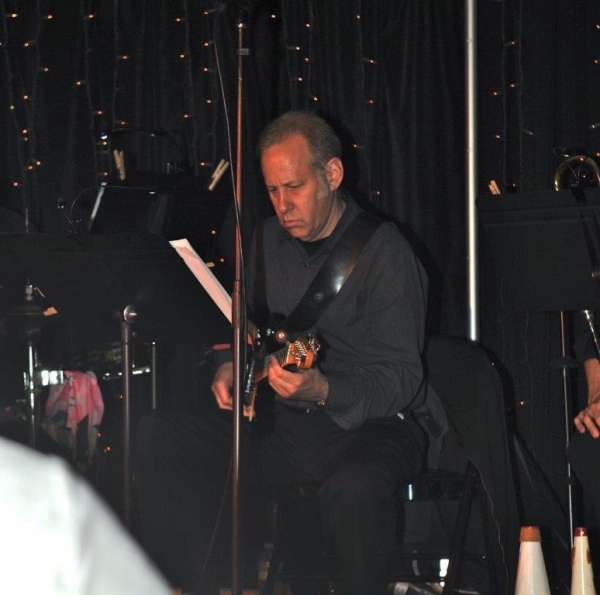 Guitar Player Larry Saltzman takes a night off from Pippin to play for Jon Brielle singing 'Blue City' from '40 Naked Women, A Monkey, and Me'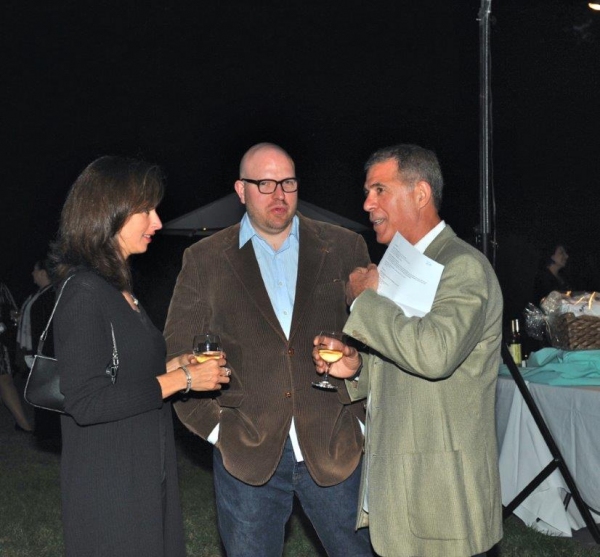 Tara Scrofani conferring with sound designer Brad Berridge and producer, Aldo Scrofani of Theater Management Associates and Tritone Productions.