Photo Flash: THE BRIDGE OF SAN LUIS REY Comes to Two River Theater
Two River Theater (Artistic Director John Dias, Managing Director Michael Hurst) presents the world premiere of The Bridge of San Luis Rey by Thornton Wilder, adapted by David Greenspan, directed by Ken Rus Schmoll. The press opening is Friday, February 23 at 7 pm and performances will continue through Sunday, March 18 in Two River's Marion Huber Theater, 21 Bridge Avenue, Red Bank, NJ. Tickets are available from 732.345.1400 or tworivertheater.org.
The Bridge of San Luis Rey was published in 1927 and won Thornton Wilder the first of his three Pulitzer Prizes. Five-time Obie Award-winning playwright and actor David Greenspan leads a nine-actor company in the role of Uncle Pio, the play's narrator.
The cast of The Bridge of San Luis Rey includes Sumaya Bouhbal (Pepita), David Greenspan (Uncle Pio), Zachary Infante (Esteban),Julienne Hanzelka Kim (Madre María), Elizabeth Ramos (Camila Perichole), Steven Rattazzi (Don Vicente/Don Andrés de Ribera/Captain Alvarado/Jaime/Inez), Mary Lou Rosato (Doña María), Bradley James Tejeda (Manuel) and Madeline Wise (Doña Clara).
The creative team includes scenic designer Antje Ellermann, costume designer Elizabeth Hope Clancy, lighting designer Yuki Nakase, and sound designer Karin Graybash. The wig designer is David Bova and the puppet consultant is Eric Wright. The casting is by Taylor "Sharky" Williams, and the stage manager is Megan Smith.

Madeline Wise (Doña Clara), Steven Rattazzi (Don Vicente), Sumaya Bouhbal (Pepita), David Greenspan (Uncle Pio), and Mary Lou Rosato (Doña María) in The Bridge of San Luis Rey at Two River Theater

Mary Lou Rosato (Doña María), Madeline Wise (Doña Clara, in background), Julienne Hanzelka Kim (Madre María), and David Greenspan (Uncle Pio) in The Bridge of San Luis Rey at Two River Theater

Bradley James Tejeda (Manuel), Elizabeth Ramos (Camila Perichole), and Zachary Infante (Esteban) in The Bridge of San Luis Rey at Two River Theater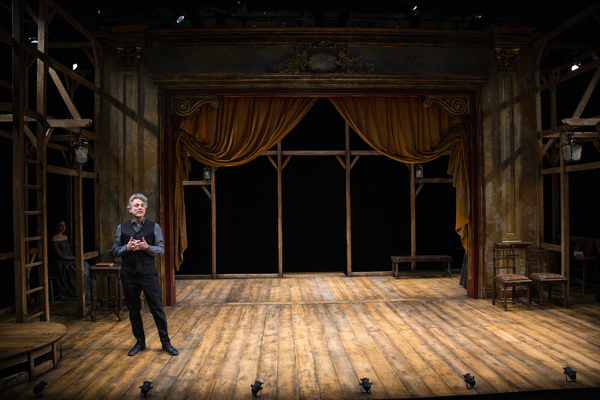 David Greenspan in The Bridge of San Luis Rey at Two River Theater