Photo Flash: HIGH SCHOOL MUSICAL at Paper Mill Playhouse
Paper Mill Playhouse (Mark S. Hoebee-Artistic Director, Mark W. Jones-Executive Director) is currently presenting Paper Mill's premiere of Disney High School Musical directed by Paper Mill's Artistic Director Mark S. Hoebee. Denis Jones (Associate Choreographer of Legally Blonde) choreographs.  Disney High School Musical is based on the Emmy Award® winning Disney Channel hit musical and triple-platinum selling soundtrack.  Disney High School Musical began performances at the Millburn theatre on November 5 and will run through December 7, 2008.  Disney High School Musical is sponsored by RBC Wealth Management.
Disney High School Musical plays the following performance schedule: Wednesdays at 7:30PM, Thursdays at 2:00PM & 7:30PM, Fridays at 8:00PM, Saturdays at 2:00PM & 8:00PM and Sundays at 2:00PM & 7:30PM.  Single tickets are now on sale and range in price from $25 to $92.  Student rush tickets are $20 and are available the day of performance in person with current student ID. Tickets may be purchased by calling 973-376-4343, or at the Paper Mill Box Office at 22 Brookside Drive in Millburn, or online at
www.papermill.org.
  Visa, MasterCard, Discover and
American Express
accepted.  Groups of ten or more can receive up to a 35% discount on tickets and should call 973-379-3636 ext. 2438. Disney High School Musical is a contemporary Romeo and Juliet musical comedy.  Troy, captain of the basketball team, and Gabriella, a shy academically gifted transfer student discover they share a secret passion for singing.  When they audition together for the lead roles in the school musical, it threatens East High's rigid social order and sends their peers into an uproar.  The "jocks", "brainiacs", and "thespians" hatch convoluted plots to separate the pair and keep them off the stage.  However, by taking chances and defying expectations, the couple inspires other students to explore and showcase their own hidden talents.Disney High School Musical brings a sensational cast to the Paper Mill stage. 
Chase Peacock
(Troy Bolton) was in the national tour of High School Musical. His other theatre credits include: Les Miserables and 'Linus' in You're in High School, Charlie Brown for which he wrote the score. 
Sydney Morton
(Gabriella Montez) has performed in
West Side Story
at Pittsburgh Civic Light Opera and Seven Brides, Miss Saigon, and
White Christmas
at The St. Louis Muny Theatre. 
Bailey Hanks
(Sharpay Evans) is the winner of the MTV reality series '
Legally Blonde
The Musical: The Search for Elle Woods' and she comes to us directly from the Broadway production of
Legally Blonde
.  Ms. Hanks' theatre credits include: Seussical;
Gypsy
; Hello, Dolly!; The Music Man; A Funny Thing Happened On the Way to the Forum; and Annie.  In 2000 she sang the national anthem for President
Bill Clinton
. The South Carolina native and former Miss Liberty Teen 2005 studied musical theatre at Coastal Carolina University.
Logan Hart
(Ryan Evans) has performed in the national tour of Circle of Life Review and performed internationally in Broadway Rhythm Review.  Mr. Hart's additional theatre credits include: Alter Boyz, Parade, Seven Brides, Little Women, Footloose, Pippin, and Pirates of Penzance.
Donna Englis
h (Ms. Darbus) returns to Paper Mill after last performing in Meet Me In St. Louis (2007), Harold and Maude (2005), The Sound of Music (2003) and Secret Garden (1995).  Ms. English performed on Broadway in
George Abbott
's play Broadway.  Her additional New York credits include: The Gig,
Forbidden Broadway
SVU: Special Victims Unit, Taking a Chance on Love, Ruthless (Drama Desk Award Nomination), and the revival of Company.  
Patrick Boll
(Coach Bolton) has performed on Broadway in: Faith Healer, Twentieth Century,
Hedda Gabler
, The Adventures of
Tom Sawyer
, Death of a Salesman and Off-Broadway in Henry and Mudge.  His television credits include: 'Law and Order, Law and Order: Special Victims Unit', and 'As the World Turns'.  Most recently Mr. Boll can be seen in the film Burn After Reading.  Additional principles include:
Krystal Joy Brown
(Taylor McKessie),
Justin Keyes
(Chad Danforth),
Joseph Morales
(
Jack Scott
),
Stephanie Pam Roberts
(Kelsi Neilson), and
Sean Samuels
(Zeke Baylor). Rounding out the Disney High School Musical cast are:
Deanna Aguinaga
,
Adrian Arrieta
,
Kristy Cavanaugh
,
Brittany Conigatti
,
Beth Crandall
,
Charity DeLoera
,
Dean deLuna
,
Sean Ewing
,
Zach Frank
,
Taylor Frey
,
Marissa Joy Ganz
,
Spencer Kiely
,
Sam Kiernan
,
Victoria Meade
,
Christopher Messina
,
Joline Mujica
,
Dennis Necsary
,
Krista Pioppi
,
Jessica Rochwarger
,
Dante Russo
, and
Becca Tobin
.
Paper Mill Playhouse
, a not-for-profit arts organization, is one of the country's leading regional theatres. Paper Mill's programs are made possible, in part, by funds from the New Jersey State Council on the Arts/Department of State, A Partner Agency of the National Endowment for the Arts. Additional major support is provided by funding through a grant from the New Jersey Department of State, the National Endowment for the Arts, and generous contributions from many corporations, foundations, and individuals.
Paper Mill Playhouse
is a member of Theatre Communications Group, the National Alliance for Musical Theatre, the Council of Stock Theatres, and the New Jersey Theatre Alliance.
For more information please visit www.papermillplayhouse.org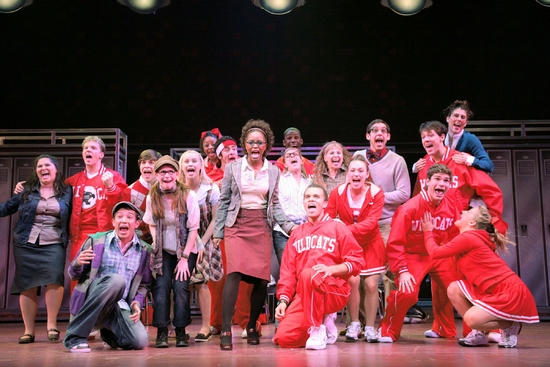 Joline Mujica, Zach Frank, Joseph Morales, Adrian Arrieta, Stephanie Pam Roberts, Becca Tobin, Charity Sharday De Loera, Sean Ewing, Krystal Joy Brown, Sean Samuels, Beth Crandall, Justin Keyes, Marissa Joy Ganz, Brittany Conigatti, Sam Kiernan, Dennis Necsary, Taylor Frey, Deanna Aguinaga and Kristy Cavanaugh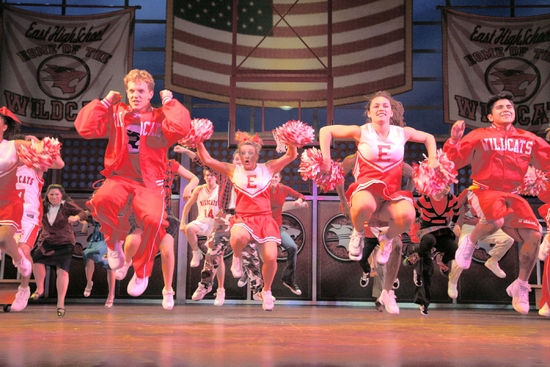 Joline Mujica, Zach Frank, Chase Peacock, Christopher Messina, Kristy Cavanaugh, Victoria Meade, Brittany Conigatti and Dean deLuna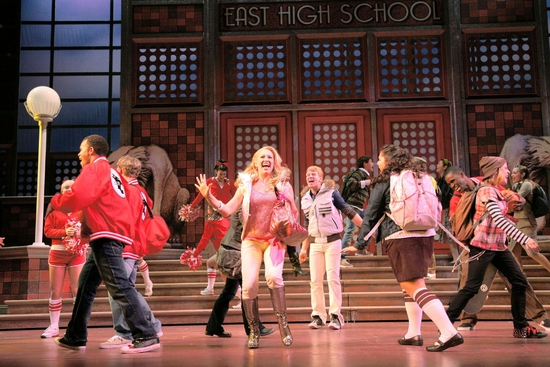 Becca Tobin, Justin Keyes, Zach Frank, Deanna Aguinaga, Bailey Hanks, Logan Hart, Dennis Necsary, Joline Mujica, Krista Pioppi, Sean Samuels, Beth Crandall and Victoria Meade

Chase Peacock (Troy) and Sydney Morton (Gabriella)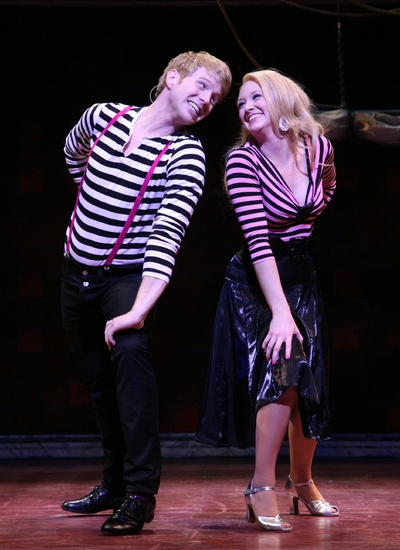 Logan Hart (Ryan) and Bailey Hanks (Sharpay)

Zach Ryan, Taylor Frey, Chase Peacock (Troy), Dean deLuna, Justin Keyes (Chad), Brittany Conigatti and Charity Sharday De Loera

Sean Samuels (Zeke), Justin Keyes (Chad), Chase Peacock (Troy), Dennis Necsary and Zach Frank

Charity Sharday De Loera, Brittany Conigatti, Chase Peacock (Troy), Marissa Joy Ganz, Dennis Necsary, Joseph Morales, Sydney Morton (Gabriella) Krista Pioppi, Adrian Arrieta and Spencer Kiely

Chase Peacock (Troy) and the Wildcats

Krystal Joy Brown (Taylor) and Justin Keyes (Chad)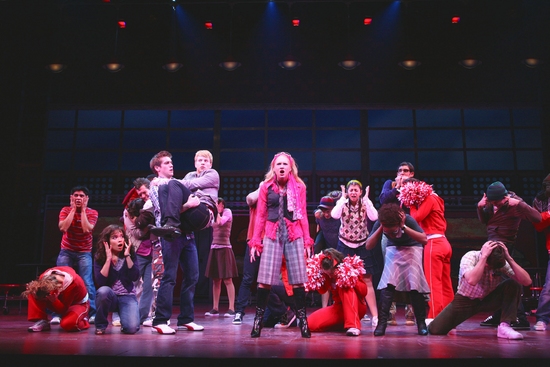 Kristy Cavanaugh, Dean deLuna, Sydney Morton (Gabriella), Joline Mujica, Christopher Messina, Chase Peacock (Troy), Logan Hart (Ryan), Victoria Meade, Bailey Hanks (Sharpay), Dante Russo, Beth Crandall, Deanna Aguinaga, Krista Pioppi, Krystal Joy Brown, Sam Kiernan, Brittany Conigatti, Adrian Arrieta and Joseph Morales

Donna English as Ms. Darbus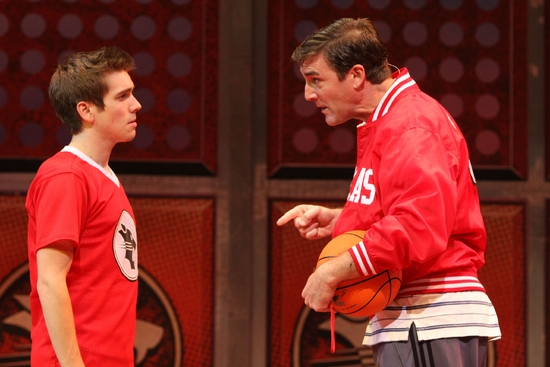 Chase Peacock (Troy) and Patrick Boll (Coach Bolton)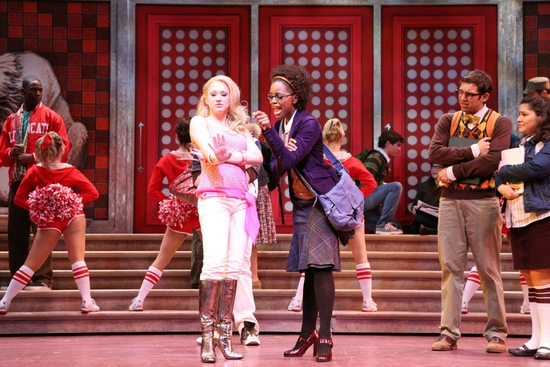 Sean Samuels (Zeke), Bailey Hanks (Sharpay), Krystal Joy Brown (Taylor), Dennis Necsary, Sam Kiernan and Joline Mujica
Photos by Gerry Goodstein