MCCC's Theatre Program to present MEDEA, 12/1-3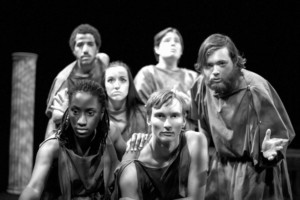 Greek mythology comes to life in "Medea," to be performed by the Mercer County Community College (MCCC) Theatre/Dance Program on Friday and Saturday, Dec 1 and 2 at 7:30 p.m., and Sunday, Dec. 3 at 3 p.m.
The show will be presented in MCCC's Studio Theatre, located next to Kelsey Theatre on the college's West Windsor Campus, 1200 Old Trenton Road. Theatre Program Coordinator Jody Gazenbeek-Person will host a workshop at 5 p.m. on opening night, Dec. 1, and a talk-back following the performance. The show runs approximately 90 minutes with no intermission.
First produced in 431 B.C., Euripides' "Medea" touches on themes that remain strikingly relevant: infidelity, revenge, alienation, and a quest for power. When the play opens, Medea is devastated by the loss of her husband, Jason (of Golden Fleece fame). He has left her for Glauce, a wealthy royal who can advance his political ambitions. With no good options to salvage her future, Medea's sadness turns to vengeance and her response is to kill Jason's new wife, along with her own children. Then she flees to Athens to start life anew.
According to Gazenbeek-Person, this adaptation will blend stylized Greek tragedy with American realism. In the title role is Equity actress Deena Jiles-Shuaib of Trenton, who attended Mercer in the 2000s and starred in "Hedda Gabler" in a student production.
"We are thrilled to have Deena returning to star in this show, alongside our theater and dance students," Gazenbeek-Person said. "She will bring tremendous power and talent to her role. Her experience as a professional actress will enrich the production as a whole and will provide a stellar learning opportunity for our students."
And while Medea's actions drive the plot, every role is significant. "Most of the cast are members of the chorus. They are on stage most of the time and help to explain the drama as it unfolds. They show sympathy for Medea's plight and try to encourage her and other characters to make the right decisions, even as the disastrous events play out before them," Gazenbeek-Person said.
Also starring are Charles Acosta of Philadelphia, Pa., as Jason; Jamil Long of Ewing as Creon; and Samir Kirkland of Ewing as Aegeus.
Featured in the chorus are Amy Annucci of Ewing, Cole Montplaisir of Robbinsville, Daniel Montero of Ewing, Eric Salcfas of New Egypt, Kimberly King of Hamilton, Krystan Ellis of Trenton, and Tim Prill of Trenton.
The production team includes Producer/Choreographer Jody Gazenbeek-Person, Director LouJ Stalsworth, Costume and Set Designer Kate Pinner, Stage Manager Nicole Schulnick, Assistant Stage Manager E. Lukas DiGiacomo, and Lighting Designer Star McCloud. MCCC Entertainment Technology students will assist with lighting and sound.
Tickets for "Medea" are $18 for adults, $16 for seniors, and $14 for students and children. Free parking is available next to the theater. Tickets may be purchased online at www.kelseytheatre.net or by calling the Kelsey Box Office at 609-570-3333.
More Hot Stories For You