Kelsey Theatre at Mercer County Community College Presents THE FANTASTICKS
The show runs weekends from Friday, February 3 through Sunday, February 12.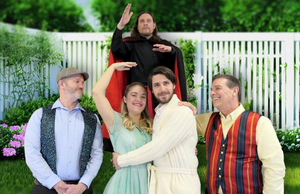 Kelsey Theatre continues its outstanding series of 2023 productions with Theater to Go's presentation of "The Fantasticks." The show runs weekends from Friday, February 3 through Sunday, February 12. Kelsey Theatre is located at 1200 Old Trenton Road on the Mercer County Community College campus in West Windsor.
A modern twist on Romeo and Juliet, "The Fantasticks" is the quintessential story of two young lovers who grow apart when they realize they want to experience the world. A charming and heartwarming story appropriate for all ages, the score includes timeless songs such as "Try To Remember", "Soon It's Gonna Rain" and "They Were You."
The show is directed by Ruth Markoe with musical direction by Sue Den Outer.
The ensemble includes Matt Lafargue of Dunellen as El Gallo, James Zimmerman of Hamilton as The Mute, Christina Freeman of Chester as Luisa, Thomas Wick of Yardley, Pennsylvania as Matt, Tom Chiola or Trenton as Hucklebee, Jim Morris of Hamilton as Bellomy, Bill Agress of Lawrenceville as Henry, and Barry Leonard of Monroe as Mortimer.
Members of the production team include set design by Shawn Simmons, TC Coppoleccia and Haley Schmalbach, choreography by Emily O'Sullivan, fight choreography by Terri McIntyre, lighting design by Kitty Getlik, lighting design and board operation by Lucas Swanhart, costumes and props by Ruth Rittman, costumes by Melissa Rittmann, sound by Eric Collins and photography and programs by Mark Violi.
Performance Dates
Friday, Feb. 3 at 8 p.m.
Saturday, Feb. 4 at 8 p.m.
Sunday, Feb. 5 at 2 p.m.
Friday, Feb. 10 at 8 p.m.
Saturday, Feb. 11 at 8 p.m.
Sunday, Feb. 12 at 2 p.m.
Tickets are $24 for adults and $22 for children, students and senior citizens. Tickets may be purchased online at Click Here or by calling the Kelsey Box Office at 609-570-3333.
Kelsey Theatre is wheelchair accessible and free parking is available next to the building. Assisted listening devices are available upon request. For a complete listing of events, visit the Kelsey website at www.KelseyTheatre.org.
Please note that masks are recommended but not required while in the theatre.