Jake Shimabukuro Comes to MPAC This Fall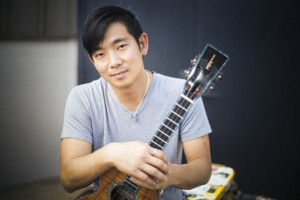 Ukulele superstar Jake Shimabukuro comes to Mayo Performing Arts Center on Thursday, October 26 at 8 pm. He is touring in support of his critically acclaimed new album Nashville Sessions, which was called "an adventurous, dazzling album" by the Associated Press.
"I'm looking forward to the upcoming shows this year," said Shimabukuro. "I have a new setup for my electric ukulele that gives me access to new sounds and timbres that I never incorporated before. I'll be performing lots of new material as well as new arrangements of old songs. A few of my favorite moments in the show include an ukulele and bass duet of Queen's "Bohemian Rhapsody" and
George Harr
ison's "While My Guitar Gently Weeps" - and a ten-minute version of "Dragon," which utilizes a looper, analog echoes, finger tapping, and heavy metal distortion. I always try to maintain a balance of traditional music with the edgier modern sounding pieces. Every show is a little different, which keeps things fresh and exciting. The most important thing is everyone has a great time and walks away with a smile." Accompanying Shimabukuro on tour will be longtime bassist Nolan Verner and guitarist Dave Preston. They will perform songs from Jake's most recent albums, Live in Japan (2015) and Travels (2015), favorites from his 15-year career, and several songs from his studio album Nashville Sessions. His first album of all original songs, Nashville Sessions is one of Jake's most adventurous, multifaceted and engaging recordings yet. At the suggestion of his manager, Jake went into a Nashville studio this past January to jam with two top Nashville session players, Jake's bassist Nolan Verner and drummer Evan Hutchings. "At first I was hesitant," Shimabukuro admits. "'We're just going to go in and jam? Really? With nothing prepared?' I never dreamed we would leave the studio six days later with a full album." The result is one of the boldest and most unique ukulele records ever made, and one that will touch the heart of
Jake Shimabukuro
's fan base while enticing new listeners from all across the musical spectrum.
Watch Jake perform "Kilauea" from the upcoming Nashville Sessions here:
https://www.youtube.com/watch?v=Q8aKlQOUaMc&feature=youtu.be
About
Jake Shimabukuro
:
Called "one of the hottest axemen of the past few years [who] doesn't actually play guitar" (Rolling Stone),
Jake Shimabukuro
has become one of the most exceptional and innovative uke players in the history of the instrument-an artist who has drawn comparisons to musical titans such as
Jimi Hendrix
and
Mi
Les Davis
. Throughout his rich and varied catalog of albums, Jake captures the many moods of the uke, fearlessly traversing boundaries and putting his inspired touch on everything from island standards, to popular tunes and classical symphonic concertos. He has collaborated with artists from
Yo-Yo Ma
,
Jimmy Buffett
,
Jack Johnson
and
Cyndi Lauper
to
Ziggy Marley
,
Dave Koz
,
Lyle Lovett
and
Bette Midler
, and wowed audiences at SXSW, Bonnaroo, the Playboy Jazz Festival, and the cutting-edge TED conference. Noted for his solo uke arrangements of such varied pieces as Queen's "Bohemian Rhapsody," the Beatles "While My Guitar Gently Weeps," Schubert's "Ave Maria" and
Leonard Cohen
's "Hallelujah," Jake just released Nashville Sessions, his first album of all original songs, which Associated Press called "an adventurous, dazzling album." Jake balances music with family life and community service, traveling to schools around the world spreading positive messages to young people, encouraging them to live drug-free and find their passion. Just last month, he completed an ambitious goal of repairing 100 damaged Kamaka ukuleles for Hawaii public schools. Mayo Performing Arts Center, a 501(c)(3) nonprofit organization, presents a wide range of programs that entertain, enrich, and educate the diverse population of the region and enhance the economic vitality of Northern New Jersey. The 2017-2018 season is made possible, in part, by a grant the New Jersey State Council on the Arts/Department of State, a Partner Agency of the National Endowment for the Arts, as well as support received from the F.M. Kirby Foundation and numerous corporations, foundations and individuals. The Mayo Performing Arts Center has been designated a Major Presenting Organization by the New Jersey State Council on the Arts. Mayo Performing Arts Center was named 2016 Outstanding Historic Theatre by the League of Historic American Theatres, and is ranked in the top 50 mid-sized performing arts centers by Pollstar Magazine.