HAIR Extends At Black Box PAC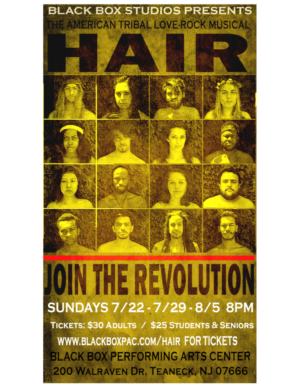 Following a stellar second season of professional theater, Black Box Studios' new, completely immersive production of HAIR - celebrating the show's 50th anniversary - was originally set to run for just three weekends, from June 21 to July 8. After sold-out performances and by popular demand, HAIR has been extended for three more performances only!
HAIR's "Tribe" features NBC's The Voice Finalist Stephan Marcellus, along with Sam Cancelarich, Brennen Dopwell, Kira Gavalakis, Samuel Hapner-Goldman, Nachi Lederer, Miranda Luze, Danielle MacMath, Bishon Prushankin, Camille Sims, DaShaun Williams, and Conor Wilson. HAIR - presented in special arrangement with Tams-Witmark Music Library Inc. - is directed by BBPAC Artistic Director Matt Okin, with Musical Director/Bandleader STATiC, Guitarist Ben Shanblatt, Drummer Mark Papianni, Choreographer Nachi Lederer, Assistant Director Bishon Prushankin, Stage Manager Jason Felix, and Designer Nimon Ibrahimaj.

Audiences are raving about BBPAC's HAIR: "Saw "Hair" last night. The band, lead by STATiC, was hot. The. Singing. Was. Amazing!" writes Kikko P. Some viewers have come back multiple times. Some fans even mouth along all of the words to the songs. Don't miss your chance to join The BBPAC HAIR Tribe for their final three performances!
Final chances to be part of this Bergen County phenomenon are three select Sundays this summer: July 22, July 29, and August 5 at 8:00PM. Viewer discretion is advised. Performances are at the Black Box Performing Arts Center: 200 Walraven Drive, Teaneck, NJ 07666. Tickets are available at www.blackboxpac.com/hair.