East Lynne Celebrates The 1920s In Film, Radio, and with A Gala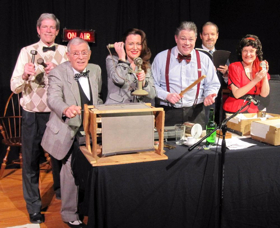 During the next few weeks, the award-winning Equity professional East Lynne Theater Company celebrates the 1920s.
On Sunday, October 29 at 7:30 PM, ELTC presents the 1920 silent film classic, "The Cabinet of Dr. Caligari," with live organ accompaniment played by Wayne Zimmerman. This film is considered the first horror film, and the first example in cinema of German Expressionism. It begins at a carnival where a sideshow operator, Dr. Caligari, played by Werner Krauss, exhibits Cesare, a Somnambulist, played by Conrad Veidt. Caligari claims that Cesare has been sleeping since birth, and keeps him in a coffin. Caligari also claims that he can answer any question, including when someone will die.
On Friday and Saturday, November 3 and 4 at 8:00 PM, it's "Sherlock Holmes Adventure of the Speckled Band," in which Holmes and Watson race against time to stop the bizarre murders in an eerie country manor. Performed "radio-style" with live sound effects and commercials, it is based on one of Sir Arthur Conan Doyle's personal favorites and his play "The Stoner Case," adapted by Craig Wichman, with the permission of Dame Jean Conan DoylE. Craig is the founder and producer of Quicksilver Radio Theater. His script received the National Federation of Community Broadcasters' "Gold Reel" for Radio Drama Award. Portraying Holmes and Watson are Lee O'Connor and Fred Velde, with Marty McDonough, Susan Tischler and Gayle Stahlhuth playing multiple roles, along with Rob LeMaire, who also operates the sound effects.
The above events take place at The First Presbyterian Church, 500 Hughes St., Cape May, where ELTC is in residence. Call 609-884-5898 for information and reservations, or visit the website, eastlynnetheater.org. Tickets for the film are $15 and for "Sherlock Holmes," $27 and $17 for students and military. For both, anyone age 12 and under is free.
On Monday, November 6, ELTC presents its annual fundraiser, with this year's theme "The Roaring Twenties," in which guests are encouraged to wear costumes from the period. Scenes and music further embrace the mood, with Mark Edward Lang as the evening's MC, assisted by Rob LeMaire. Both recently appeared in ELTC's "Ah, Wilderness!" Live music is provided by Chris Sooy and Lew London on piano and violin, with Jennie Bissell and Jared Noah Aronoff singing favorites from the era. Jared played Wint in "Ah, Wilderness!" and Jennie took on several roles, including that of a nurse from New Jersey, in ELTC's recent world premiere, "A Year in the Trenches."
The gala begins at 5:30 PM with hors d'oeuvres and a cash bar. At 6:00 PM dinner is served, and at 7:00 PM, the entertainment begins. There is also a silent auction, the raffle for the Dream Vacation (tickets may be purchased in advance by contacting the office), and the recipient of the Historic Jackson Street Neighborhood Association Scholarship Fund will be announced.
Aleathea's Restaurant at the Inn of Cape May, at 7 Ocean Street, is once again graciously hosting ELTC's gala. Cost is $75, and reservations may be made by calling ELTC at 609-884-5898, or mailing checks to East Lynne Theater Company, 121 Fourth Ave., West Cape May, NJ 08204, or by visiting www.eastlynnetheater.org, under the NEWS heading. If ordering online, please send an e-mail to eastlynneco@.aol.com with the entrée selection: crab cakes and filet mignon, or vegetarian, and send a note stating the choices, when mailing a check. All proceeds go to the not-for-profit East Lynne Theater Company to support the production season and educational outreach.
Photo Credit: Frank Smith
More Hot Stories For You