Constantine Maroulis, Erich Bergen, and More Among Lineup at New Avenel Performing Arts Center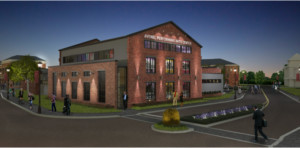 The new Avenel Performing Arts Center (APAC) is a multi-disciplinary performing arts center located in Avenel, New Jersey. Funded by the Woodbridge Arts Alliance, this 13,500 square foot venue promises to energize Avenel and surrounding communities by programming exceptional, professional theatre, music, comedy, dance and more.
Woodbridge Arts Alliance will build and expand on these existing arts activities to further activate the Township of Woodbridge as a regional hub for the arts. The goal is to inform and help build capacities needed to organize and distinguish Woodbridge as an arts destination to help advance the economic position of artists, creative entrepreneurs and associated entities.
Mayor John E. McCormac appointed Anthony J. Wilkinson - creator and star of the My Big Gay Italian Trilogy Off-Broadway series - three-time Emmy Award winner and Best Supporting Actor Daytime Emmy nominee, as Executive and Artistic Director for the Avenel Performing Arts Center.
"After two years of working as the Executive and Artistic Director of this venue with some incredible talent, I could not be prouder to present this fantastic lineup of fabulous and absolutely hilarious shows. This will be a great new recreational home for all of those who surround Central Jersey."
The Avenel Performing Arts Center has a wide-range of scheduled shows. Included are:
March 16-17: Celtic Angels Ireland (a celebration of everything Irish)
April 10-14, 16-20: Dixie's Tupperware Party (Off-Broadway comedy)
April 24-25, June 20-21: BariToned (featuring Joe Hager, Edward Miskie and Kyle Hines)
April 26-28: Girl's Night: The Musical
May 2, 4-5: FACE (acapella rock)
May 3: Matt & Lainie (Legends of Guitar)
May 8-12: Bodiography Contemporary Ballet
May 14-15, 28-29: The Italian Chicks (featuring Maryann 'Boom Boom' Maisano, Mary Dimino, Regina DeCicco, Gina Scarda and Tara Cannistraci)
May 16-17: Kaki King (American guitarist and composer)
May 18: Charles Peachock (juggler)
May 19, 22: Will Martin Sings Dean Martin
May 23-26: Mike Delamont: Husky Panda (comedian)
May 30-31, June 1-2: Housewives of Secaucus: A Suburban Travesty
June 5-9: Wayne Hoffman (mentalist/illusionist)
June 11-12: Penny Arcade (comedian)
June 13-14: Alexandra Silber (Broadway singer)
June 15: Constantine Maroulis
June 16: "Comedy Night" with Johnny Lampert, James Goff, Andy Pitz
June 18-19: Dale K (hypnotist)
June 22: Broadway's Next H!t Musical
June 23: Jeremy Stolle (Broadway singer)
June 25-26: Simply Streisand (featuring Carla Del Villaggio)
June 27-30, July 2-3, 5: My Big Gay Italian Wedding
July 5-6: Terry Barber
July 9-10: Face Off (improv)
July 11-14: Mike Super (magician)
July 17-20: The Boy Band Project
July 21: Fashion Show
July 23-24: Irish Eyes Are Dying (Actors with a Clue)
July 25-28: Late Night Catechism
August 1-4: Cocktail Hour
August 7: Male Comedy Fest
August 8-11: Divas3
August 13-17: To Whitney, with Love
August 18: Erich Bergen (American singer/actor)
August 20, 24-25: O Sole Trio
August 21-23: Uptown Girls
August 28: Male Comedy Fest
August 29-September 1: New York Tenors
September 5-6: Amy Lynn and the Honeymen (Soul, sprinkled with some Rock & Jazz & Pop)
September 7-8: Well-Strung (string quartet)
September 12-14: Carole's Kings
September 15: The Unreachable Stars (Broadway band concert)
September 17-18: Get Happy
September 24-October 6: The Golden Girls Muppet Show
October 8-9: Treya Lam (Kaki King)
October 10-11: Shades of Bublé (A 3-man tribute to Michael Bublé)
October 12-13: Ethel Merman's Broadway
October 15-20: My Big Gay Italian Funeral
October 22-27: Wicked Divas (features the Elphaba and Glinda from the Broadway production Wicked)
October 29-31: Cirque-tacular's Spooktacular
November 1-3: Broadway Boys
November 6-8: One-Man Star Wars Trilogy
November 9-10: Guy Bavli: Master of the Mind (mentalist)
November 12-16: Humor in High Heels (comedy)
November 17: Analisa Leaming (Broadway singer)
November 23-24: Freda Payne (American singer)
December 3-4: Robin Spielberg (American pianist)
December 10-11: Celtic Angels Christmas
December 12-15: It's A Wonderful Life: Live WVL Radio Theatre
December 18-23: Santa's Circus
For more information, visit www.avenelarts.com.
More Hot Stories For You