Carly Zien and Philip Goodwin to star in George Street Playhouse's TRYING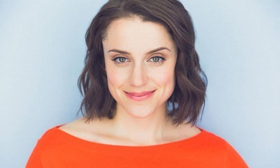 George Street Playhouse, located at 103 College Farm Road in New Brunswick, today announced the casting of Philip Goodwin (Broadway's The Diary of Anne Frank, The School for Scandal) and Carly Zien (Amazon's The Marvelous Mrs. Maisel, POP TV's Nightcap) in Trying by Joanna McClelland Glass, on stage March 13 - April 8, 2018. The poignant drama will be directed by Jim Jack, who will be helming his second GSP mainstage production following the widely acclaimed 2016 production of My Name is Asher Lev.
Trying - hailed as "exquisitely literate, moving and compelling" by Variety - tells the story of internationally known Francis Biddle, Chief Judge of the Nuremberg trials, Attorney General under President Franklin D. Roosevelt. At 81 years old, he is sharply cantankerous and trying to put his life in order as he works on his memoir. When Sarah, a young, new secretary is hired, the two come to understand how strangers at very different places in their lives can unexpectedly and forever influence each other. Trying is based on the playwright Joanna McClelland Glass' real-life experience as Biddle's secretary.
The New York Daily News called "Trying", a portrait of generational reconciliation. It is enormously bracing theatre" and The New York Times called the play "comic and touching."
Tickets start at $43 for Preview performances. Student tickets are $15. To purchase tickets or for more information, visit the George Street Playhouse website at www.GeorgeStreetPlayhouse.org, or call the box office at 732-246-7717.
Trying is sponsored by The Blanche and Irving Laurie Foundation. Opening Night is sponsored by Investors Bank.
Philip Goodwin (Judge Francis Biddle) has appeared on Broadway in Tartuffe, The Diary of Anne Frank, and The School for Scandal. His off-Broadway credits include King Lear, Pericles, Macbeth, and Hamlet (The Public); Grace (MCC); The Room/Celebration (Atlantic Theatre Company); Drowning (Signature Theatre); The Trestle at Pope Lick Creek (New York Theatre Workshop); Cymbeline, Troilus and Cressida, and Henry VI (Drama Desk nomination as Henry VI; Theater for a New Audience). He is a company member of the Shakespeare Theatre Company of Washington, D.C. and received Helen Hayes Awards there (Twelfth Night, Timon of Athens, and An Enemy of the People). Other regional credits: Kennedy Center, Studio Theatre DC, Hartford Stage, Guthrie Theater, Great Lakes Theatre Festival, Studio Arena Buffalo, Intiman Theatre, and The Acting Studio. Film and TV credits: The Pink Panther, The Pink Panther 2, Diary of a City Priest, Men in Black II, and Law & Order.
Carly Zien (Sarah) has recently appeared in Amazon's Golden Globe-winning The Marvelous Mrs. Maisel, POP TV's Nightcap and in Elisabeth Subrin's film, A Woman, A Part. Regional theatre appearances include Totem Pole Playhouse, Cincinnati Playhouse, Yale Repertory Theatre and TheatreWorks USA. Ms. Zien, who received her B.A. in theater studies from Yale University and an M.F.A. in acting from The Yale School of Drama, is also a singer and audition coach.
Joanna McClelland Glass (Playwright) has had plays produced in many North American regional theatres, as well as in England, Ireland, Australia, and Germany. Trying was first presented by Victory Gardens Theatre in Chicago in 2004 and won Chicago's prestigious Jefferson Award for Best New Play. Trying was then produced at The Promenade Theatre, NYC, in the fall/winter of 2004-2005. Ms. Glass has written two novels, Reflections on a Mountain Summer (published by Alfred A. Knopf in 1975), and Woman Wanted (published by St. Martin's Press in 1984). She adapted both novels into screenplays. Kiefer Sutherland starred in and directed a film version of Woman Wanted - also starring Holly Hunter and Michael Moriarty - in 1998.
Jim Jack (Director) is directing his second mainstage production at GSP, following the acclaimed production of My Name is Asher Lev in spring 2016. In June 2016, he directed a new play at GSP, Terra Incognita, exploring the toxic waste legacy of New Jersey as part of the "Dirty Little Secrets" media campaign. Directing credits for GSP's Educational Tour and community-based programs include: Our Town Now; Gabi Goes Green!; Austin the Unstoppable; IRL: in real life; New Kid; Peacemaker; and Break the Chains. Additional New York and regional credits include: The Road; Where is Home?; The Way It Was; K2 (Drama Logue Award for Outstanding Direction); Life and Limb; The Dumb Waiter; and The Zoo Story. He is the Director of Education and Outreach for the George Street Playhouse.
The rest of the creative team includes Jason Simms (set design), Esther Arroyo (costume design), Christopher J. Bailey (lighting design), Scott Killian (sound design) and Jane Pole (production stage manager). Casting is by Pat McCorkle, McCorkle Casting, Ltd.
With its longtime venue in downtown New Brunswick razed to make way for a new performing arts center that will serve as George Street Playhouse's future home, the Playhouse has taken residence in the former New Jersey Museum of Agriculture at 103 College Farm Road on Rutgers University's Cook Campus through its 2018-19 season. George Street Playhouse is expected to return downtown to the New Brunswick Performing Arts Center for its 2019-20 season. A former museum exhibit area has been transformed into an intimate, mainstage theatre space.
Located right off Route 1 amidst a vast bucolic setting on the Cook Campus of Rutgers University, George Street Playhouse's new, interim venue features expansive lobby spaces, an outdoor patio and free nearby parking. The entrance into the building and to all areas of the theatre are barrier-free. For directions to George Street Playhouse, visit the Playhouse website (GeorgeStreetPlayhouse.org) and click Directions on the homepage.
New Brunswick's favorite restaurants are less than two miles from College Farm Road. For a list of restaurants, visit the Plan Your Visit section of the website. And keep a lookout for unique dining options offered by George Street Playhouse.
About George Street Playhouse
George Street Playhouse is a nationally recognized theatre, presenting an acclaimed mainstage season to nearly 30,000 patrons annually, while providing an artistic home for established and emerging theatre artists. Its leadership consists of Artistic Director David Saint and Managing Director Kelly Ryman. Currently located on the Cook Campus of Rutgers University, George Street Playhouse will take residence in a new performing arts center scheduled to open for the 2019-20 season. Founded in 1974, the Playhouse has been well represented by numerous productions both on and off-Broadway, including the Outer Critics' Circle Best Musical Award-winner The Toxic Avenger; the Outer Critics Circle, Drama Desk and Drama League nominated production of The Spitfire Grill; and the Broadway hit and Tony and Pulitzer Prize winning play Proof by David Auburn, which was developed at GSP during the 1999 Next Stage Series of new plays. In 2015, George Street Playhouse was represented by two productions in New York with the Broadway production of It Shoulda Been You and Joe DiPietro's Clever Little Lies, which opened off-Broadway that same year. Both shows received their premieres at the Playhouse. Gettin' the Band Back Together, which premiered at GSP in 2013, is set to open on Broadway in Summer 2018. In addition to its mainstage season, GSP's Touring Educational Theatre features issue-oriented productions that are seen by more than 35,000 students annually.
Grant funding has been provided by the Middlesex County Board of Chosen Freeholders through a grant award from the Middlesex County Cultural and Arts Trust Fund.
George Street Playhouse programming is made possible in part by funds from the New Jersey State Council on the Arts/Department of State, a partner agency of the National Endowment for the Arts.
More Hot Stories For You