Bergen County Players Presents CHURCH & STATE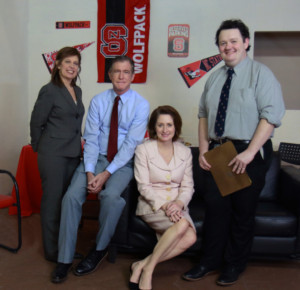 Bergen County Players (BCP) continues its 86th season with Church & State written by Jason Odell Williams and directed by Carol Fisher. Church & State runs January 12th through February 2nd with curtain at 8 pm on Fridays and Saturdays, and 2 pm on Sundays. BCP's popular Questions & Artists talkback session will be held following the performance on Friday, January 18th. You can also meet the playwright, Jason Odell Williams, during our Talkback following the performance on Saturday, January 19th. All performances will take place at the Little Firehouse Theatre, 298 Kinderkamack Road in Oradell. Tickets may be purchased online at www.bcplayers.org, by calling 201-261-4200 or by visiting the box office during regular box office hours.

Jason Odell Williams' play, Church & State, is witty, smart and timely, with a large
serving of humor. It follows the tumultuous final days of the campaign of the very
engaging Senator Charles Whitmore (Mic McCormack of Tenafly) running for reelection in North Carolina against the back drop of a school shooting in his home town. It is the story of his struggle to understand and deal with many cherished beliefs he has always held dear against the mounting doubt he feels. It is well balanced and entertaining and will leave you pondering it long after you leave the theatre. The cast includes Allyson Stevenson (of Westwood) as Sara Whitmore, Mic McCormack (of Tenafly) as Senator Whitmore, Leslie Darcy (of Oakland) as Alex Klein and Kevin Brady (of Hackensack) as Tom/Marshall.

Director Carol Fisher (of Teaneck) has directed numerous plays at BCP including The Last Night of Ballyhoo, A Shayna Maidel, Is There Life After High School and Sordid Lives. She also appeared as M'Lynn Eatenton in Steel Magnolias last season. Fisher commented "I chose to direct this play because it tackles the subject of how to curb the escalating violence in our country and addresses the age-old question, "If God is all powerful why does he allow bad things to happen." These are, of course, unanswerable questions but the playwright takes them on in an honest and humorous way. It will make you laugh and at times cry but isn't that what life is all about?"

The crew of Church & State includes: Rhea Smith (Producer and Program Notes), Michele Roth (Stage Manager), David Luke (Assistant to Director), Michael Smith (Set Design & Construction, Photography), Jody Laufer (Set Construction), Cliff Dreispan (Sound Operation), Kathleen Ruland (Sound Operation), Matthew Blum (Lighting Operation), Jennifer Cottone (Publicity), Katie Lupfer (Costumes), Ellyn Essig (Décor), Iris Weinhouse (Make-up), Barbra Murtha (Props & Crew) and Janica Carpenter (Member-at-large).

All performances for Church & State take place at The Little Firehouse Theatre at 298 Kinderkamack Road in Oradell, home to the Bergen County
Players since 1949. Performances run January 12 - February 2, 2019 with show
times on Fridays and Saturdays at 8pm, and Sundays at 2pm.
Tickets for Church & State are $21 for Friday/Saturday performances and $17
for Sunday matinees, and can be purchased online at www.bcplayers.org, by
calling 201-261-4200 or by visiting the box office.