BWW Review: THE SKELETON CREW Presented by Premiere Stages at Kean University is an Insightful Must-See Play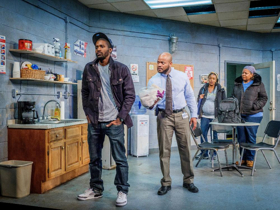 The New Jersey Premiere of Playwright Dominique Morisseau's Obie Award winning play, Skeleton Crew is now being presented by Premiere Stages at Kean University through Sunday, July 30th. Directed by the theater's Producing Artistic Director, John J. Wooten, the show is everything that an American drama should be. Wonderfully written, the production features excellent staging and a top-notch cast. This very relevant, theatrical piece brings the personal and professional difficulties of individuals who work in our country's factories to light.
Skeleton Crew is set in the break room of an automotive manufacturing plant in Detroit. There are rumors that the factory is closing and the stress on the workers is evident. Shanita is a young woman who is dedicated to her job and concerned about supporting herself and her unborn child. Dez is a feisty young man with ambitious ideas for his future. Faye has worked in the plant for 29 years and, although she is tough and wise in the ways of the world, she has fallen prey to deep financial hardships. Reggie, the plant's foreman, has come up through the ranks, but he is reluctant to share information with the others about the closing. His long-term family relationship with Faye and concerns for his own position complicates matters. Tensions run high as the plant is experiencing a rash of thefts, and everyone must deal with the climate of uncertainty. While this powerful and emotive story tells of a harsh reality, it has the right touches of humor and even a hint of romance.
The troupe of actors in Skeleton Crew is a dream team. From the very first moment of the show, they master Morisseau's well-crafted, spirited dialogue along with the many scene changes that keep the story intriguing. The cast includes Kristen Adele as Shanita; Daniel Bolsrond as Dez; Patricia R. Floyd as Faye; Shane Taylor as Reggie; Peighton Bryant is the understudy for Shanita; Chris Grant is the understudy for Dez.
The Creative Team has done a great job of bringing Skeleton Crew to the stage with scenic design by Patrick Rizzotti; costume design by Karen Lee Hart; lighting design by Brant Thomas Murray; sound design by Erik T. Lawson. The Production Stage Manager is Dale Smallwood; Props Manager, Helen Tewksbury; Assistant to the Director, Daisha Davis; Casting by Carol Hanzel. The Director of Audience Services is Heather Kelly; Producing Associate, Courtney Little; Dramaturg/Literary Assistant, Nicholas Orvis.
Skeleton Crew is the third play of Dominique Morisseau's award-winning Detroit Project, a three play cycle. This must-see show is an insightful view of how America's shifting economy has serious effects for the blue-collar workforce. Premiere Stages has once again presented metro area audiences with an opportunity to experience the finest work by emerging artists.
Skeleton Crew will be performed through July 30 in the Zella Fry Theatre on the Kean University main campus in Union, NJ. It runs for approximately 2 hours and 10 minutes with one intermission. The show schedule is Thursdays and Fridays at 8:00 pm; Saturdays at 3:00 pm and 8:00 pm; Sundays at 3:00 pm. Tickets are $30 standard; $20 for senior citizens and Kean alumni; $15 for students and patrons with disabilities. There are significant discounts for groups of 8 or more persons. To make reservations or order the season's brochure, call the Box office at 908.737.7469 or visit the Premiere Stages web site at www.premierestagesatkean.com.
Photo Credit: Mike Peters