BWW Review: BURIED CHILD by Sam Shepard at The Shakespeare Theatre of NJ is Captivating and Stunning
"There's nothing to figure out, just forge ahead."
-by Dodge in Buried Child
Sam Shepard's Pulitzer Prize winning drama, Buried Child, is now being performed at The Shakespeare Theatre of New Jersey through October 7. Expertly directed by Paul Mullins and featuring an outstanding cast, the play honors Shepard's playwriting legacy with a production of his masterpiece that is beyond excellent. Audiences will be mesmerized by the intriguing portrayal of an American Midwestern family whose lives have gone terribly awry.
Set in a farmhouse in Illinois, Dodge is an ailing alcoholic, a cantankerous elderly man who bristles at his wife, Hallie's badgering. Dodge and Hallie have had three sons, Tilden, Bradley, and one who is deceased, Ansel. Tilden, once a football star, seems terribly befuddled and has returned home to live after experiencing serious trouble in New Mexico. Bradley is a miserable, antagonistic type who lost one of his legs in a chainsaw accident. When Tilden's young adult son, Vincent and his girlfriend, Shelly arrive unexpectedly for a visit, Vincent is treated like a stranger while Shelly attempts to deal with the dysfunctional group. The situation spins out of control after Hallie brings home the local pastor, Father Dewis and dark family secrets are exposed. While the play is a dramatic and disturbing depiction of a household, there are also humorous moments in the characters' conversations that succeed in in lightening the mood of the play.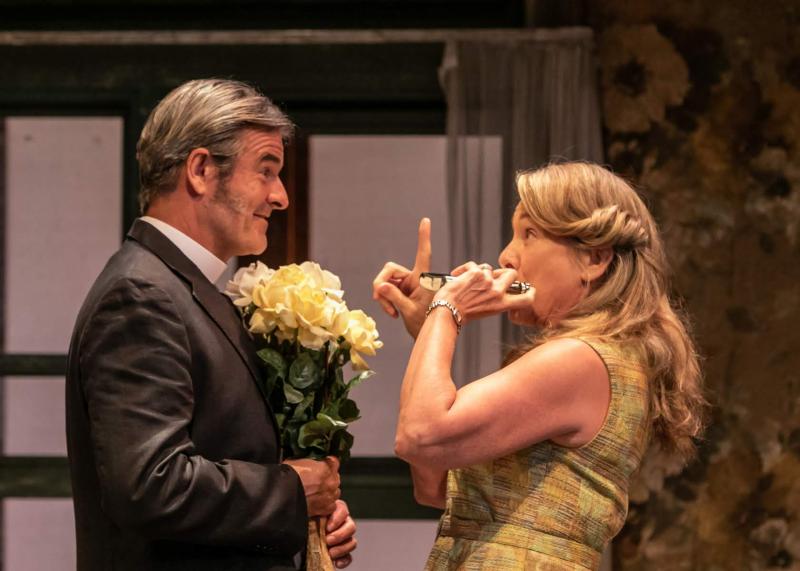 The acting in Buried Child couldn't be better. You will feel captivated by every moment of every scene. The cast includes Sherman Howard as Dodge; Carol Halstead as Hallie; Anthony Marble as Tilden; Roger Clark as Bradley; Paul Cooper as Vince; Andrea Morales as Shelly; and Michael Dale as Father Dewis. There are unforgettable moments in the play that include Dodge sneaking his whiskey; Hallie speaking of Ansel's marriage; Tilden bringing ears of corn into the house; Bradley preparing to clip Dodge's hair while he sleeps; Vincent and Shelly arriving at the farmhouse; Father Dewis' discomfort with the family's behaviors; and Dodge enumerating his farm tools and belongings to be passed on when he dies.
The Artistic Staff has done a great job of bringing Buried Child to the Madison Stage. They include lighting design by Tony Galaska; costume design by Andrea Hood; sound design and original music by Erik T. Lawson; and scenic design by Michael Schweikardt. The Production Stage Manager is Jackie Mariani.
On the show's opening night, the Theatre's Artistic Director, Bonnie Monte stated, "This is a play that I am thrilled we are doing." Audiences will definitely share her enthusiasm for Buried Child, Sam Shepard's exceptionally crafted, haunting gem.
Buried Child runs for 2 hours and 10 minutes with two intermissions. For tickets, patrons can call the Box Office at 973.408.5600 or visit https://www.shakespearenj.org/. Special pricing offers include group rates, student rush, and "30 under 30." The theatre is located at 36 Madison Avenue (at Lancaster Road on the Drew University Campus) in Madison, NJ.
Photo Credit: Jerry Dalia