BWW Review: BRICK CITY at Premiere Stages Captures Inner City Struggles and Triumphs with Drama and Humor
Brick City, a world premiere play, is now being performed at Premiere Stages on the Kean University campus now through September 23. Written by Nicole Pandolfo and Directed by Jessi D. Hill, it is a thought-provoking and important production. Pandolfo's play is totally on point. While it is set in a Newark high school, it is a story that exemplifies the lives and feelings of people residing in inner cities across our country. With excellent staging and a top-notch cast, Brick City captivates.
Veronica Vega is a recent college graduate whose struggles have inspired her teaching career and a deep desire to help students. She has her work cut out for her when she proctors an extended study hall for two problematic seniors who could be college bound. Jessie is a cynical, physically handicapped teen with a talent for photography and Darnell is a basketball star who needs to improve his grades to play in a game that may decide his future. Each of the teens has critical family issues that seem insurmountable. And when Darnell's cousin, Rogelio is released from prison, he complicates matters by trying rekindle his romance with Veronica while encouraging Darnell to participate in a money making scheme.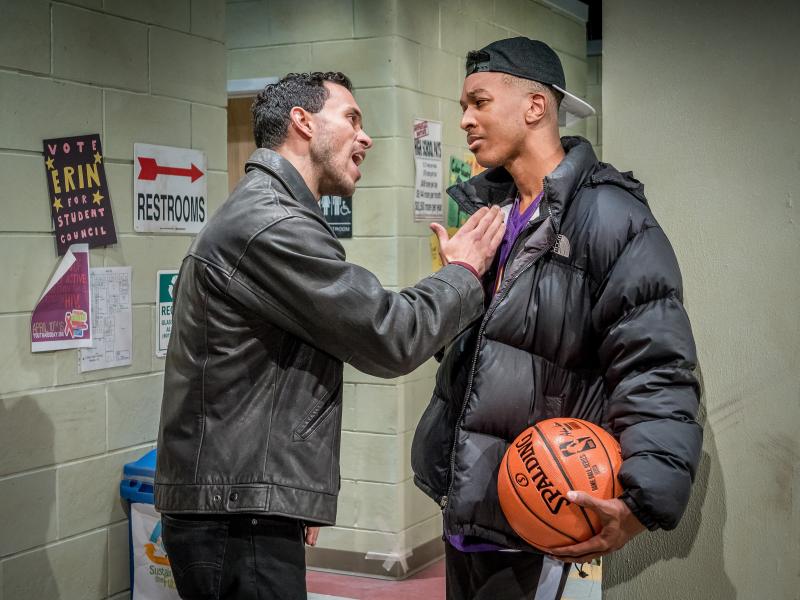 Brick City perceptively addresses a number of relevant issues about Urban America including poverty, problems with public education, and family pressures. But it also sheds light on the possibility of overcoming adversity when people are willing to support each other.
The cast of Brick City masters their roles and deliver Pandolfo's well-crafted dialogue seamlessly. Their portrayal of the play's dramatic and humorous moments are completely genuine. You'll feel empathy for the characters and have hope for their futures. The talented troupe includes Jacqueline Correa as Veronica, Madison Ferris as Jessie, Chris Grant as Darnell and Rafael Benoit as Rogelio. The understudies are Sabrina Alamo, Robert Asencio and Deonte Griffin-Quick.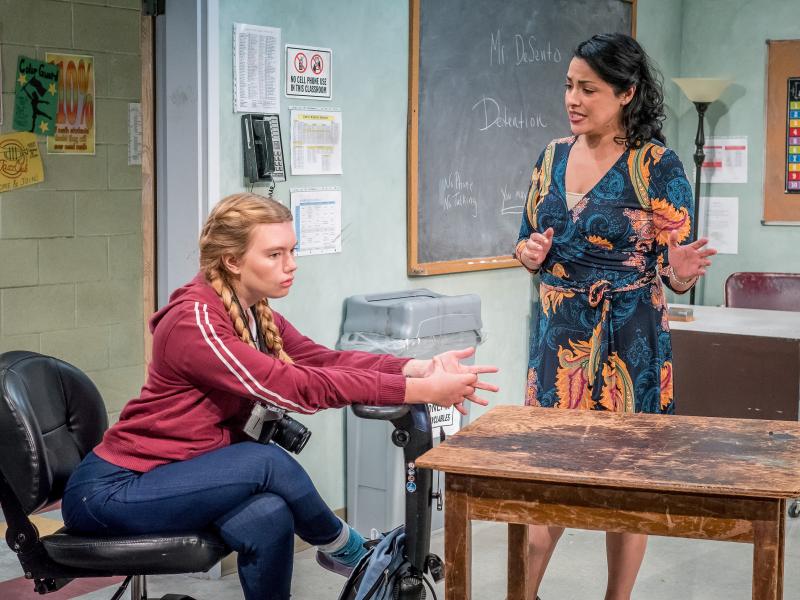 The Creative Team has doe a great job of bringing Brick City to the stage with scenic design by Bethanie Wampol Watson; costume design by Izzy Fields; lighting design by Greg Solomon; and sound design by Matthew Fischer. Helen Tewksbury is the Props Master; Dale Smallwood is the Production Stage Manager and Carol Hanzel is the Casting Director.
In collaboration with Premiere Stages, Kean University is presenting a free art exhibit, "BRICK CITY Newark's Papers" by Nelson Alvarez through September 23. It can be viewed in the James Howe Gallery Monday to Friday from 10:00 am to 4:30 pm and when you attend the show.
We applaud Artistic Director, John J. Wooten and the Premiere Stages Staff for consistently bringing shows to the metro area that are entertaining and socially significant. See Brick City. You'll be glad you did.
Brick City was originally commissioned over a two-year cycle through the NJPAC Stage Exchange. It will be performed through September 23 in the Bauer Boucher Theatre Center on Kean University's main campus in Union. Shows are Thursdays and Fridays at 8:00 pm; Saturdays at 3:00 pm and 8:00 pm, and Sundays at 3:00 pm. For ticketing, to learn about special discounts, and for a season brochure call the Premiere Stages Box Office at 908.737.7469 or visit their web site at http://www.premierestagesatkean.com/.
Photo Credit: Mike Peters