Review: BLITHE SPIRIT by Noel Coward at The Shakespeare Theatre of New Jersey Delights with Humor and Verve
"You won't even allow me to have a hallucination if I want to."
By Charles in Blithe Spirit
There are some stirring and strange goings-on at The Shakespeare Theatre of New Jersey. The company's outstanding production of Noel Coward's madcap comedy, Blithe Spirit is now on stage through September 2. Making her directorial debut at the theatre is Victoria Mack who has done a fabulous job guiding the show and its splendid cast. The play is just right to top off the theatre's summer offerings. Gather your group and get your tickets. Blithe Spirit is definitely a crowd-pleaser.
The play is set in a formal living room where Charles Condomine and his wife Ruth host a dinner party for Dr. Bradman, Mrs. Bradman and a local mystic, Madame Arcati. Charles is a novelist who hopes that the spiritualist's eccentricities will inspire some character material for his upcoming book. But as the evening unfolds, he gets a bigger surprise than expected. During a group séance led by Madame Arcati, Charles' first wife Elvira appears, but she can only be seen and heard by Charles. Elvira's brazen and clever shenanigans are disruptive to the Condomine's marriage, yet Charles clearly enjoys her ethereal presence, at least for a while. Caught between the wills of his two wives, Charles' ability to stay sane is questionable.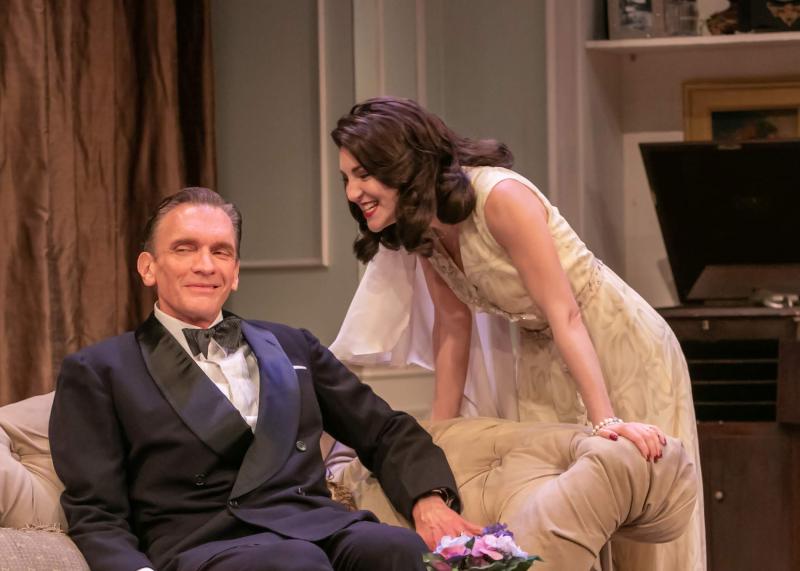 The cast delivers Noel Coward's sharp, witty dialogue with impeccable timing. The repartee is fast-paced, funny and often unexpected. The company includes Brent Harris as Charles; Kate MacCluggage as Ruth; Tina Stafford as Madame Arcati; Susan Maris as Elvira; Ames Adamson as Dr. Bradman; Monette Magrath as Mrs. Bradman; and Bethany Kay as Edith. The company's portrayal of Coward's colorful characters will keep you amused and likely have you laughing out loud. Memorable scenes include Charles and Ruth downing martinis before greeting dinner guests; the Condomine's maid, Edith struggling to be efficient; Madame Arcati's quirky séance and trance; Elvira's cunning, taunting mischief; and Dr. Bradman's medical diagnosis of Charles' behavior.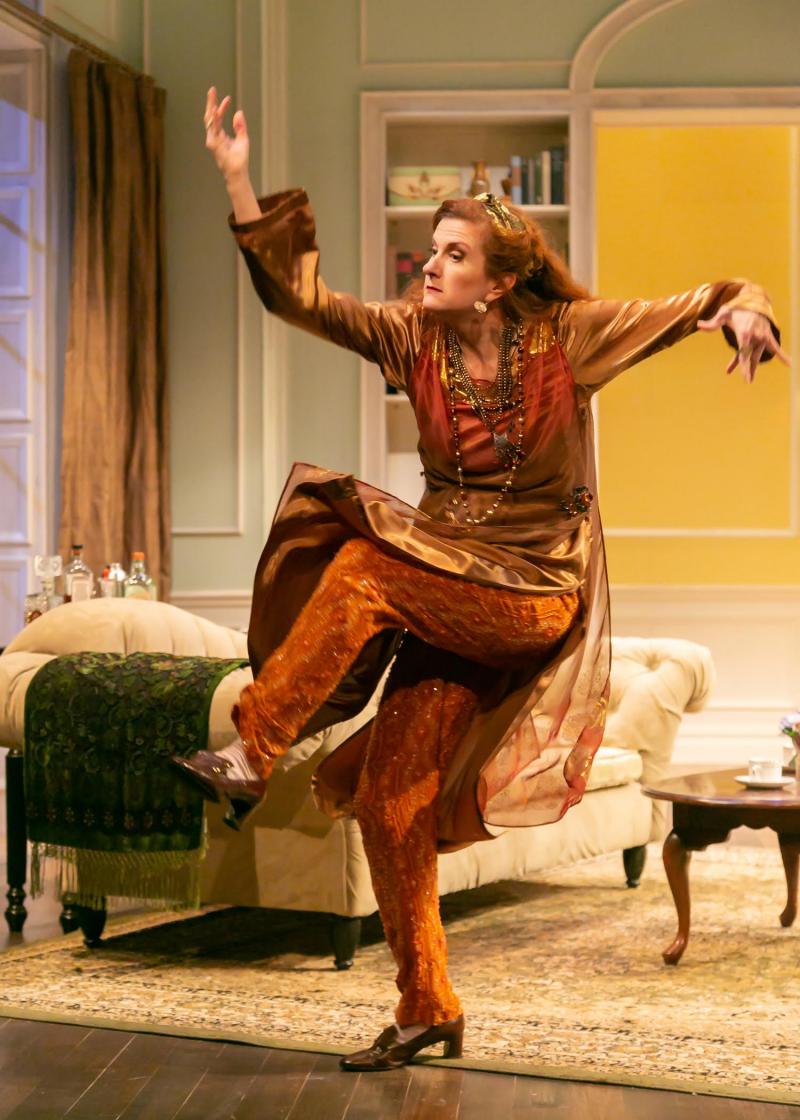 The Creative Team has done a top job of bringing the show to the Madison stage. They include scenic design by Charles Calvert; lighting design by Michael Giannitti; costume design by Hugh Hanson; sound design by Kari Berntson. The Production Manager is Alison Cote.
Blithe Spirit is considered to be one of Noel Coward's most popular plays. First performed in 1941 on the West End, it has also been seen on Broadway numerous times. The Shakespeare Theatre of New Jersey hasn't done a production of the show in over twenty years. We think it's great that the theatre's Artistic Director, Bonnie Monte and the company are making it available to metro area audiences. Sit back, relax, and have a good time at Blithe Spirit.
Blithe Spirit runs for approximately 2 hours and 30 minutes with one fifteen-minute intermission. Patrons can purchase tickets at the F.M. Kirby Shakespeare Theatre located at 36 Madison Avenue in Madison, by calling the Box Office at 973.408.5600 or by visiting https://www.shakespearenj.org/. The theatre brings back their 30 under 30 program. Patrons 30 and under can purchase tickets for $30 with a valid ID subject to availability. $15 student rush tickets, are available 30 minutes prior to each performance with a valid student ID and a limited number of Pay What You Can tickets for every performance on a first come, first serve basis. Season Memberships are also available at a significant savings.
Photo Credit: Jerry Dalia