Interview: Izzie Steele and THE SERVANT OF TWO MASTERS at The Shakespeare Theatre of New Jersey
The Shakespeare Theatre of New Jersey will present The Servant of Two Masters on the Outdoor Stage from June 20th to July 29th. Directed by Doug West, it has been translated and adapted by Bonnie J. Monte from the play by Carlo Goldoni.
The Servant of Two Masters was last seen eight years ago on the theatre's outdoor stage. This is a fresh, new production of the 272 year-old slapstick comedy. This wild Italian romp will intrigue you as Truffaldino makes the audience privy to, and complicit in his complicated attempts to serve two masters at one time.
Broadwayworld.com had the pleasure of interviewing Izzie Steele who plays Beatrice in The Servant of Two Masters.
Steele is in her seventh season with The Shakespeare Theatre. Company credits: Playboy of the Western World, Henry IV, Part One, All's Well That Ends Well, Romeo and Juliet, and A Midsummer Night's Dream with the 2010 Shakespeare LIVE! touring company; The Taming of the Shrew and The Odyssey with the 2009 Next Stage Ensemble; and Timon of Athens with the 2008 Acting Apprentice Company. Recent credits: Tina Tevetino on BBCAmerica's Dirk Gently's Holistic Detective Agency, HBO's Divorce, and NBC's Law & Order: SVU. Off-Broadway; Atlantic Theater's revival of Cloud Nine, What I Did Last Summer at Signature Theater, and The Heart of Robin Hood as Maid Marion at the Royal Alexandra in Toronto. Izzie has a BA in Theater from Rutgers University and is originally from London but grew up in Wilmington, Delaware.
Tell us a little about your earliest interest in theatre.
I didn't have many friends when I was younger, I preferred to play pretend over talking about boys, and that made me a bit of an outcast. My parents saw this creative flare and put me in a theater camp in Delaware. I had found my calling and my passion and FRIENDS! I used to put on plays for the neighborhood and perform big Broadway numbers in the basement for my parents.
When did you know you were destined to be an actor?
I knew the profession was very difficult. So when I applied to all the fancy colleges for a BFA and got denied from all of them, I saw that as a sign that I should go with my next greatest passion, animals. So I pursued vet school and that lasted about one semester before I realized I had to give my all to what I really wanted to do. The pivotal moment came when I was in London and my cousin surprised my brother and I with tickets to The Lion King. In the first five minutes I was sobbing and realizing I couldn't possibly do anything else but this with my life.
We'd love to know a little about your education at Rutgers.
My theater education at Rutgers was a bit general. I got a BA in Theater, but often took classes with the BFA students. Sometimes, you could feel a difference in the way the teachers treated BAs vs. BFAs. It hurt at the time, but in retrospect I realized it motivated me to work harder to get what I wanted. To be honest, my education has been equal parts Shakespeare Theater of NJ training and life experience.
What entertainment do you enjoy viewing when you have time.
I try to keep up with most shows for casting opportunities, especially ones filming in NYC. My current and most recent favorites are The Handmaid's Tale, The Sinner, UnReal, Westworld, Portlandia, Big Mouth, It's Always Sunny In Philadelphia, and as always, RuPaul's Drag Race.
What are some of the challenges of your role as Beatrice in The Servant of Two Masters?
That's easy; summer outdoor theater plus playing a man for 90% of the show, in period dress.
Tell us a little about the cast and creative team.
I'm going to spotlight a few people. Coming to STNJ is like coming home for me. I know many of the faces that perform and work here. Bonnie Monte, the Artistic Director, has taken me under her wing for about 10 years now. She helped shape who I am as an actress more than anyone else in my life. The stage manager,
Christine Whalen
and I worked together 10 years ago. I've worked with
Connor Carew
on several shows, and he is a dear friend, stellar actor and makes me laugh everyday.
Jay Leibowitz
has been a "very very" funny friend and actor in my life for over 10 years, and yet this is the first show we have gotten to do together! I've seen Jim Reilly perform in many shows here and it is also our first time working together.
Doug West
, the director, and I have worked together several times as well. Both as actors and as a director. The entire cast is fabulous.
Why do you think The Servant of Two Masters is ideal for the outdoor stage?
It's big, it's fun, it's silly, and it's a true family show.
What do you want metro area audiences to know about the show?
This is an interactive show. The outdoor stage is a special place to perform and watch a show. You can bring a picnic, bring some wine, and enjoy a show!
Anything else, absolutely anything you want BWW NJ readers to know.
Catch me as Tina Tevetino in Dirk Gently Season Two on Hulu coming June 14! And go check out Very Very an incredible show written and produced by Jay Leibowitz. You can find it at http://www.jayleibowitz.com/.
You can follow Izzie Steele on Instagram and Twitter @Izneverdone
The Shakespeare Theatre of New Jersey's Outdoor Stage is located on the campus of the College of Saint Elizabeth. Gather your group, pack a picnic and make plans to see The Servant of Two Masters. It will be performed from June 20th to July 29th. For more information and ticketing including specials and discounts, call the theatre's Box Office at 973.408.5600 or visit http://www.shakespearenj.org/.
Photo Credit: Courtesy of Izzie Steele and Samantha Gordon
Marina P. Kennedy's writing career led her from freelancing opportunities in New Jersey and New York to writing for Broadwayworld.com where she covers entertainment, the culinary scen... (read more about this author)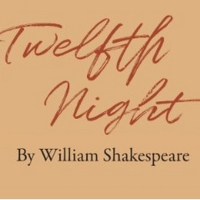 Entertain and Dine NJ Style-Madison Edition

November 25, 2022

We are happy to continue this series of articles highlighting a top entertainment venue and a local restaurant that you can visit.
---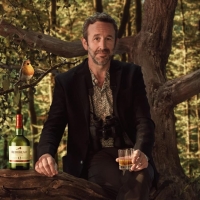 REDBREAST IRISH WHISKEY Raises Awareness for Charity Partner BirdLife International

November 25, 2022

Redbreast Irish Whiskey has celebrated the second year of Robin Redbreast Day, an annual global date in the calendar designed to raise awareness and donations for charity partner BirdLife International, and its joint mission to protect common birds.
---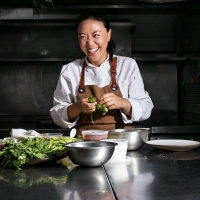 Pop-up AT WOLLMAN RINK Showcases Diverse Culinary Cultures

November 23, 2022

Wollman Rink will take on a singular Korean-Cajun culinary accent Nov. 25 through Nov. 27 when its café will feature Cajun Spiced Pork Ribs, Honey Jalapeno Cornbread, Potato-Daikon Salad by Jae Jung, the chef/owner of Midtown South's bastion of the new chaos cooking genre KJUN. 
---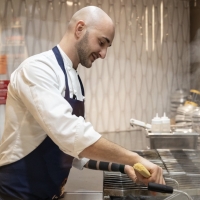 Chef Spotlight: Executive Chef Alessio Rossetti of THE OVAL at La Devozione in Chelsea Market

November 23, 2022

Broadwayworld had the opportunity to interview Executive Chef Alessio Rossetti about his career and The Oval in the heart of Chelsea Market for our 'Chef Spotlight.'
---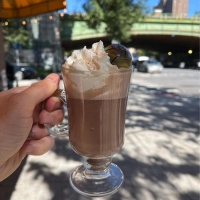 CHOCOBAR CORTES in the Bronx Presents Luscious Hot Chocolates

November 22, 2022

As the weather turns colder, New Yorkers turn to their favorite places and look for new spots to enjoy a hot chocolate. Chocobar Cortés in the Bronx is an ideal place for the warm, luscious drink.
---