Click Here for More Articles on Ballet!
BWW Interview: Anna Porter Wilkes-Davis and Journy Wilkes in NUTCRACKER by American Repertory Ballet
American Repertory Ballet (ARB) is having their first performance of Nutcracker at Union County Performing Arts Center in Rahway. The performance is followed by shows at McCarter Theatre in Princeton on Nov 24-26 and State Theatre New Jersey in New Brunswick from December 15-17. This year's production features new scenery for the party scene and a new Snow Pas de Deux choreographed by Mary Barton. The new company members and married couple Anna Porter Wilkes-Davis and Journy Wilkes-Davis will dance Sugar Plum/Cavalier for the performances at McCarter Theatre and State Theatre New Jersey.
Broadwayworld had the pleasure of interviewing Anna and Journy about their careers and the upcoming productions of ARB's Nutcracker.
Anna Porter Wilkes-Davis was born in Lynchburg, Virginia. She received her early training at Virginia School of the Arts under the direction of Petrus Bosman and later completed her pre- professional training with the Washington School of Ballet, Miami City Ballet School and the Pittsburgh Ballet Theater. In 2010, Anna joined the Columbia City Ballet where she was promoted to soloist. Her roles with the company included Red and Purple Vampire Maiden in Dracula, The Snow Queen, Arabian Princess and Neapolitan Ice Cream in Nutcracker, the Summer Fairy in Cinderella, the Fairy of Grace and the White Cat of Puss in Boots in The Sleeping Beauty, Moyne in Giselle, and the Snake in the Little Prince. In 2014, she became the Artist in Residence with Ann Brodie's Carolina Ballet, as well as a guest artist with Greensboro Ballet, Lincoln Midwest Ballet, Coastal Ballet USA, Montgomery Ballet and Hilton Head Dance Theatre where she has performed pas de deux from Giselle, Esmeralda, The Sleeping Beauty, Raymonda, Spartacus, Spring Waters, Swan Lake and Nutcracker. Anna also co-directed, choreographed, and danced in the H.E.R.O. Dance Benefit, a gala that brought professional dancers together for an evening of dance to support the Gary Sinise Foundation. This is her first year as a member of the company at American Repertory Ballet.
Journy Wilkes- Davis was born in Fort Hood, Texas. He began his training at the age of fourteen under Shannon Greenberg and Dagoberto Nieves in Savannah, Georgia and later joined the Signature Dance Ensemble in Rocky Mount, North Carolina to continue his training under Cindy Mancini and Joseph Carow. In 2010, Journy moved to the Columbia City Ballet under the direction of William Starrett where he was promoted to Principal Dancer in 2012. While in Columbia, SC, Journy has danced roles in Mark Diamond's A Streetcar Named Desire, Paul Taylor's Company B, Balanchine's Serenade, Donizetti Variations, Walpurgisnacht Ballet, Scotch Symphony, Allegro Brilliante, Western Symphony, Emeralds, Stars and Stripes Forever, Lila York's Celts, Lynn Taylor Corbett's Great Galloping Gottschalk, Rick McCullough's Tryptych and Rite of Spring, as well as classics such as Majisimo, Satanella, Albrecht in Giselle, Romeo in Romeo and Juliet, Prince Desire in The Sleeping Beauty, Snow King, Arabian and a Sugarplum Cavalier in Nutcracker. In 2014, Journy became the Artist in Residence with Ann Brodie's Carolina Ballet as well as a guest artist with the Hilton Head Dance Theatre, Coastal Ballet USA, Greensboro Ballet, USC Dance Company and Montgomery Ballet. Journy also co-directed, choreographed, and danced in the H.E.R.O. Dance Benefit to bring professional dancers together for an evening of dance to support our nation's military. Last year he was invited to dance with the Suzanne Farrell Ballet for their 2016 season at the John F. Kennedy Center where the company performed the rarely seen Gounod Symphony. This is his first season as a member of the company at American Repertory Ballet.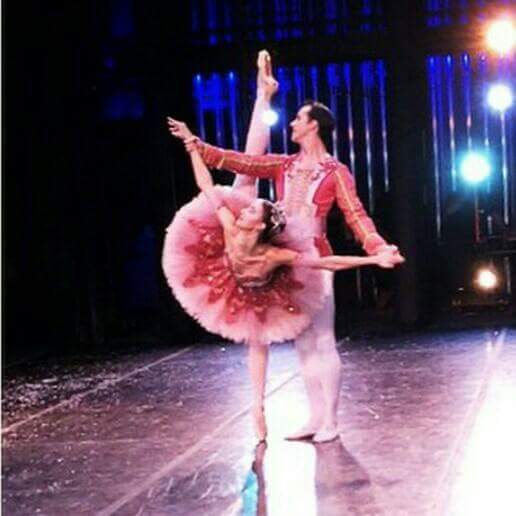 Anna answered the following questions for us.
What was your earliest interest in dance or performance?
As a child I was very into the horse show circuit. My mother was my trainer and my partner was a 16 hand Quarter Horse named Country. Together we competed in Western Pleasure and Showmanship and my last year of showing we were circuit champions. I loved every second of it, but in my free time I was always humming and making up my own dances. I have a vivid memory of being at a horse show in one of the huge barns all dressed in my jacket, pants, hat, boots and spurs and dancing down the barn aisle...that's when Mom said she had to put me in dance lessons.
What have been some of your favorite roles to dance?
There are so many roles that I love, it's hard to narrow it down to a few! I love the drama of Giselle, I look forward to a rotation of Nutcracker roles every year, but I have to say Aurora from Sleeping Beauty is my favorite role. In my opinion, it's one of the most technically demanding ballets for the lead woman and also requires you to really create a multi-aceted character. In the beginning, she's at her 16th birthday party so you have to look youthful and excited, then after she's cursed there is the dream scene so you have to look a little ethereal, and finally after the curse is broken you dance a regal wedding pas de deux!
We'd love to know about your experience working with the ARB.
This is my first season with American Repertory Ballet. I was nervous to be one of the few new people to the group this year, but everyone was so welcoming and helpful. Even though we've only been working together for a couple months they already feel like family. So far this season, I have danced in Straight Up With A Twist and Scarlet Sonata both by Mary Barton and was a Gypsy in Kirk Peterson's Carmen and now we're working with Douglas Martin in rehearsals for his Nutcracker. I'm very excited to be dancing Snow Pas, Sugar Plum Pas, and Arabian with my husband, Journy, and I'm really looking forward to dancing Dew Drop Fairy for the first time. I love
how much variety of repertoire there is for the season and I really enjoy the opportunity to tour to multiple theaters in the area.
Tell us about dancing with your husband Journy.
Dancing with Journy is my absolute favorite thing in the world. I trust him completely, and knowing that he will be there for every lift and turn brings me a sense of calm and allows me to just be free and enjoy that time onstage. It's an amazing feeling to find your passion, be able to make a living from it, and share it with the person you love.
Why do you think audiences always enjoy the Nutcracker?
I think that people enjoy coming to see the Nutcracker year after year because for that short hour and a half they get to leave their worries and responsibilities at the door and see life through the eyes and imagination of a child again. It's the perfect classic Holiday family tradition.
We asked Journy these questions.
Who inspired you to become a dancer?
One of my first teachers, Dagoberto Nieves, a former dancer with ABT, inspired me to start taking ballet class and pursue a career as a professional dancer. He was performing the Sugarplum Cavalier in the Nutcracker when I first saw him and I remember thinking how I wanted to be able to jump as high as he could. When he danced you could see his passion for what he was doing and you knew he was having the best time of his life up on that stage.
What roles have you danced that you have found particularly challenging?
In my whole experience to date, the role of Don Jose in Kirk Peterson's Carmen, which we just performed a few weeks ago, has been one of the most physically demanding roles I've danced. Pertaining to Nutcracker, I think Snow King is the most challenging role because usually there's fake snow falling on to the stage and that can sometimes make it a little more slippery than usual.
How are you enjoying your time with the ARB?
I've been having an awesome time at ARB! It has been a great ride so far learning all the new choreography in their repertoire this year with lots of great opportunities to perform. Everyone has been so welcoming and it's a great new home!
Tell us a little about dancing with your wife, Anna.
I've been dancing with my wife for a little over 7 years now and it's so much fun to share our passion of dance together. Dancing onstage with someone you've developed such a strong trust and respect for is an amazing feeling and I feel so lucky to have those opportunities to perform with Anna.
What do you treasure about performing in the Nutcracker?
The thing I treasure most about performing in the Nutcracker are the memories I have from so many years of doing it. It is the first ballet I ever performed in and it's how I proposed to my wife onstage after we performed Arabian. It has become a holiday tradition for so many people to see the Nutcracker and it's a pleasure to share that joyful experience with so many.
For Nutcracker ticketing and more information, visit: http://www.arballet.org/.
In the new year, ARB will be performing Pride and Prejudice at the Annenberg Center in Philadelphia, March 2-3 http://www.arballet.org/event/pride-and-prejudice-4/ ; and repertoire from the modern age (works by Jose Limon, Gerald Arpino and Douglas Martin) at Two River Theater (March 23-24); Kaye Playhouse at Hunter College (April 6-7) and McCarter Theatre (April 20). Visit: http://www.arballet.org/event/generationsnyc/
Photo credit: Courtesy of Anna Porter Wilkes-Davis and Journy Wilkes
Related Articles