Feature: AYCKBOURN AT 80
1939 was a banner year for the arts. Marjorie Kinnan Rawlings' novel The Yearling won the Pulitzer Prize; MGM's Gone With The Wind was awarded the Oscar for Best Film; and Life With Father opened on Broadway, going on to become the longest running play in Broadway history. Meanwhile, on April 12th, in the quiet London suburb of Hamptead, Alan Ayckbourn was born. The son of a magazine writer and a classical musician, Ayckbourn would become one of the world's most prolific and most produced living playwrights. This year celebrates Ayckbourn's 80th birthday as well as his 60th year of playwriting - a genuine cause for celebration.
Ayckbourn's plays have proven to have worldwide appeal, and naturally New Jersey is no exception. Although sandwiched between busy theatrical hubs New York City and Philadelphia, New Jersey has substantially contributed to Ayckbourn's popularity with numerous productions throughout the Garden State.
Since 1957, Ayckbourn has made his theatrical and domestic home in Scarborough, an English seaside resort in Yorkshire, overlooking the North Sea. There, some 200 miles north of London's West End (the British Broadway), nearly all of the author's more than 80 plays have received their world premieres. In 1990, Mel Gussow wrote in the New York Times "Imagine, if you will, Neil Simon managing a theater in Asbury Park, N.J., and directing all of his own plays before moving them to Broadway and you might begin to have an idea of Ayckbourn's efforts."
Although Broadway has seen its share of Ayckbourn, New Jersey has the distinction of hosting several North American premieres. For the most part, this honor belongs to a humble community venue, the Black River Playhouse, nestled in bucolic Chester Borough. It is no coincidence that the intimate Playhouse, home of Chester Theatre Group (CTG) since 1967, and Ayckbourn's home base, the Stephen Joseph Theatre in Scarborough, are both theatres-in-the-round.
In total, CTG has produced 17 Ayckbourn plays - including two full productions of THE NORMAN CONQUESTS trilogy in rotating repertory. Four of the 17 have been North American premieres: FAMILY CIRCLES (1999), BODY LANGUAGE (2003), SNAKE IN THE GRASS (2005), and IMPROBABLE FICTION (2009). In addition, the troupe has presented numerous readings of Ayckbourn plays (some previously unheard on American shores) and held special events celebrating the author. In 2009, hearing of CTG's eclectic offerings, the playwright said "I really approve of the choice of plays. I especially love it when people stoop to pat my slightly neglected children."
Meanwhile, one of New Jersey's oldest and most prestigious producers, Princeton's McCarter Theatre, is credited with the 1981 North American premiere of JUST BETWEEN OURSELVES. The play premiered in Scarborough in 1976 and moved to London the following year, but failed to earn a Broadway staging. McCarter's production was directed by Nagle Jackson and starred Herb Foster, Peggy Cowles, Robert Lanchester, Joan White, and Jill Tanner. Reviewing the play for the New York Times, the aforementioned Mr. Gussow wrote that Ayckbourn "is interested in setting mood and character before lassoing us with laughter."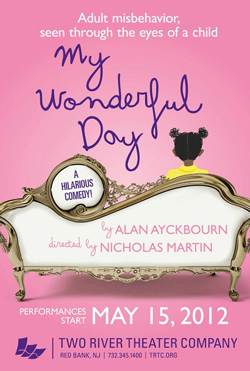 Although no other New Jersey producer has been credited with a North American premiere, several have staged noteworthy productions of Ayckbourn's plays - both familiar and unknown. In 2012, Two River Theatre in Red Bank presented MY WONDERFUL DAY, the New Jersey premiere of a play previously seen in both New York and Philadelphia. Three years later they turned to an Ayckbourn classic, one of his most-produced plays, ABSURD PERSON SINGULAR.
Two other New Jersey professional theatres staged plays that were off-Broadway hits before coming across the Hudson. In 2004, the Bickford Theatre in Morristown presented the sci-fi thriller COMMUNICATING DOORS, which had played six years earlier at the East Village's Variety Arts Theatre starring Mary Louise Parker. In 2008, Rahway's Alliance Theatre gave New Jersey a look at Ayckbourn's COMIC POTENTIAL, a futuristic comedy first seen in 2000 at Manhattan Theatre Club starring its original award-winning leading lady Janie Dee.
Chester Theatre Group is not the only community theatre that has found the Ayckbourn catalog attractive. New Jersey playgoers have been treated to local stagings of RELATIVELY SPEAKING, TABLE MANNERS, BEDROOM FARCE, HOW THE OTHER HALF LOVES, WOMAN IN MIND, TIME OF MY LIFE, and the musical BY JEEVES, to name but a few. Holmdel Theatre Company has presented staged readings of such adventurous Ayckbourn fare as SISTERLY FEELINGS (a play in which the action is determined by an on-stage coin toss), HOUSE & GARDEN (two plays written to be performed by the same cast simultaneously in adjacent auditoriums), and ROUNDELAY (five interrelated one-act plays performed in an order randomly chosen prior to performance). All are still awaiting full productions in New Jersey.
During the summer of 2014, New Jerseyans who couldn't get to London to see the National Theatre's revival of A SMALL FAMILY BUSINESS could catch the play at Monmouth University's Pollack Theatre, which screened the production as part of NT Live. From 1986 to 1989, Ayckbourn was a Company Director at the National, taking a two-season sabbatical from Scarborough. Located on London's South Bank, the National has presented ten productions of Ayckbourn's plays.
At age 80 - and with just as many full-length plays to his credit - you might think that Ayckbourn would be looking forward to retirement. Far from it. Despite a stroke in 2006, Sir Alan (who was knighted by the Queen in 1997) is currently preparing to direct his 83rd play, somewhat ironically titled BIRTHDAYS PAST, BIRTHDAYS PRESENT. The new play will open in September in Scarborough - aka the Asbury Park of Great Britain. Happy Birthday, Alan Ayckbourn. The Garden State sends its very best wishes!
* * * * * * * *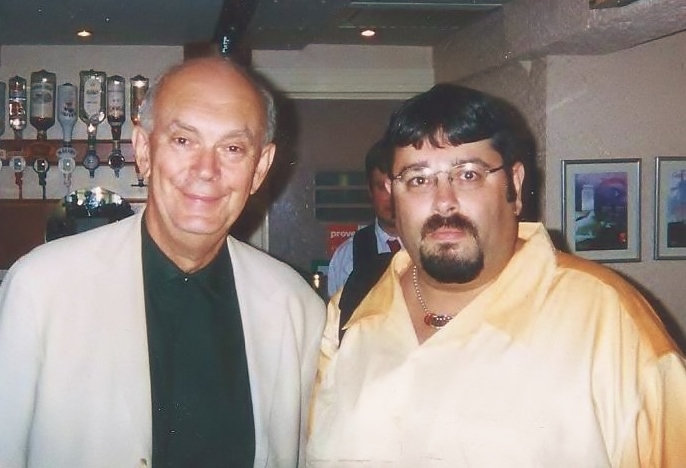 The author of this article is indebted to Alan Ayckbourn's archivist, Simon Murgatroyd. He is the author of the book UNSEEN AYCKBOURN published by Lulu.com and available at Amazon. He is also the webmaster of www.AlanAyckbourn.net, the online source for all things Ayckbourn.
Photo Credits: Michael Mooney, Lamont Hill, and photos from the public domain.