ActorsNET Stages Glorious Sondheim Musical A LITTLE NIGHT MUSIC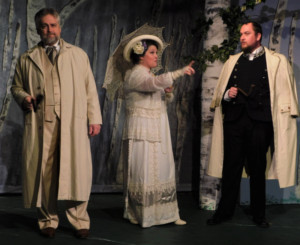 Scandals explode, laughter erupts in response to a brilliant book by Hugh Wheeler, while the glorious music of Stephen Sondheim soars in Morrisville's Heritage Center Theatre weekends through May 6 as ActorsNET presents A Little Night Music.
Director David Deratzian of North Wales has assembled a stellar cast from throughout the region to unveil the comedic scandals revolving around aging Swedish actress Desiree Armfeldt. She invites a former lover to bring his grown son, his much younger wife and her personal maid to her mother's estate for a weekend in the country. Desiree has been having an affair with married Count Carl-Magnus Malcolm, who jealously crashes the gathering with his own wife in tow. Before long, romantic entanglements mar the weekend.
Carol Thompson of New Hope stars as Desiree alongside her real-life husband, George Hartpence, who portrays roguish Frederik Egerman. Director Deratzian praises his stars as "accomplished farceurs ... playing a rhapsody over the course of the action. George and Carol have mastered the ups, downs and imbecilities."
Also starring are Nicholas Pecht of Hamilton, New Jersey as pompous Count Malcolm and Holly Gash of Yardley as Countess Charlotte Malcolm. The Count hypocritically demands fidelity from his wife, even as he engages Desiree as his mistress. Of the pair, Deratzian says "Nick Pecht has reached within and found his inner dragoon. His endlessly self-aggrandizing Carl-Magnus is both a glory and a terror to behold. The performance by Holly Gash in the role of Charlotte is priceless."
Susan Blair of Philadelphia co-stars as Desiree's mother, the worldly Madame Armfeldt, who cares for the often-on-tour actress' daughter, Fredrika (played by Keli Ganey of Yardley). Noelle Joy Fiorentino of Doylestown plays Petra, Desiree's lusty maid. She flirtingly teases Henrik, Mr. Egerman's son (Matt South of Croydon), who is studying for the Lutheran ministry. Alize Rozsnyai of Philadelphia portrays Mr. Egerman's bride, who is still virginal after many months of marriage. John Helmke of Hamilton also co-stars as Madame Armfeldt's manservant, Frid.
The supporting cast of five portray other guests for the weekend and serve as a singing Greek chorus, who help drive the show's action. They are Alyssa Brode of Philadelphia as Mrs. Nordstrom, Tim Brian of Yardley as Mr. Lindquist, Carolyn Cuesta of Fallsington as Mrs. Segstrom, Timothy Faulkner of Ewing, New Jersey as Mr. Erlanson, and Rachel Sigman of Glenside as Mrs. Anderssen.
Leading an eight-piece orchestra performing onstage behind a scrim, the show's Musical Director/Conductor is Lee Milhous of Doylestown, assisted by Timothy D. Brown of Philadelphia.
Kimberly Hess of Upper Holland, Ruth Schanbacher of Yardley and Cheryl Doyle of Morrisville, the company's co-founder and artistic director, headed up the team to provide the lavish A Little Night Music costumes. Director Deratzian designed the ingenious set. Em Ricciardi of Ewing, NJ stage manages. Andrena Wishnie of Morrisville did the lighting design, which is being operated by Isaiah Davis of Trenton, New Jersey.
Presented by special arrangement with Music Theatre International, A Little Night Music performs weekends now through May 6 at The Heritage Center Theatre, 635 North Delmorr Avenue (Route 32), Morrisville - near the Calhoun Street Bridge. Showtimes are Fridays and Saturdays at 8 p.m. and Sundays at 2 p.m. Tickets are $20 for adults, $17 for seniors (62+), $15 for WHYY card members and students (high school & college) and $10 for children age 12 and younger. To reserve, call 215-295-3694 or email actorsnet@aol.com .