10 Minute Festival Of New Plays To Benefit Hudson Theatre Works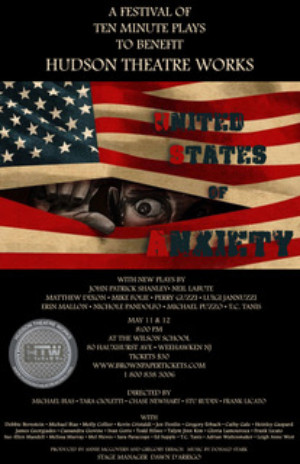 Hudson Theatre Works presents two benefit performances of "United States of Anxiety."
The 10 new short plays are written by some of our most illustrious playwrights, including John Patrick Shanley, Neil LaBute, Matthew Dixon, Mike Folie, Perry Guzzi, Luigi Jannuzzi, Erin Mallon, Nichole Pandolfo, Michael Puzzo and T.C. Tanis.
"United States of Anxiety" includes plays that echo the current political climate and how Americans are dealing with racism, isolation, gun violence, the #metoo movement, immigration, fake news and the constant social media barrage. The stories are funny, profane, realistic and absurd. They echo each of the 10 author's feelings and ideas in response to how Americans are coping today. The pastiche of plays is a myriad view of the anxiety- producing times in which we live.
The directors for these pieces include Artistic Director Frank Licato, Michael Bias, Tara Cioletti, Chase Newhart and Stu Rudin.
The ensemble consists of Debbie Bernstein, Michael Bias, Molly Collier, Kevin Cristaldi, Jen Donlin, Gregory Erbach, Cathy Gale, Heinley Gaspard, James Georgiades, Cassandra Giovine, Ivan Goris Todd Hilsee, Talym Jinn Kim, Gloria Lamoureux, Frank Licato, Sue-Ellen Mandell, Melissa Murray, Mel Nieves, Sara Paracespe, Ed Supple, T.C. Tanis, Adrian Wattenmaker and Leigh Anne West.
The evening is produced by Annie McGovern and Gregory Erbach, with music and sound by Donald Stark and stage managed by Dawn D'Arrigo
The evening is suitable for High School and older.
Hudson Theatre Works is known for it's edgy interpretations of new and classic works. Its previous productions include: Of Mice and Men, One Flew Over the Cuckoo's Nest, 3 Men (Solo Festival Award winner), A Steady Rain (named one of the top 10 shows in New Jersey in 2016), Bash and last year's Macbeth.
Hudson Theatre Works is committed to work that is thought provoking, challenging and entertaining;. work that is known for the high quality of its acting and innovative design. Hudson Theatre Works produces Off-Broadway quality professional theater at affordable prices.
For more information visit www.hudsontheatreworks.org or email us at: hudsothetreworks@gmail.com.
Tickets are $30 and are available thru Brown Paper Ticketswww.brownpapertickets.com or 1 800 838 3006
Hudson Theatre Works is committed to ensemble collaboration as well as artistic risk through its work with its permanent company, guest artists, partner institutions and the surrounding community. It is dedicated to a rugged aesthetic which seeks to tell stories, both new and old, classic and contemporary, that reflect our lives, relationships and world today. Hudson Theatre Works' primary focus is in bringing a Living Theatre community to the area of North Jersey through performance, outreach and theatre arts instruction.