BWW Review: CHARLEY DE KOMISCHE MUSICAL at Oude Luxor Rotterdam: old Hollywood glamour meets Fawlty Towers!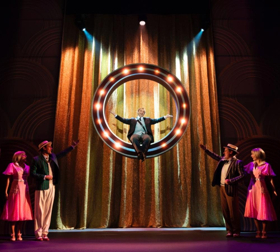 Charley, a new musical comedy by producer Pretpakhuis, opens its' show in an old-fashioned but lovely manner. Two well-dressed men (Jonathan Demoor as Anton and Job Bovelander as Lodewijk)in front of the curtain, introducing in song their friend Charley, the title role played by master of physical comedy Jon van Eerd.The duo Anton and Lodewijk are leading the story throughout the show and their hysterical chemistry is lovely to watch.
The ouverture sets the tone of the show. Catchy and original songs with the orchestra live on stage (bravo composer Michael Reed and Jon van Eerd for lyrics)mixed with hilarious scenes, results in a delightful show where Jon van Eerd as Charley (yet he prefers "Charles")is the star amongst stars. Jon transforms effortlessly between all the characters, and makes it extra funny when it goes 'wrong'. His mimicry is from another level, he reminded me a lot of the work of Rowan Atkinson, another strong physical comedian.
The whole cast is on point! The plot is a combination of old (or shall we say "Vintage" -yes, pun intended) Hollywood glamour meets Fawlty Towers. It's a hoot!
You can feel the love for this genre, the outstanding cast are shining bright on stage and are clearly having a blast.
Delightful, dazzling energy and they cleverly use clichés without getting corny.
Leun op Mij is the highlight of the show, where Charley and Anton go full Hollywood-glam in their white tux and Fred Astaire-like choreography. Next to the flawless vocals, their dancing skills are on point. Seemingly with great ease they tap, descend a show-staircase and twirl their canes. Congrats to Eline Vroon, who created the choreography.
The rest of the cast is outstanding as well. Vera Mann is smart and witty as Donna Lucia, Laus Steenbeeke and Hugo Haenen are desperately charming in pursuit of the affections of Charley's alter ego Donna and Priscilla Knetemann and Aimee de Pater as sweet-like-sugar sisters Celine & Eline are the perfect pair, in complete unison and synchronicity. Anne-Mieke Ruyten as Ella is endearing, and her physical comedy is just plain hilarious.
Costume design lies in the skillful hands of Arno Bremers. He creates a sweet and dandy world, classy yet fun.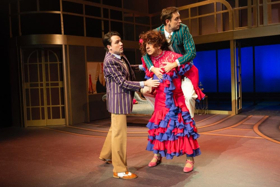 In conclusion, all the elements of a fun night out are there. Lovely music, humor and that extra spark of glamour which makes life just a little brighter.
For more info: www.charleydemusical.nl
Photo credit by Joris van Bennekom
Related Articles View More Netherlands

Stories

Shows
Hi! I'm Chantal. I'm blessed to be living and working in Amsterdam. From the moment I saw my very first musical theatre production as a (read more...)