Nashville Children's Theatre's 2017-18 Season Continues With MR. POPPER'S PENGUINS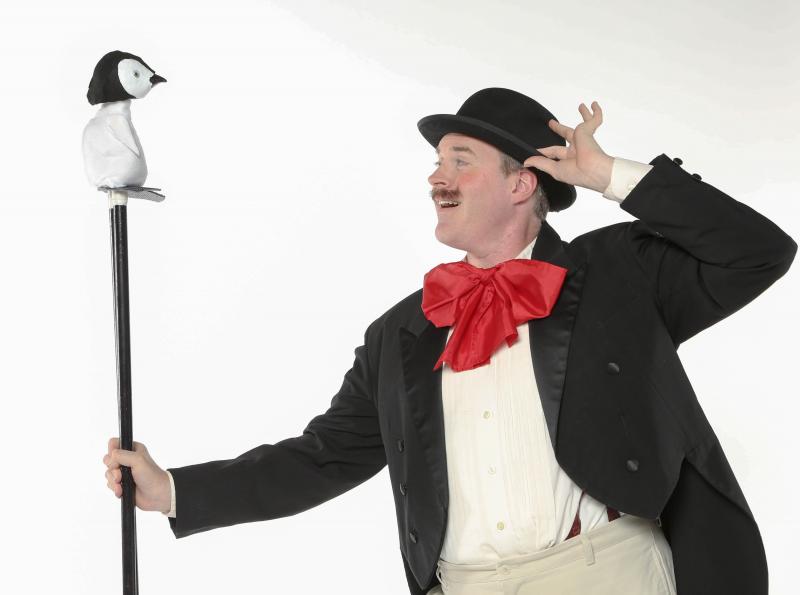 What do you get when you introduce a daydreaming house painter to a dozen delightful penguins? A flipper-flapping musical tale that will make you believe in the power of ingenuity and determination, according to Nashville Children's Theatre's executive artistic director Ernie Nolan, who describes it as a show "packed with puppetry, humor, and heart, Mr. Popper's Penguins is bound to put a smile on your face."
Nashville Children's Theatre (NCT), the nation's oldest professional theatre for young audiences, continues its 2017-18 season with Mr. Popper's Penguins - which features live actors interacting with puppets to bring the show to life.
"I could not be more excited to put my first musical here in Nashville up on its flippers...urm, I mean feet!" says Nolan, the show's director and choreographer, as well as NCT's executive artistic director.
"I have some of the best artists in Nashville as designers, performers, and musicians on board to bring this world, which is a little bit Gershwin and a little bit Muppet Show, to life. Mr. Popper's Penguins is a musical of hope and inspiration with spirited musical numbers and a boat load of dancing penguins."
Mr. Popper's Penguins has book by Robert Kauzlaric and music and lyrics by George Howe. It is based on the novel by Richard and Florence Atwater. The musical runs from October 26-December 3, at Nashville Children's Theatre.
Nolan's cast includes Geoff Davin as Mr. Popper, Erin Parker as Mrs. Popper, and in numerous other roles: Corinne Bupp, Rona Carter, Galen Fott, and Shawn Knight. This production marks the first time Davin, Parker and Bupp have performed at NCT.
Set design is by NCT's resident lighting designer Scott Leathers, with lighting design by Bill Rios, costume design by NCT's resident costume designer Patricia Taber, and puppet design by Brian Hull from Nashville Public Library's Wishing Chair Productions. Sound design is by William Kyle Odum, with musical direction by David Weinstein.
Opening night is Thursday, October 26, at 6:30 p.m. Weekend performances are at 2 p.m., Saturday, October 28-Sunday, December 3. (No performance on Sunday, October 29.)
For tickets, call (615) 252-4675 or go to www.NashvilleCT.org All performances take place at The Martin Center for Nashville Children's Theatre, 25 Middleton Street, in the SoBro neighborhood. Free parking is available on site.
Memberships for the 2017-18 season are still available. Sapphire Memberships are $150 and include ten tickets redeemable for the mainstage shows (excluding Cinderella). Diamond Memberships are $200 and include ten tickets which can be redeemed for the mainstage shows, plus a family four-pack to Cinderella and discounts on branded merchandise in the boutique.
ABOUT NASHVILLE CHILDREN'S THEATRE Founded in 1931 by the Junior League of Nashville, Nashville Children's Theatre is the oldest professional children's theatre in the United States. A national leader in theatre arts and education programs for young people, NCT was ranked by TIME Magazine as one of the top five children's theatre's in the country. Lead funding for NCT's programs is provided by Metro Nashville Arts Commission, Tennessee Arts Commission, The Shubert Foundation, The Memorial Foundation, The National Endowment for the Arts, and The Community Foundation of Middle Tennessee. For more information visit NashvilleCT.org.
Related Articles View More Nashville

Stories

Shows
Jeffrey Ellis is a Nashville-based writer, editor and critic, who's been covering the performing arts in Tennessee for more than 35 years. In 1989, Ellis (read more...)