Nashville Ballet Premiers Candid, Contemporary Story of LUCY NEGRO REDUX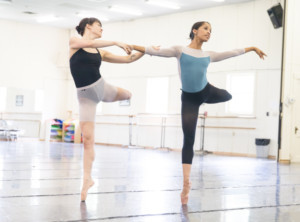 Exploring themes of otherness, equality and self-worth, Nashville Ballet will premiere Artistic Director Paul Vasterling's boundary-pushing ballet, Lucy Negro Redux, at TPAC's Polk Theater, February 8-10.
In a time-bending tale, Lucy Negro Redux examines William Shakespeare's love life and the subjects of his famed sonnets - the "Dark Lady" and "Fair Youth" - informed by the scholarly theory that these individuals were a black woman and a young, male lover, respectively. Featuring a narrator that sees herself in Lucy Negro, Vasterling's new work depicts one woman's journey of love and self-acceptance with the help of the Bard's poems.
"This is such a special piece to have the privilege of bringing to life. It's really a story for anyone who has ever felt othered, who's felt different, excluded or oppressed because of who they are," said Vasterling. "I hope it will be galvanizing in a way that calls us to be kinder and more loving to those who may be different from us, as well as to ourselves."
Inspired by Caroline Randall Williams's book of the same name, Vasterling brings the Nashville-based author and poet to the stage to perform spoken word excerpts from the book during the ballet. The list of impressive women of color lending their voices to this work doesn't stop there - Lucy Negro Redux features a score commissioned by Grammy Award-winning artist and MacArthur Fellow Rhiannon Giddens who will also appear onstage along with co-composer Francesco Turrisi, an Italian musician and music scholar bringing his talents and expertise on Elizabethan music to the project.
Nashville Ballet company artist Kayla Rowser will take on the title role of Lucy Negro. A rarity of its discipline, Vasterling created Lucy Negro Redux as a ballet exclusively for a black, female lead.
"The timing is right for this work," Vasterling said. "Not only because of the place we're at culturally in our society, but because Kayla is at a place in her career where she is so well-prepared to take on this role - she has the dance experience, and the life experience, needed to inform this piece and the strength to carry the weight of such a relevant story on her shoulders with professionalism and grace."
"I am so lucky to be able to do what I love for a living," Rowser said. "I have danced so many incredible roles - roles that dancers work towards for a lifetime - but now for the first time in my entire career, in Lucy Negro Redux, I'm finally able to take the stage as myself," Rowser said.
Nashville Ballet is hosting several upcoming ancillary events surrounding the premiere of Lucy Negro Redux. These events are open to the public offering community members opportunities to learn more about the story and themes of Lucy Negro Redux before seeing the premiere and exist to further the conversation around equity and otherness highlighted in the production.
Lucy Negro Redux Event Calendar:
Monday, Jan. 21: Rehearsal Viewing, Panel Discussion, Exhibit Opening - Lucy Negro Redux: Reimagining the Dark Lady at Nashville Ballet in collaboration with the National Museum of African American Music (FREE)
Tuesday, Jan. 22 - Thursday, Jan. 31: Inside the Ballet with Mitchell Korn at Nashville Ballet ($40 for four-class series)
Wednesday, Jan. 30: Rehearsal Viewing at Nashville Ballet (FREE)
About Nashville Ballet
Nashville Ballet is the largest professional ballet company in Tennessee. Nashville Ballet presents a varied repertoire of classical ballet and contemporary works by noted choreographers, including original works by Artistic Director Paul Vasterling. Nashville Ballet and the Second Company, NB2 (a pre-professional training company), provide more than 55,000 arts experiences to adults and children annually through season performances and its Community Engagement programming. Curriculum-based Community Engagement programs bring dance education to community centers, colleges, public libraries and public elementary, middle and high schools across the state. School of Nashville Ballet brings world-class dance instruction to students age 2 to 70.
Nashville Ballet receives public funding from Metro Arts, Tennessee Arts Commission and the National Endowment for the Arts. Contributions from local, regional and national institutional funders and community partners, as well as hundreds of generous individuals, provide ongoing support of Nashville Ballet's mission-critical programs.