BWW Review: KISS ME, KATE Audiences Are 'So In Love' With Chaffin's Barn's Stunning Revival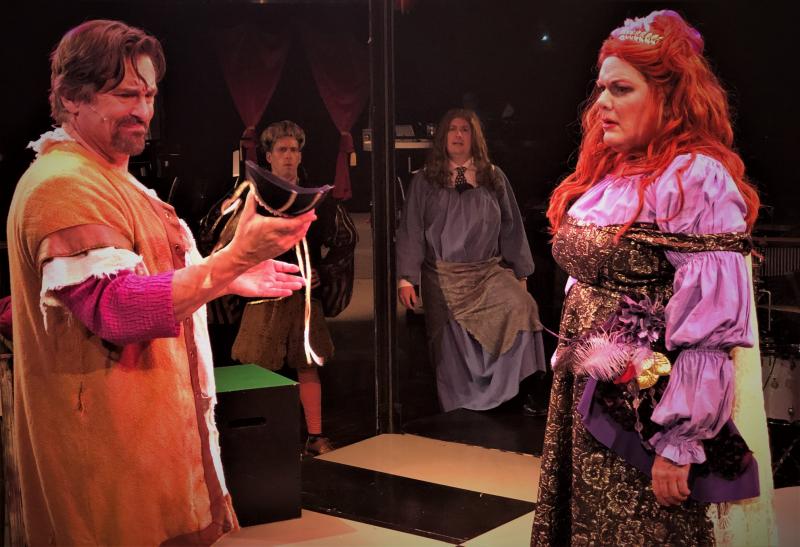 Crafting a musical theater hit is a lot like alchemy - the ancient study focused primarily on creating gold from baser elements - and oftentimes no matter the ingredients, directors never quite achieve the outcome for which they strive. But in the case of director/choreographer Everett Tarlton's production of Cole Porter's Kiss Me, Kate (now onstage at Chaffin's Barn Dinner Theatre through March 7), he has crafted something so special that it essentially defines the theatrical gold standard.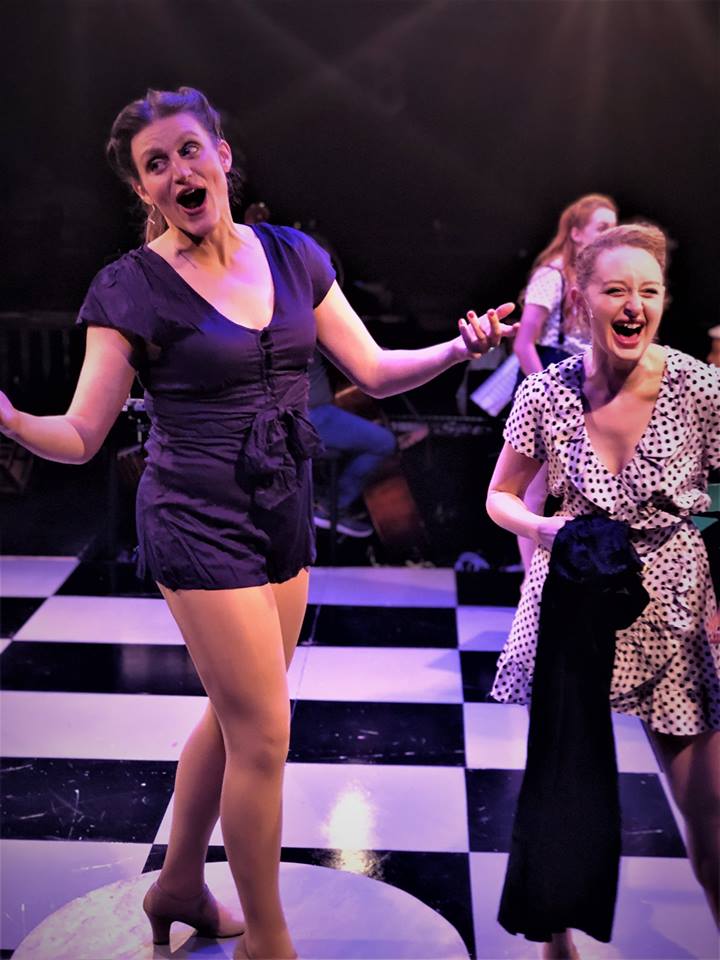 With Porter's 1948 work - the winner of the very first Tony Award for best musical - much in the news today (the new Broadway revival opened for previews last night in New York City, Valentine's Day 2019, starring Tony Award winner Kelli O'Hara and former Nashville star Will Chase as Lilli Vanessi and Fred Graham), the team at Chaffin's Barn put their own impeccable timing on display with a production that audiences are certain to love, thanks in large part to the casting of two of the region's best-known and most-loved personalities.
In fact, we can think of no two local actors more perfect than multiple First Night Award winners Martha Wilkinson and Matthew Carlton for the roles of the high-strung diva and her equally demanding ex-husband in the play written by Bella and Sam Spewack. In fact, the two played the same roles in an earlier revival of Kiss Me, Kate back during the last century, about which I wrote a rave review. Thus, I am delighted to report that the current production now on display is even more entertaining and the two longtime friends are even better as its stars (and probably more suited to, truth be told, no matter how superb I may have found them in the mid-1990s) at this point in their illustrious careers.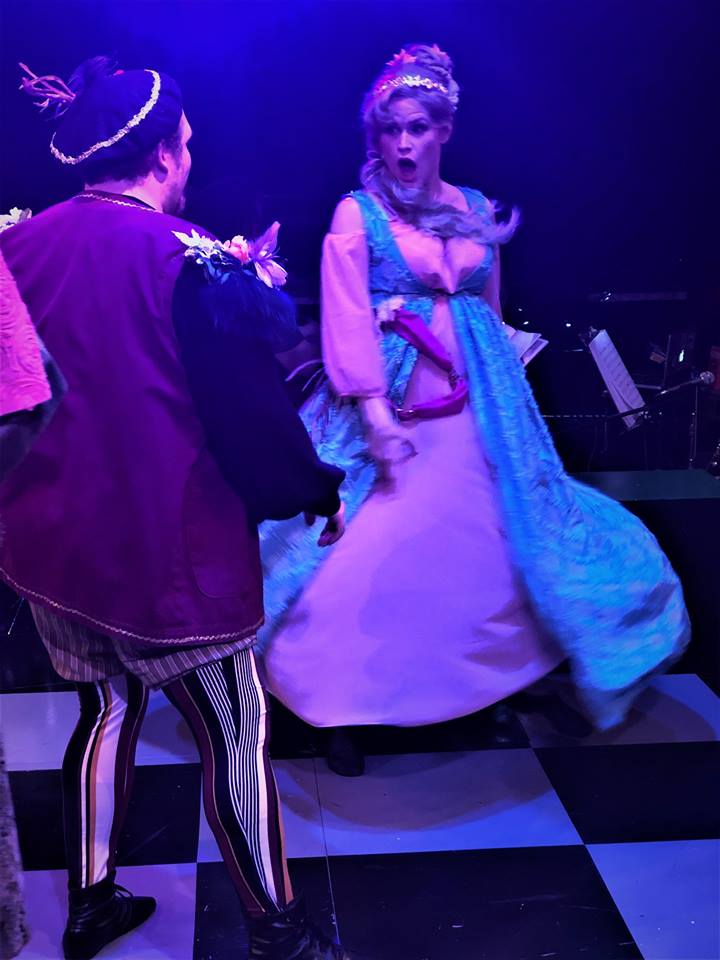 With Tarlton at the helm, Chaffin's Barn's 2019 Kiss Me, Kate, is stylish and smart (even if the Spewack's book is just as creaky as you might recall, reflecting its late 1940s pedigree - the new Broadway revival has been retooled to make it more palatable in the curreènt political and pop culture climate) featuring his signature spirited choreography, well-paced storytelling and musical performances guaranteed to pin your ears back.
Porter's sterling score is filled with memorable tunes ("Another Op'nin', Another Show," "Wunderbar," "Always True to You in My Fashion," "We Open in Venice," "So In Love" and "Brush Up Your Shakespeare" remain, with "From This Moment On" from Porter's 1951 Out of This World interpolated for the 1999 Broadway revival) and lyrics best described as witty, urbane and oh-so-sophisticated. The musical director and his capable bandmates perform the score with aplomb, interpreting the time-honored music with energy and commitment. Randy Craft, Dan Kozlowski, Michael Meadows, And Raymond Ridley pay homage to the legacy of Cole Porter with every note played.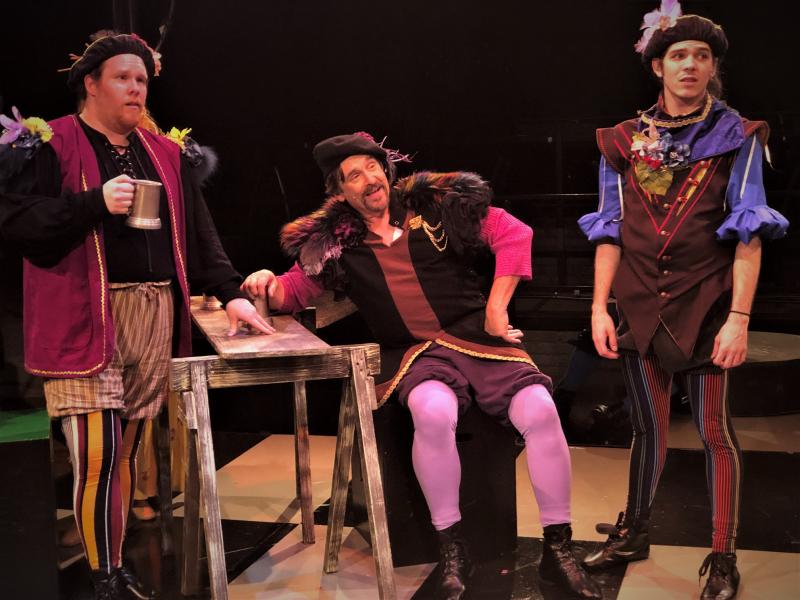 The characters are broad, bold and brassy, representative of the actual stage legends upon which they are based (Kiss Me, Kate is a fictional take on the adventures of Lynne Fontanne and Alfred Lunt's similarly legendary 1938 staging of The Taming of the Shrew), as well as post-World War II life in these United States.
Tarlton's direction is typical of his career to date: filled with imagination, creativity and wit, his vision is given superb support from the production's team of designers, bringing it to life in colorful, eye-popping fashion. Tarlton himself provides the impressive scenic design and, make no mistake about it, proves that even on the postage stamp-sized Barn stage, there's plenty of room for artistic expression in his clever backstage/onstage attributes. Miriam Creighton provides the period-perfect costumes for the talented ensemble of actors brought together to breathe life into the show, while lighting designer Katie Gant ensures everything is illuminated superbly, particularly designer Joy Tilley Perryman's gorgeous properties that help to define the era's sense of over-the-top style.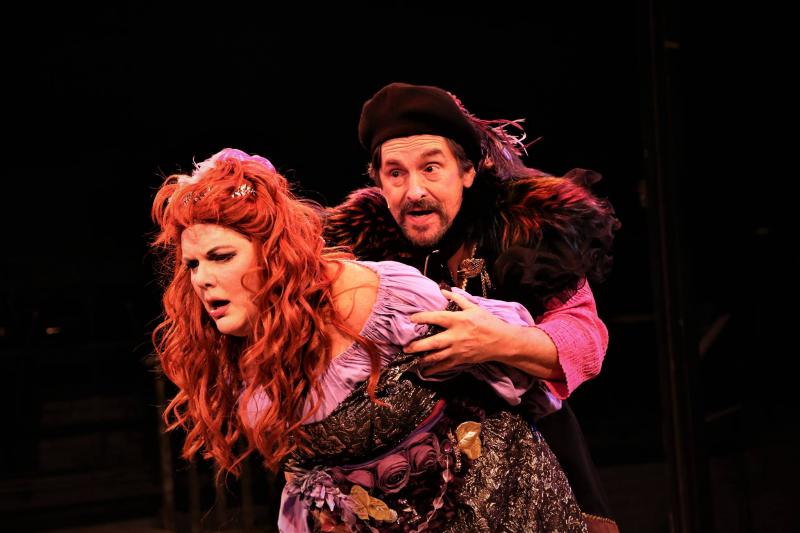 While the book's treatment of women's issues might rankle some in this day and age, Tarlton and his team counter any misgivings in their contemporary approach to the script (casting James Rudolph as General Harrison Howell, Lilli's fiancé and rising star in the post-war Republican Party, helps even things out considerably and his presence makes some lines considered throwaways in 1948 deliver more impact in the 21st century) and by pairing Wilkinson and Carlton at the top of the bill, he ensures that the characters of Lilli and Fred are equals in ways both expected and rather undefinable at the same time.
Wilkinson's appeal has never been greater than as Lilli and seldom has she been given the opportunity to show the range of her gorgeous voice more beautifully than in this role. Her "So In Love" is startling, an emotion-packed aria that instantly telegraphs to her adoring audience that this is a performance she has been preparing for throughout her career. One of the most beloved performers in Nashville theater history, Wilkinson shows off every skill in her estimable bag of actorly tricks - her comedic moments provide a master class for actors and audiences alike, while her dramatic scenes carry a weight as emotional as any you might imagine. But at its core, there is her beautiful soprano (both of the Broadway belt and legit styles) that has long defined her as a star. Her lilting duet with Carlton to "Wunderbar," a light Viennese waltz, is exquisite.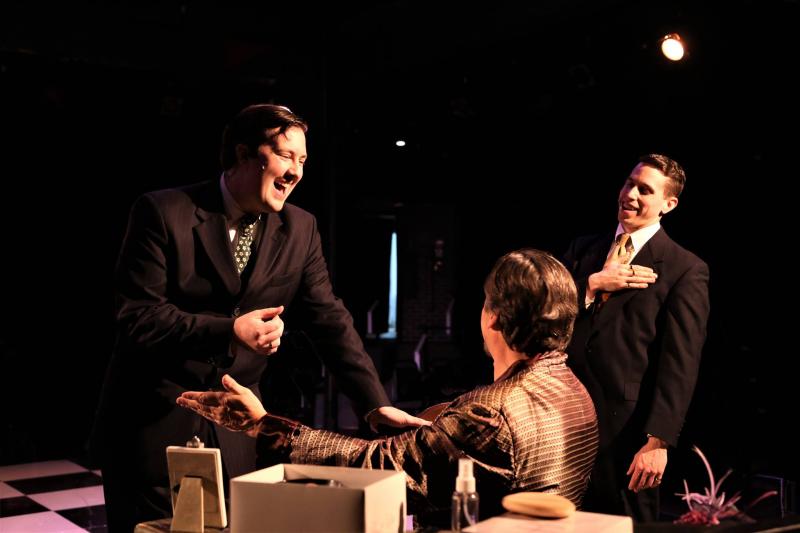 Proving himself every bit the star that Fred Graham is written to be, Carlton's confident stage presence firmly establishes him as the show's leading man. He and Wilkinson go toe-to-toe in the show's laugh-filled moments, to be certain, but perhaps more noteworthy is Carlton's own easy grace with the Cole Porter songs with which he is entrusted. "Were Thine that Special Face" and "Where is the Life That Late I Led?" are wonderful numbers performed by Fred as Petruchio in the musical version of The Taming of the Shrew, but there is also the heartfelt and even heartbreaking refrain of his "So In Love" reprise late in Act Two that is certain to mesmerize audiences.
But from the audience, there is perhaps nothing quite so special than the onstage chemistry shared by the two leading players that makes their scenes together so effortless, giving a lighter than air buoyancy to their performances that is soul-stirring. They could share the stage in a scene filled with the most trivial of subjects and audiences, we suspect, would leave the theater in sheer elation, thanks to the superb theatricality that is Wilkinson and Carlton.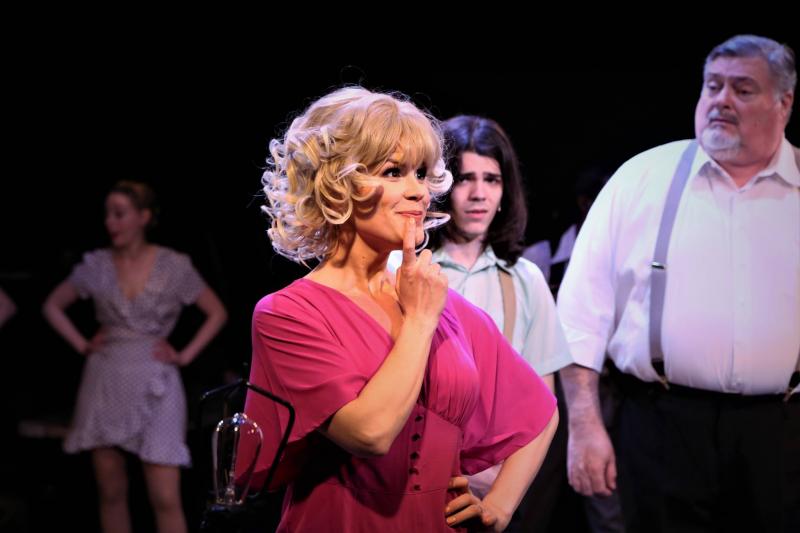 Among the supporting players, Mallory Mundy makes a welcome return to the stage as Lois Lane (Bianca), the quintessential showgirl who's digging for gold while angling for her Broadway debut. Mundy is given the opportunity to show off her tremendous dancing skills thanks to Tarlton's terrific choreography - she virtually stops the show with Act Two's "Always True to You in My Fashion" - and she has loads of sassy sex appeal to win over every audience member with her portrayal of the role. Add to that her impressive vocal abilities and it's as if the Spewacks and Porter were considering her for the role when they were writing the show.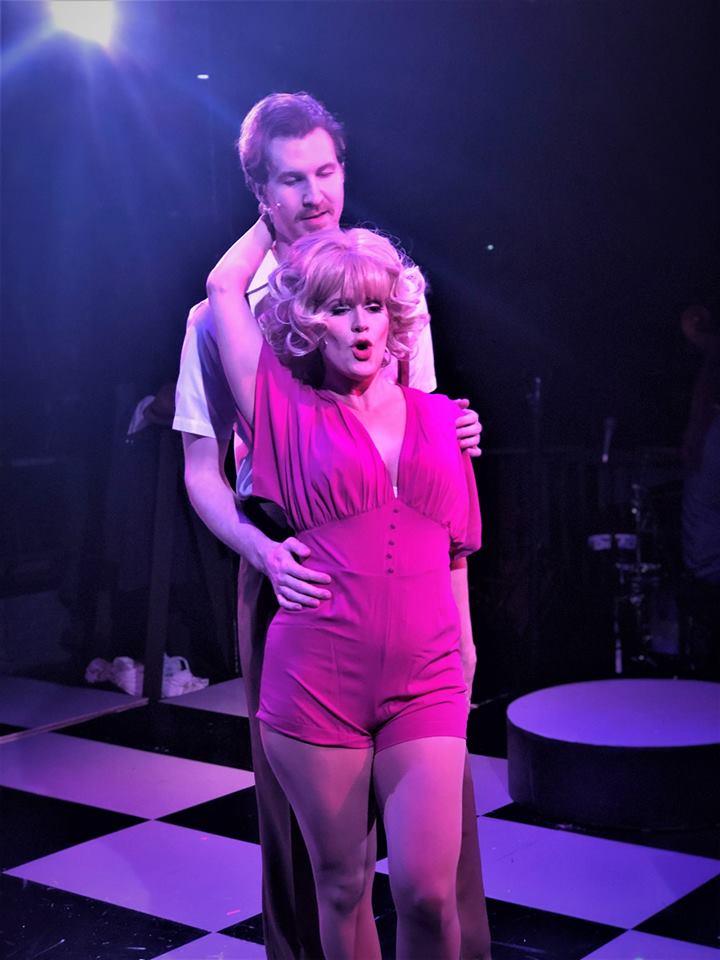 Caleb Pless makes an impressive Chaffin's Barn debut as Lois' main squeeze Bill Calhoun, the hoofer who loses too much dough while shooting craps. Tall and thin, Pless might be compared to Broadway legend Tommy Tune (I'm imagining him in a long line of possible musical theater roles now that I've written that), but he manages to lend an air of authenticity to his character with an easy, laconic grace that typifies his performance of both "Why Can't You Behave?" (which he shares with Mundy) and "Bianca," in which Lucentio pitches woo to Kate's younger sister.
Is there a more perfect show opening number than "Another Op'nin', Another Show"? Watching Tarlton's ensemble perform the opener, featuring Katie Bruno as Hattie, you'd be hard-pressed to think of one more ideal. Cleverly staged by Tarlton, the audience is introduced to every member of the cast and the genuine exhilaration of opening night excitement is palpable throughout. Likewise, Act Two starts off dramatically and tunefully with the sensual "Too Darn Hot," performed by Curtis Reed and the members of the show's chorus (which includes the aforementioned Bruno, Mundy and Pless, in addition to Christian Redden, Christen Heilman, Caitlyn Porayko, Caroline Nelson, David Ridley, Nick Spencer) - and it's not to be missed! Tarlton's choreography for the number is swell and showcases the talents of his cast to perfection.
Also making his return to the Barn stage after far too long an absence is Timothy Orr Fudge, the veteran of many a show with Wilkinson and Carlton, as Henry/Baptista, and Austin Olive and Sawyer Wallace make the most of their time onstage as a pair of wiseguys sent to collect on a gambling debt, almost making off with the entire production with their scene-stealing performance of "Brush Up Your Shakespeare."
Kiss Me, Kate. Music and lyrics by Cole Porter. Book by Sam and Bella Spewack. Directed and choreographed by Everett Tarlton. Presented by Chaffin's Barn Dinner Theatre, 8204 Highway 100, Nashville. Through March 7. For reservations, call (615) 646-9977; for further information, go to www.chaffinsbarntheatre.com. Running time: 2 hours, 45 minutes (with one 15-minute intermission).
Related Articles View More Nashville

Stories

Shows
Jeffrey Ellis is a Nashville-based writer, editor and critic, who's been covering the performing arts in Tennessee for more than 35 years. In 1989, Ellis (read more...)