Latest News on Matthew Carlton
Matthew Carlton News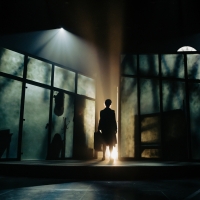 Review: Matt Logan Directs 'Stunning, Powerful, Deeply Moving' THE HIDING PLACE in Nashville Premiere
by Jeffrey Ellis - Jul 10, 2022
Stunning. Powerful. Deeply moving. The words come rather easily in an attempt to adequately describe the awe-inspiring performances to be found in director Matt Logan's beautifully crafted production of A.S. Peterson's The Hiding Place. Now onstage in its Nashville premiere at the Soli Deo Center (which, to be frank, is equally notable and worthy of excessive praise) at Christ Presbyterian Academy through July 23, the play – which had its premiere in September 2019 at A.D. Players in Houston, Texas – proves to be both accessible, engaging and, we daresay, hopeful even as it tells a story from one of the darkest eras in human history.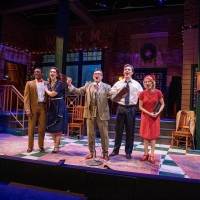 BWW Review: Studio Tenn's Emotional and Heartfelt IT'S A WONDERFUL LIFE Brings Magic to the Holiday Season
by Jeffrey Ellis - Dec 22, 2021
Cassidy has very cleverly reconfigured the piece to be presented as a radio play, presented in 1947 on local Franklin radio station, WAKM, adding some dialogue that rings authentic of the era and certain to gain a reaction from the play's audience. In less capable hands, this new conceit could be considered too cute by half, yet Cassidy and his ensemble very confidently bring the show to life with a spirit heretofore unrealized.
Friday 5(+1): Getting To Know The New Faces of Nashville Rep's RAGTIME
by Jeffrey Ellis - Nov 12, 2021
Ragtime opened last night, featuring a cast of Nashville stage veterans and a sizable coterie of performers, heretofore unknown to local audiences, who are certain to become fast favorites. Taking a brief respite from their hectic schedules of rehearsals, fittings, photo calls, more rehearsals and getting to know one another, four of those newcomers – Shelby Denise Smith, Wood Van Meter, Kortney Ballenger and Steven McCoy – took the time to answer our questions to tell you why you need to score those tickets for Ragtime now if you haven't already.
Nashville Rep Comes Home to TPAC's Polk Theatre for Season-Opening RAGTIME
by Jeffrey Ellis - Nov 9, 2021
Opening Thursday night, November 11 and continuing for five performances through Sunday, November 14, Ragtime – the musical by Stephen Flaherty (music), Lynn Ahrens (lyrics) and Terrance McNally (book) which, in turn, is based upon E.L. Doctorow's 1975 novel of the same name – promises to be a grand undertaking, which hopefully will blow away the cobwebs and the dust that's collected in the past year-and-a-half during which the theater was dark and the company strived to remain relevant and productive amidst all the challenges that ensued.
Studio Tenn To Host 29 Hour Reading Of The New Folk Musical JOHNNY AND THE DEVIL'S BOX
by A.A. Cristi - Oct 9, 2019
Studio Tenn, a premiere regional theatre company in Franklin, Tennessee will host a 29 hour reading for the new musical Johnny and the Devil's Box on November 9th.
BWW Review: Nashville Rep's 35th Season Celebration Kicks Off With Astonishing URINETOWN THE MUSICAL
by Jeffrey Ellis - Sep 15, 2019
Brilliant social commentary or sophomoric lowbrow humor? Just what is it that makes Urinetown the Musical such a hit with audiences and theater companies a?' is it the biting satire delivered in Greg Kotis' book and lyrics and in Mark Hollmann's music and lyrics, or is it (in the case of Nashville Repertory Theatre's 35th season opening production) director Jason Tucker's fast-paced and quick-witted vision that's nothing short of mesmerizingly entertaining? We'll leave that up to you to decide a?' well, actually, we won't since that's why I am paid the big bucks to tell you what to think a?' but rest assured that no matter the reason, odds are you're going to love Nashville Rep's iteration of Urinetown and you'll want to score tickets before the show evaporates into the creative ether encircling Tennessee Performing Arts Center's Andrew Johnson Theatre.

BWW Review: Studio Tenn's Deliciously Campy, Fun and Sexy JOSEPH AND THE AMAZING TECHNICOLOR DREAMCOAT
by Jeffrey Ellis - May 18, 2019
With Joseph, which opened last night at Franklin's Jamison Theater inside The Factory at Franklin, further establishes its brand: presenting exceptional musical theater with production qualities that might rival Broadway, performed by a cast (a dreamcast, if you will) made up of actors from Nashville, New York and various and sundry points in between. The show's title role is entrusted to New York-based Jesse Michels, who oozes great charm and is fairly dripping in sex appeal which ensures the audience is riveted to his performance - but it's his gorgeous baritenor and prominent stage presence that makes certain this production of Joseph is so appealing and we daresay noteworthy.

BWW Review: KISS ME, KATE Audiences Are 'So In Love' With Chaffin's Barn's Stunning Revival
by Jeffrey Ellis - Feb 15, 2019
Crafting a musical theater hit is a lot like alchemy - the ancient study focused primarily on creating gold from baser elements - and oftentimes no matter the ingredients, directors never quite achieve the outcome for which they strive. But in the case of director/choreographer Everett Tarlton's production of Cole Porter's Kiss Me, Kate (now onstage at Chaffin's Barn Dinner Theatre through March 7), he has crafted something so special that it essentially defines the theatrical gold standard.

BWW Review: Studio Tenn's Holiday Season Offering of BEAUTY AND THE BEAST
by Jeffrey Ellis - Dec 14, 2018
Before Broadway comes calling for Hatty Ryan King, the young Nashville actress with an enviable resume (the Lipscomb University sophomore is a Spotlight Award winner, was a finalist for The Jimmy Award, has worked with theater companies both community-oriented and professional and has proven herself a capable leading player along the way), you might want to get your tickets to see her onstage in Studio Tenn's ambitious, if woefully uneven, holiday season offering of Beauty and The Beast. In a role that could have been written for her, King shines as Belle, the ambitious and eager to learn and to embrace change young woman who is the heroine of the musical which features a score by Alan Menken, lyrics by Howard Ashman and Tim Rice and a book by Linda Woolverton.

SAVE THE DATE: Nashville Theater Calendar for December 10, 2018
by Jeffrey Ellis - Dec 10, 2018
Looking ahead, you'll find a number of new productions on tap for your entertainment pleasure, including a number of holiday season offerings to put you in the Christmas spirit, thanks to the efforts of theater companies all over Middle Tennessee. Here's our calendar for December 3, 2018, to help you plot your course through the first few weeks of 2019...
Matthew Carlton Videos
STAGE TUBE: Josiah Gibbs and CJ Tucker Talk BECKY'S NEW CAR
by Jeffrey Ellis - Jul 20, 2011
Josiah Gibbs (Chris) and CJ Tucker (Ginger) discuss Steven Deitz's BECKY'S NEW CAR, directed by Vali Forrister for Nashville's Actors Bridge Ensemble, playing July 29 through Aug 7 at Belmont's Black Box Theater.