Latest News on Joy Tilley Perryman
Joy Tilley Perryman News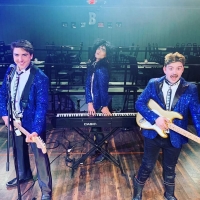 BWW Review: Go Back to the 1980s With THE WEDDING SINGER at Chaffin's Barn
by Jeffrey Ellis - Sep 20, 2019
Somewhere among the cards and letters, photographs and souvenirs from my misspent youth is a picture (circa 1978) of me clad in a powder blue tuxedo, with a ruffled-front shirt edged in the same hue, all capped off by an impossibly wide bow tie to match a?" my costume to serve as a groomsman in the wedding of two friends. That image has been prominent in my mind for the past 12 hours after experiencing déjà vu of a particular sort, thanks to a rousing, rollicking and downright rocking production of The Wedding Singer, the latest offering at Chaffin's Barn Dinner Theatre, which opened last night and continues through October 19 at the venerable Nashville venue.
BWW Review: Steven Dietz's SHERLOCK HOLMES: THE FINAL ADVENTURE Given Elegant Interpretation at Chaffin's Barn
by Jeffrey Ellis - Sep 3, 2019
Director Daniel DeVault has assembled a stellar cast for the latest production onstage at Chaffin's Barn Dinner Theatre a?" Steven Dietz's Sherlock Holmes: The Final Adventure a?" who bring the tale to life with enthusiasm and vigor that's leavened by enough humor to keep even the most discerning of theater-goers actively engaged in what transpires upon the magical floating stage at the venerable Nashville venue.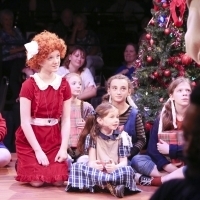 BWW Review: ANNIE Is Looking Swell and Spiffy in Sparkling Chaffin's Barn Revival
by Jeffrey Ellis - Jul 22, 2019
If there is a more perfect pooch to portray Annie's Sandy than Rufus Stewart, then his humans should produce said canine for an upcoming production of the beloved Broadway musical post-haste. Until such time as that occurs, we are simply going to claim Rufus as the quintessential canine co-star for any number of red-headed moppets singing about "Tomorrow" while palling around with FDR, Frances Perkins, Harold Ickes and others of their political ilk.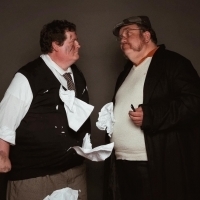 BWW Review: GOD'S FAVORITE at Chaffin's Barn is Funny, Irreverent and Sincere
by Jeffrey Ellis - Jun 21, 2019
American playwright Neil Simon's prolific and wide-ranging contributions to theater range from the sublime (The Odd Couple and Rumors) to the ridiculous (Fools), with God's Favorite - now onstage through tomorrow - falling somewhere in the middle. While it's not one of the master craftsman's best scripts, it nonetheless is certain to provoke thought and when performed by a talented cast of actors, like it is in its current iteration at The Barn, it is certain to entertain and to evoke an emotional response.

CRITIC'S CHOICE: The Shows and Theater Events To Liven Up Your Weekend Plans
by Jeffrey Ellis - May 9, 2019
It's another busy weekend in Nashville - but when is Music City not packed with events, festivals, affairs? - and we're back with our Critic's Choice recommendations to have you cut through the theatrical flotsam and jetsam and find a cultural opening that's a good fit for your harried lifestyle. Nashville Opera opens its staging of Marc Blitzstein's The Cradle Will Rock at Noah Liff Opera Center, Way Off Broadway Productions unveils its version of Les Liaisons Dangereuses at Music Valley Event Center, Street Theatre Company invites you to the see their staging of Lynn Nottage's Sweat at their new venue on Elm Hill Pike and Nashville Rep continues its celebration of 10 years of The Ingram New Works Festival at Nashville Children's Theatre.
BWW Review: Chaffin's Barn's Timely and Timeless LISTEN TO YOUR MOTHER
by Jeffrey Ellis - Apr 27, 2019
As the magical floating stage descends from the upper recesses of Chaffin's Barn Dinner Theatre, anticipation grows and attention is directed to the half dozen actors seated upon the stage, their chairs as unique as the performers themselves. Gathered together by director Joy Tilley Perryman, the dozen actors who will be seen and heard in the company's performance of Listen to Your Mother, a collection of monologues on the subject of parenthood and the myriad relationships to be found among parents and children, were each cast for his or her particular strengths, whether it's their ability to tell a story or to engage an audience.

Mama Knows Best: Talking With the Cast & Crew of LISTEN TO YOUR MOTHER at Chaffin's Barn
by Jeffrey Ellis - Apr 19, 2019
Here in the south, we revere our mamas, y'all, often expressing our loyalty and devotion to the woman who raised us in a myriad of ways. Rarely a day passes that we don't give mama credit for teaching us a lot of things during our lifetime, whether it's the proper technique of frying chicken, how to starch a shirt and then iron it in such a way to rival the best professional launderers in the business or, perhaps most significantly, how to fold a fitted sheet properly.

BWW Review: KISS ME, KATE Audiences Are 'So In Love' With Chaffin's Barn's Stunning Revival
by Jeffrey Ellis - Feb 15, 2019
Crafting a musical theater hit is a lot like alchemy - the ancient study focused primarily on creating gold from baser elements - and oftentimes no matter the ingredients, directors never quite achieve the outcome for which they strive. But in the case of director/choreographer Everett Tarlton's production of Cole Porter's Kiss Me, Kate (now onstage at Chaffin's Barn Dinner Theatre through March 7), he has crafted something so special that it essentially defines the theatrical gold standard.
BWW Review: Chase Miller's Star Burns Bright in Chaffin's Barn's ELF THE MUSICAL
by Jeffrey Ellis - Nov 16, 2018
Throughout the past year, I've written quite often about Nashville's Chase Miller and his tremendous talents, remarkable stage presence and startling ability to successfully morph from one character to another completely unlike the first (or any to follow). Miller is rather insanely talented and any director worth her or his salt would be deliriously happy to have the serious triple threat in any show on their drawing board.

BWW Review: Spectacular Cast Gives Chaffin's Barn's NEWSIES A Fresh Appeal
by Jeffrey Ellis - Sep 22, 2018
For plenty of fast-paced action, along with some stellar performances by a fresh-faced cast of eager young theatrical triple threats and a coterie of Nashville stage favorites, one need look no further than Disney's Newsies, the latest onstage offering from Chaffin's Barn Dinner Theatre, the iconic Music City venue that's been entertaining audiences for more than half a century. In its way, The Barn (as it is affectionately known in these parts) and its laudable history ensure that its treatment of the popular musical theater title lend the show's historical basis more than a little gravitas in the making of a stage spectacle.
Joy Tilley Perryman Videos
STAGE TUBE: First Night Nashville promo released
by Jeffrey Ellis - Aug 18, 2011
First Night: The Honors Gala is set for Sunday, September 4, at the Troutt Theatre at Belmont University, which kicks off at 5:30 p.m. with the Red Carpet Event, hosted by Jennifer Richmond and Trey Palmer, with fashion commentary by Cary Street, Joshua Waldrep and Lisa Garner Harrison. Impresario Johnny Delarocco (aka John Pyka) will produce a special Red Carpet performance by his company just for First Night.