Kate Hennig's THE LAST WIFE Opens At Centaur Theatre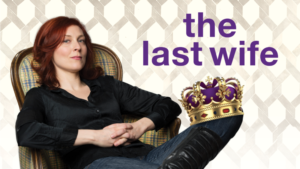 Centaur Theatre presents the Quebec premiere of Kate Hennig's historical drama, THE LAST WIFE, from February 12 to March 3, 2019. This imagined contemporized examination of Henry VIII's last wife, Katherine Parr, chronicles Kate as she negotiates the halls of power through the bedroom and the dinner table.
The Last Wife was a hit when it opened at the Stratford Festival in 2015, and subsequently led Hennig to write The Virgin Trial and Mother's Daughter, thereby creating the Queenmaker Trilogy. This production is directed by Centaur Theatre's Artistic and Executive Director, Eda Holmes, with native Montrealer, Diana Donnelly, reuniting with her former Shaw Festival collaborator to play Katherine.

Kate Hennig takes audiences behind the throne into a home not unlike that of any power family today. Almost 500 years ago, Katherine Parr manoeuvred her way through the halls of power and earned the respect and trust of her husband, King Henry VIII. History has taught us that wedding the notorious King usually proved fatal but in Kate Hennig's re-imagined account of Henry's sixth and last wife, not only did he meet his match in wit and negotiation, he gained a formidable ally worthy of ruling the country while he fought in France, and who prepared his heirs--male AND female--to rule an empire. The Last Wife is a smart, funny, potent examination of patriarchy, family, sexual politics, and women's rights.

Ms. Holmes said, "The uncanny political timeliness and social relevance render The Last Wife popular both here and in the US. It's full of sexy characters and life and death stakes--pillars of great theatre--but what emerges as the thrilling core of the story are Katherine Parr's gutsy intelligence and resilient pragmatism. Kate [Hennig] has unleashed a modern woman into history, giving us a new prism through which to view power, patriarchy and feminism. In fact, she has done the very thing that historian and women's rights campaigner, Dame Mary Beard, proposes: she has redefined the structures of power."

Ms. Hennig explained her attraction to Katherine Parr. "After watching the events of the Arab Spring on the news in 2011, I became curious about the wives and daughters of tyrants. That led me to Henry VIII, which led me to Katherine Parr. The Last Wife is an 'imagined' history based on actual people and events. What I was deeply interested in was the humanity of these iconic characters, imagining what made them do what they did, thereby shaping history. Creating a contemporary voice for this history allows us to see ourselves and our own personal and political struggles. It also raises questions such as do women see power, specifically political power, as a position from which things get done or is the teaching of children--an archetypically feminine domain--a more powerful platform for change than seeking political office?" Preview Pre-show Convo: Thursday February 14 at 7pm. In the intimate Centaur Theatre gallery, meet set and costume designer, Michael Gianfrancesco, and discover how his contemporary set and array of costumes thrust a 500-year-old story into today's world. Free and open to the public.

Sunday Chat-Up: Sunday February 17 at 12:30pm in Centaur Theatre's Gallery. Join Montreal Gazette Editor-in-Chief, Lucinda Chodan, in conversation with Shannon McSheffrey, PhD, Professor in the History Department at Concordia University and Fellow of the Royal Historical Society of the U.K. Professor McSheffrey is an expert on the reign of Henry VIII, especially regarding how he and his wives have been represented in recent popular culture. She will talk about early modern England in terms of gender and women's history and whether representation in recent popular culture, and TV shows like The Tudors got it right. This is a free public event with refreshments provided by Bonaparte Restaurant.

Post-Show Talkbacks: Thursday February 21 and Sunday February 24. Audience members are invited to stay after the performances for insightful Q&A's with some members of the cast.

Saturday Salon: Saturday February 23 after the 2PM matinée in the Gallery. An exploration of the way colonial stories like The Last Wife relate to diverse Canadian histories. Eda's guest will be Jessica Carmichael, a non-status Abenaki/Euro artist who teaches directing and dramaturgy at Concordia University.
Related Articles View More Montreal

Stories

Shows
More Hot Stories For You