Photos: First Look at Ansa Akyea, Emily Gunyou Halaas and More in Guthrie's CLYBOURNE PARK
The Guthrie Theater presents its production of 2011 Pulitzer Prize and 2012 Tony Award winner Clybourne Park by Bruce Norris, the biting, powerhouse contemporary satire about race and gentrification during the past half century in America. Written in response to Lorraine Hansberry's classic A Raisin in the Sun, Clybourne Park has sparked conversation and dialogue across America wherever it has played. Lisa Peterson (Guthrie: Major Barbara, Oedipus) returns to direct another great, biting American story at the Guthrie after last year's lauded production of Tennessee Williams' Cat on a Hot Tin Roof. BroadwayWorld has a first look at the production photos below.
Norris' ingenious dramatic structure takes place in two acts separated by fifty years, with actors playing different roles from Act One to Act Two. The cast for Clybourne Park includes Ansa Akyea (Guthrie: The Burial at Thebes, The Winter's Tale) as Albert/Kevin, Shá Cage as Francine/Lena, Emily Gunyou Halaas (Guthrie: Much Ado About Nothing, The Master Butchers Singing Club) as Betsy/Lindsey, Peter Christian Hansen (Guthrie: Cat on a Hot Tin Roof, Dollhouse) as Jim/Tom, Steven Lee Johnson (Twin Cities: Park Square Theatre, Theater Latté Da) as Kenneth, Jim Lichtscheidl (Guthrie: Arms and the Man, The 39 Steps) as Karl/Steve, Bill McCallum (Guthrie: Tales from Hollywood, Time Stands Still) as Russ/Dan and Kathryn Meisle (Guthrie: The Real Thing, Three Sisters; Broadway: Tartuffe, A Touch of the Poet) as Bev/Kathy.
The artistic team includes Rachel Hauck (Set Designer), David Zinn (Costume Designer), Mark Barton (Lighting Designer), Reid Resja (Sound Designer), Carla Steen (Dramaturg), Karen Wagner (Stage Manager), Michele Harms (Assistant Stage Manager) and Jennie Ward (Assistant Director).
Clybourne Park begins preview performances on June 1, opens June 7 and continues through August 4, 2013 on the McGuire Proscenium Stage at the Guthrie Theater. Single tickets start at $29 and are now on sale through the Guthrie Box Office at 612.377.2224, toll-free 877.44.STAGE, 612.225.6244 (Group Sales) and online at www.guthrietheater.org.
Photo Credit: Michael Brosilow

Kevin (Ansa Akyea), Lindsey (Emily Gunyou Halaas) and Steve (Jim Lichtscheidl)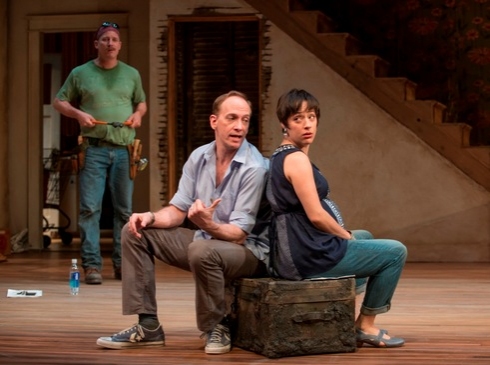 Dan (Bill McCallum), Steve (Jim Lichtscheidl) and Lindsey (Emily Gunyou Halaas)

Kathy (Kathryn Meisle)

Kevin (Ansa Akyea) and Lena (Sha Cage)

The Cast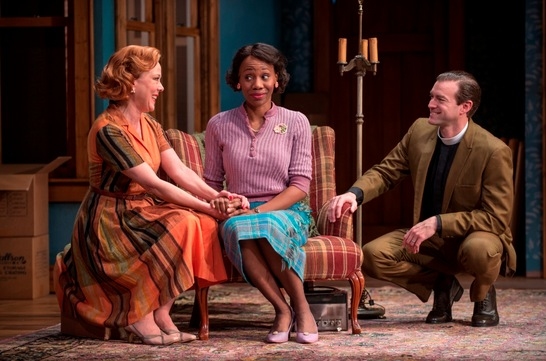 Bev (Kathryn Meisle), Francine (Sha Cage) and Jim (Peter Christian Hansen)

Francine (Sha Cage), Albert (Ansa Akyea) and Karl (Jim Lichtscheidl)

Bev (Kathryn Meisle) and Russ (Bill McCallum)