Latest News on Jim Lichtscheidl
Jim Lichtscheidl News
RIDE THE CYCLONE Comes to the McCarter Theatre in April
by Stephi Wild - Mar 29, 2022
McCarter rings in Spring with Ride The Cyclone: The Musical - a wholly unexpected, wildly imaginative story that delivers surprises at every turn. The first show to be directed by McCarter's new Artistic Director Sarah Rasmussen, with book, music & lyrics by Brooke Maxwell & Jacob Richmond.
Guthrie Theater to Present Lorraine Hansberry's A RAISIN IN THE SUN
by Chloe Rabinowitz - Dec 21, 2021
The Guthrie Theater today announced casting for Lorraine Hansberry's theatrical masterpiece A Raisin in the Sun, directed by acclaimed Twin Cities artist Austene Van. A Raisin in the Sun will play January 8 – February 12, 2022, on the McGuire Proscenium Stage.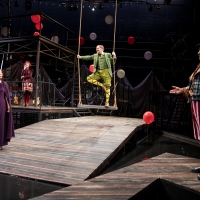 BWW Feature: TWELFTH NIGHT at Guthrie Theater
by Kristen Hirsch Montag - Mar 8, 2020
Two ensemble members highlight how production design influenced their performances in this unique look at Shakepeare's TWELFTH NIGHT.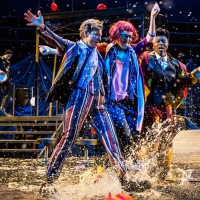 Review Roundup: TWELFTH NIGHT at the Guthrie Theater - What Did the Critics Think?
by Review Roundups - Feb 19, 2020
The Guthrie Theater presents Twelfth Night, February 8 - March 22, 2020.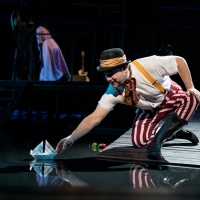 Photo Flash: Guthrie Theater's Production of TWELFTH NIGHT
by Chloe Rabinowitz - Feb 11, 2020
The Guthrie Theater presents twelfth Night, written by William Shakespeare and directed by Tom Quaintance, who is making his hometown and Guthrie mainstage directorial debut. Quaintance has assembled an all-local ensemble to create a production that focuses on the need for love and delight despite the risks and hardships of life.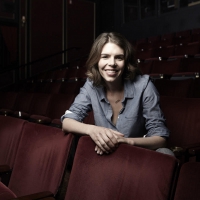 BWW Interview: Sarah Rasmussen of RIDE THE CYCLONE at Jungle Theater
by Kristen Hirsch Montag - Sep 18, 2019
Director Sarah Rasmussen marks the beginning of her fifth season at the Jungle Theater with a new work that challenges this small theater technically and is her 'teenage dream.' She answers 6 Questions and a Plug about RIDE THE CYCLONE.
BWW Review: RIDE THE CYCLONE at Jungle
by Karen Bovard - Sep 15, 2019
I'm all for efforts to create new ensemble musicals in tune with our times. RIDE THE CYCLONE was composed in 2008 by Canadian artists Brooke Maxwell and Jacob Richmond, played at the Toronto Fringe Festival, and has bumped across Canada and the US (including New York, Chicago, Atlanta, and Seattle) since then, collecting a fan club as it goes. Funny and tuneful, it has a dark but intriguing premise, a theatrically spooky setting, and some strong musical moments. I just wish it traded less on tired stereotypes. Warning: spoilers ahead.
BWW Review: Intimate, Funny, Moving INTO THE WOODS at Ten Thousand Things
by Karen Bovard - Mar 4, 2019
INTO THE WOODS is new artistic director Marcela Lorca's debut directorial outing for Ten Thousand Things after the retirement of renowned artist and social change agent Michelle Hensley, the founder of the company. Seeing this Sondheim masterpiece up close and stripped of pretentiousness is a treat.
BWW Review: World Premiere Adaptation of LITTLE WOMEN at Jungle Theater
by Karen Bovard - Sep 17, 2018
For the opening of her third season as Artistic Director at Minneapolis' spunky Jungle Theater, Sarah Rasmussen and her team commissioned a new adaptation of LITTLE WOMEN from Kate Hamill in celebration of the 150th anniversary of the novel's publication. Kate Hamill is an actor who has, of late, gained notice for her skillful adaptations of classic novels for the stage (several Austen works, Vanity Fair, etc.), to the point that she was one of the 10 most frequently produced playwrights in the US last season.
Jungle Theater's World Premiere Adaptation of LITTLE WOMEN Opens 2018-19 Season
by BWW News Desk - Sep 15, 2018
The Jungle Theater opens its 2018-19 Season with its first-ever commission: The world premiere of Kate Hamill's adaptation of Louisa May Alcott's Little Women. The production coincides with the 150th anniversary of the publication of Little Women, 'the groundbreaking novel that changed everything' (Little Women 150). Jungle Artistic Director Sarah Rasmussen directs this beloved classic saturated with a contemporary air, running September 15-October 21 at the Lyn-Lake neighborhood theater, located at 2951 Lyndale Ave. S. in Minneapolis. 
Jim Lichtscheidl Frequently Asked Questions
How many Broadway shows has Jim Lichtscheidl been in?
Jim Lichtscheidl has not appeared on Broadway.
How many West End shows has Jim Lichtscheidl been in?
Jim Lichtscheidl has appeared on London's West End in 1 shows.
What was Jim Lichtscheidl's first West End show?
Jim Lichtscheidl's first West End show was Nice Fish which opened in 2016