Pangea World Theatre Presents Taco Truck Theater This May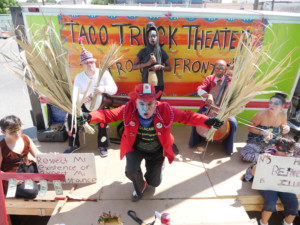 Pangea World Theater proudly presents award-winning national performance artist José Torres-Tama and his ArteFuturo Ensemble as they roll out the Taco Truck Theater / Teatro Sin Fronteras (Theater Without Borders) and cross economic, geographic and racial borders to challenge the anti-immigrant hysteria gripping the country. The performance piece, in collaboration with local Indigenous artist Tom LaBlanc and Somali artist Ifrah Mansour, will be held May 4-5 at 7:30pm at Intermedia Arts, 2822 Lyndale Ave. S. in Minneapolis. Tickets are $10-$20 (or pay what you wish) and are on sale now online at tacotrucktheater.brownpapertickets.com or 800-838-3006.
The performance begins in the Intermedia Arts parking lot then transitions from the outside to the inside like a New Orleans Second Line, where the audience follows the musicians and performers. New Orleans-based Torres-Tama's radical theater on wheels is driven by a live music sound-bed that stirs souls with a street theater vibe and pop-up food vendors selling tacos. Visually dynamic, profoundly moving and continuously engaging their audiences, the diverse and bilingual ArteFuturo Ensemble offers a parallel between Latinx immigrants dehumanized as "illegal aliens" and the historical struggles of African Americans with a national crisis of police shootings of unarmed black civilians. They proclaim that "No human being is illegal!" and "BLACK LIVES MATTER!"
In addition, the Minneapolis Pangea World Theater production will engage the voices of local poets and performers to explore the attacks on all people of color by the current administration, and will include a Muslim Somali poet, a Native American performer, and two DREAMERS. The work challenges audiences to remember that the United States was founded on the near genocide and extermination of Native People, and the first "illegal aliens" were the Europeans who transformed the land into property. The theater piece also dares audiences to remember that the empire was built on the enslavement of Africans, with their bodies transformed into property"
"We are here to remember against a culture that pimps amnesia and fear, and our collective voices address a Eurocentric plantation paradigm that threatens to take America back to the 1950s--when people of color were systematically silenced and white nationalism was the ruling power at all levels of society," said Torres-Tama.
The ArteFuturo Ensemble includes New Orleans' artists Spirit McIntyre, cellist, vocalist, and poet; Roberto "El Mex Andino" Carrillo, singer, panpipe player, and MAP Fund award-winning performance artist, poet, in addition to cultural activist José Torres-Tama.
José Torres-Tama As writer, poet, journalist, renegade scholar, educator, visual and performance artist, José Torres-Tama explores the effects of mass media on race relations, the underbelly of the "North American Dream" mythology, and the anti-immigrant hysteria currently gripping the United States of Amnesia.
Since 1995, he has toured his genre-bending shows nationally and internationally, and has performed at Roehampton University and Live Art Development in London; the Bluecoat Arts Centre in Liverpool; the Centre for Performance Research in Aberystwyth, Wales; and performance festivals in Poland, Slovenia, Canada and Mexico. In the academy, Duke, Vanderbilt, Cornell, Ohio State University, University of Michigan, University of Maryland, Tulane, LSU, UCR, and many others have presented his provocative spectacles, interactive workshops, and "Live Art" multimedia lectures on performance as a catalyst for social change.
He is a 2015 MAP Fund award recipient for his radical dinner theater on wheels titled the Taco Truck Theater / Teatro Sin Fronteras, an ArteFuturo Ensemble project that crosses economical, geographical, and racial borders. Also, he has received a Regional Artist Project award from the NEA for his genre-bending performances and a Louisiana Theater Fellowship. The National Association of Latino Arts & Culture (NALAC) in San Antonio awarded him a 2016 Fund for the Arts Grant for his Taco Truck Theater show debut in New Orleans, and he received a 2016 New England Foundation for the Arts (NEFA) Capacity Grant to re-purpose a used vehicle into a mobile theater.
Another of his touring solo shows, ALIENS, IMMIGRANTS & OTHER EVILDOERS, is a sci-fi Latino noir performance that exposes the hypocrisies of a system that dehumanizes immigrants while readily exploiting their labor, and was developed through a National Performance Network Creation Fund award. ALIENS has sold out a two hundred seat-theater at Vanderbilt University; all three nights presented by Pangea World Theater in Minneapolis; and the two shows at the Los Angeles Theater Center's 2014 Encuentro National Festival.
From 2006 to 2011, he contributed commentaries to NPR's Latino USA news journal on the many challenges of the reconstruction of New Orleans post-Hurricane Katrina. Diálogos Books New Orleans has published Immigrant Dreams & Alien Nightmares, a debut collection of twenty-five years of poems that have informed seven solos.
He is the recipient of a 2008 Joan Mitchell Foundation Award for the publication of his first art book by the Ogden Museum of Southern Art called New Orleans Free People of Color & Their Legacy, which documents his expressionistic pastel portraits of 18th and 19th century Creoles of color who fought to dismantle the institutional injustices of their times. Hard Living in the Big Easy: Latino Immigrants & Rebirth of New Orleans
is a book in the making that chronicles his NPR commentaries and writings documenting the human rights violations experienced by immigrants post-Katrina.
Torres-Tama has written and performed ten solo shows, including his internationally touring performance The Cone of Uncertainty: New Orleans after Katrina, and has directed and performed in ensemble community performances and student productions for CAL ARTS, Duke University, Georgia College State University, and California State University Northridge among others.