KINKY BOOTS Struts into the Ordway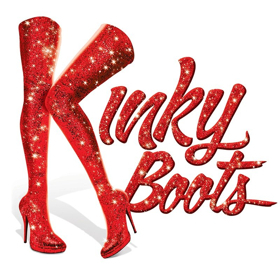 Ordway Center for the Performing Arts is thrilled to present Troika Entertainment's KINKY BOOTS, the smash-hit musical that brings together four-time Tony Award-winner Harvey Fierstein (Book) and Grammy Award-winning rock icon Cyndi Lauper (Tony Award-winner for Best Score for KINKY BOOTS), April 3-8. Tickets start at $48 and can be purchased online at www.ordway.org, by phone at 651-224-4222 or in person at the Ordway ticket office.
The winner of six 2013 Tony® Awards, including Best Musical, Kinky Boots features direction and choreography by Tony® Award-winner Jerry Mitchell. Kinky Boots tells the uplifting and heartwarming tale of Charlie Price, a young man reluctantly taking over his family's struggling shoe factory and looking for a fresh idea. Charlie meets and finds inspiration in Lola, and together they discover that it takes a good friend to make a great pair.
The National Tour of Kinky Boots features Lance Bordelon as Charlie Price, Jos N. Banks as Lola, Sydney Patrick as Lauren, Adam du Plessis as Don, Hayley Lampart as Nicola, and John Anker Bow as George. Brandon Alberto, Jordan Archibald, Eric Stanton Betts, Derek Brazeau, Tony Tillman, and Ernest Terrelle Williams will play the Angels. The Kinky Boots tour also features Daniel Joseph Baker, Monica Ban, Natalie Braha, Jeffrey B. Duncan, Madeline Fansler, Andrew Hendrick, Bethany Xan Jeffery, Lindsay Joan, Chris Kane, Ethan Kirschbaum, Andrew Malone, Madison Pugh, Jace Reinhard, and Eric Shonk.
Kinky Boots has won every major Best Musical Award and is represented around the world with the Tony Award-winning Broadway company now in its fifth year, an Olivier Award-winning production in London, an Australian production, and a production in Germany. Other previous productions include a past US National Tour that played more than 80 cities, an Award-winning extended run in Toronto, two productions in Korea, and a Japanese language production. The Grammy Award-winning Original Broadway Cast Recording of Kinky Boots is available on Sony Masterworks Broadway.
The National Tour of Kinky Boots is produced by Troika Entertainment. The creative team includes Tony Award nominee David Rockwell (Scenic Design), Tony Award-winner Gregg Barnes (Costume Design), Tony Award-winner Kenneth Posner (Lighting Design), Tony Award-winner John Shivers (Sound Design), Josh Marquette (Hair Design), Brian Strumwasser (Make-up Design), Joy Dewing Casting and Wojcik/Seay Casting (Casting), DB Bonds (Associate Director), and Rusty Mowery (Associate Choreographer). Kinky Boots features Musical Supervision by Roberto Sinha, and Arrangements and Orchestrations by Tony and Grammy Award-winner Stephen Oremus.
For full performance schedule and details, please visit KinkyBootsTheTour.com.
The Broadway production of Kinky Boots is produced by Daryl Roth and Hal Luftig, James L. Nederlander, Terry Allen Kramer, Independent Presenters Network, CJ E&M, Jayne Baron Sherman, Just for Laughs Theatricals/Judith Ann Abrams, Yasuhiro Kawana, Jane Bergere, Allan S. Gordon & Adam S. Gordon, Ken Davenport, Hunter Arnold, Lucy and Phil Suarez, Bryan Bantry, Ron Fierstein and Dorsey Regal, Jim Kierstead/Gregory Rae, BB Group/Christina Papagjika, Michael DeSantis/Patrick Baugh, Brian Smith/Tom and Connie Walsh, Warren Trepp and Jujamcyn Theaters.
To celebrate the run of Kinky Boots, the Ordway is turning the Marzitelli Foyer into a festive nightclub experience for a little "Music on the Mezzanine." The Great, Big Cabaret will take place the week prior to opening from 7-9 p.m. on Monday, March 26 and Wednesday, March 28 with each evening featuring a different lineup of artists as well as musical material. These free musical events will be hosted by local Cabaret maven Erin Schwab and will feature some of the area's favorite musicians, actors and Cabaret performers such as Schwab, Rachel Holder Hennig, Jen Burleigh-Bentz, Doug Anderson, and Mistress Ginger (Justin Leaf) and others. Musical Director and pianist for the night will be Lori Dokken, who also will provide pre-show entertainment at 6:30 p.m. on April 3, 5, 6 and 7. The Ordway Extra will take place on at 6:30 p.m. on Wednesday, April 4.
Kinky Boots, sponsored by Delta Airlines, is part of the Ordway's 2017-18 Musical Theater Series, sponsored by Bremer Bank. For tickets and more information, visit www.ordway.org.
ABOUT ORDWAY CENTER FOR THE PERFORMING ARTS
For over 30 years, Ordway Center for Performing Arts has been telling stories that exemplify the human experience. Our stages have been a dramatic canvas for artists to create worlds of love and loss, hope and despair, war and peace, victory and defeat. Audiences have been transported to exotic locations, met iconic characters, and embarked on exhilarating adventures. Recognized as one of the U.S.'s leading not-for-profit performing arts centers, the Ordway presents and produces a wide variety of performances throughout the year that encompass the finest in musical theater, concerts, dance and vocal artists. In addition, each year the Ordway presents its Flint Hills Family Festival and serves over 62,000 children through its education programs. The performing arts center houses a 1,900 seat Music Theater, a 1,100 seat Concert Hall, two large rehearsal halls and magnificent lobbies. The Ordway is a proud member of the Arts Partnership, a collaboration comprising the Minnesota Opera, the Ordway, The Saint Paul Chamber Orchestra and Schubert Club. For more information, visit ordway.org.
More Hot Stories For You