First Look At FISH IN A TREE At Stages Theatre Company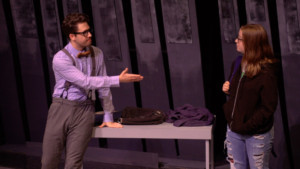 Stages Theatre Company (STC) is excited to invite patrons to Fish in a Tree, an unforgettable and uplifting production that will speak to anyone who has ever thought there was something wrong with them because they didn't fit in. This world premier adaptation of the popular book by Lynda Mullaly Hunt, follows the story of a bright and creative sixth-grader, Ally, who learns that her dyslexia is nothing to be ashamed of. The production will run in Stages' Jaycees Studio from October 5th through October 28th, 2018. The production is approximately 85 minutes in length with no intermission and is recommended for children ages 7 and up. Tickets are on sale now! Visit www.stagestheatre.org for specific performance dates and times or call the Box Office Tuesday through Saturday from noon to 6 pm at (952) 979-1111, option 4. Tickets are $16 for adults; $14 for seniors, ages 60+ and children. Fish in a Tree is directed by Matt Sciple, and adapted for the stage by local playwright Jeannine Coulombe. Fish in a Tree offers an inspiring reminder that everyone is more than a label and great minds don't always think alike. "All of us are richer when we commit to treating each other like unique, complete individuals with something valuable to offer", said Sciple. "It is a story full of young people with unique perspectives, big dreams and interesting thoughts about the world. Seeing the characters discover their personal power makes for a brilliant, unfolding story," added Coulombe.
ABOUT THE CAST AND CREW The cast for Fish in a Tree features: Halima Bigirindavyi (Shay) Dominic Dunn (Albert) Gretchen Emo (Mom) Amy Horn (Ming Bao) Reilly McGannon (Jessica) Alison Mitchell (Ali) Matt Ouren (Mr Daniels) Natalie Richardson-Wymore (Miranda) Spencer Snyder (Max) Jonah Stelljes (Oliver) Jack Sullivan (Travis) Tiahna Wolfe-Shields (Keisha) Victoria Zamorano (Maya)
The Creative & Production Team includes: Artistic Director: Sandy Boren-Barrett Director: Matt Sciple Stage Manager: Kenji Shoemaker Production Manager: Melanie Salmon-Peterson Props Designer: Kim Ford Lighting Designer: Grant E. Merges Sound Designer: Peter Morrow Technical Director: Alan Pagel Costume & Make Up Designer: Stacey Palmer Set Designer: Erica Zaffarano
Stages Theatre Company was founded in 1984 and since then has grown to become one of the largest professional theatres for young audiences in the country. We engage young artists with themes relevant to their lives and involve them in creating magical works featuring young people in meaningful roles. Through on-stage productions, education programs and other outreach opportunities, Stages Theatre Company annually serves more than 150,000 young people and their families. For more information visit stagestheatre.org
Stages Theatre Company is dedicated to creating a space where diverse opinions, courageous dialogue, and local, national, and international community engagement is not only valued, but vital to our shared artistic and educational success. We make this pledge in hope of curating a welcome home for all.