BWW Interview: ON YOUR FEET's Alma Cuervo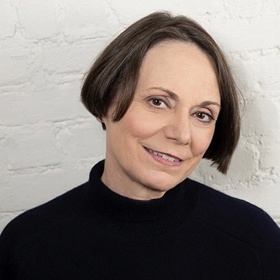 Actor Alma Cuervo takes the Orpheum stage in Minneapolis this week in the first national tour and Minnesota debut as the grandmother, Consuelo, in ON YOUR FEET!, based on the life story of seven-time Grammy®-winning international superstar Gloria Estefan and her husband, 19-time Grammy®-winning producer-musician, entrepreneur Emilio Estefan.
While the Estefans certainly have a story to tell, Cuervo's story also is an interesting tale of a career in theatre that includes names like Sondheim, Wasserstein, WICKED and many more. She took time before coming to Minneapolis to answer some questions that reveal a little about her theatre experiences, the many fabulous roles she played and people she's worked with.
Please tell our readers about your character, Consuelo, and her story in ON YOUR FEET! - I understand she was responsible for Gloria becoming a performer?
Yes, I play Consuelo Garcia, Gloria Estefan's maternal grandmother. She was very much an inspiration to Gloria, and wholeheartedly supported her desire to become a music writer and performer. Gloria described her as very spiritual and a tremendous cook.
You were in the Broadway cast, as well as this national tour. Did you get to meet the real-life Gloria and Emilio Estefan? Did you feel any pressure to do justice to their real-life family or talk to them about her to help you build your characterization?
Yes, I met Gloria and Emilio at the very first reading of ON YOUR FEET! over four years ago. They felt like family from the first day, and getting to know them has been a great joy in my life. Gloria showed me pictures of her grandmother, including a very moving photo of her grandmother holding one of Gloria's dolls in her house in Cuba, after Gloria and her mother had left for the U.S. (Consuelo would follow later.) Gloria told me stories about her including how she used to cook dishes to sell at a baseball stadium near their home. The food got so popular that she couldn't carry enough to the stadium, so she'd ask the patrons to come to her home to eat! Some of her recipes are still on the menu at the Estefans' restaurants. I definitely felt a deep responsibility to create a loving, funny portrait of this much beloved grandmother.
Growing up in Tampa, what drew you to theatre and acting? How did you get your start on stage?
Yup. I grew up in Tampa. There wasn't a lot of live theatre there when I was growing up. Although no one in my family was in show business, they all loved to see shows and took me to see all that was available, including zarzuelas (Spanish operettas) that were performed in Ybor City there, and occasional trips to the Coconut Grove Theatre in Miami, the Asolo in Sarasota, and NYC several times. That stirred up a love for acting and singing and lead me to choose to make my life in this world.
It is really interesting to learn you attended Yale Drama with Meryl Streep and Sigourney Weaver, among others. What was your experience like there and was your post-graduate education and connections helpful as you started your career on stage in NYC?
Yes, Yale was a tremendous experience. Serious talent all around and lots of very hard work. Wonderful teachers, like Carmen DeLavallade, and classmates who were definitely going to go for it. This was the first place where I was asked if I was an actor, and I said yes.
When I got to New York, the fact that I had gone to Yale and that I had done a lot of work at the Yale Rep (I also stayed an extra year as a member of their resident company) did help me get interviews with agents. We didn't do those group auditions in New York back then. It was definitely an asset and I'm still very proud of my time there.
What was it like working close with Stephen Sondheim, both at Yale and later when you were part of his production of ROAD SHOW? I read that it was a dream come true for you to be a part of one of his shows. Any great Sondheim stories you can share?
Yes. Stephen Sondheim is quite simply the best. I was in the singing chorus of THE FROGS at Yale, and have vivid memories of Burt Shevelove calling out directions with a megaphone from a dinghy in the pool. I also loved the night when Sondheim brought us the big PARABASIS section of the show, which he had just completed, and played it on a piano on deck. Magical.
ROAD SHOW was a gift. In every way. Getting to work for the first time with wonderful John Doyle, and watching Stephen Sondheim do a crossword puzzle while I sang his song. Bliss.
You were close to Wendy Wasserstein and in THE HEIDI CHRONICLES, among other of her shows. Do you have a favorite story about her?
Yes. Wendy Wasserstein was a very close friend, and I got to do UNCOMMON WOMEN AND OTHERS, ISN'T IT ROMANTIC (both versions) and HEIDI CHRONICLES in New York and a lovely production of THE SISTERS ROSENZWEIG at Repertory Theatre of St. Louis. I'll always treasure the scribbled rewrites (usually three or four choices) that she would hand me to try out at rehearsals, and watching her sweet face as she intensely watched us rehearse (in her Laura Ashley dress). She will always be in my heart.
Playing Madame Morrible in WICKED on tour sounds like a lot of fun, as do many of your roles. What's been your favorite role to date?
I loved playing Madame Morrible. I became probably a little possessive of that role- extremely committed to the way we had created my playing of her. I love WICKED. It moves me still. A very exciting and wise musical.
It's almost impossible to pick a favorite role. I'd definitely have to include Mama Mizner in ROAD SHOW, Schneider in CABARET, and Holly Kaplan in UNCOMMON WOMEN. And then there's Mrs. Potts and Ida Straus. Oh, I give up. They've been wonderful lives. All of them.
---
More information about ON YOUR FEET!:
Performances are Jan. 22 - 27, 2019, at the historic Orpheum Theatre in Minneapolis. Tickets and more: www.hennepintheatretrust.org.
ON YOUR FEET! is directed by two-time Tony Award® winner Jerry Mitchell (Kinky Boots, Hairspray) and choreographed by Tony Award nominee & Olivier Award winner Sergio Trujillo (Jersey Boys, Memphis), with an original book by Academy Award winner Alexander Dinelaris (Birdman, The Bodyguard Musical).
Alma Cuervo bio:
(Consuelo) - Gloria's grandmother
Broadway credits include On Your Feet!; Beauty and the Beast; Cabaret; Titanic; The Heidi Chronicles; Ghetto; Quilters; Is There Life After High School?; Censored Scenes From King Kong; and Bedroom Farce. She has toured nationally in Wicked; My Fair Lady; Cabaret; and M.Doy Butterfly. Ms. Cuervo has worked extensively Off-Broadway, including in the John Doyle-directed Allegro and Road Show (by Sondheim and Weidman). She received an Obie for her performance in Uncommon Women and Others, and Philadelphia's Barrymore Award for Best Actress in The Beauty Queen of Leenane. She has acted with many of the nation's regional theatres, most recently in Fool and You Can't Take It With You at Houston's Alley; And the Curtain Rises at the Signature in Virginia; and The Three Sisters at Cincinnati Playhouse. On television she was recently seen as the judge in NBC's "The Slap" (by Jon Robin Baitz) and was a regular on Norman Lear's "AKA Pablo." She narrates many audiobooks and is a graduate of Tulane and Yale Drama School.
Photo: Alma Cuervo, courtesy of Hennepin Theatre Trust
| | | |
| --- | --- | --- |
| | Donations | Arts Orgs |
Related Articles View More Minneapolis / St. Paul

Stories

Shows
Kristen Hirsch Montag is a senior public relations and communications manager for Meet Minneapolis, Convention and Visitors Association, by day and self-professed theatre geek by (read more...)