Kristen Hirsch Montag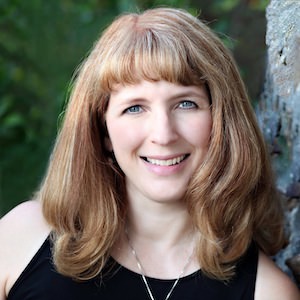 Kristen Hirsch Montag is a senior public relations and communications manager for Meet Minneapolis, Convention and Visitors Association, by day and self-professed theatre geek by night. A busy career keeps her from working onstage these days, but she still finds time to act occasionally in TV/film projects when not attending MSP area productions and touring shows or catching a little Broadway in NYC. She also does freelance PR and sells Mary Kay along with the journalistic pursuits. Interviewing Laura Osnes, Kevin McCollum, Anthony Rapp and Rita Moreno are BWW highlights over the past seven years. Kristen holds a bachelor's degree from Augsburg College in Theatre Arts and Communications.
MOST POPULAR ARTICLES
LAST 30 DAYS
LAST 365 DAYS
BWW Interview: Kevin Carolan of COME FROM AWAY at Hennepin Theatre Trust

January 20, 2022

Kevin Carolan and the ensemble of COME FROM AWAY, about the planes grounded in Canada on 9/11, soar in this human tale that brings up all the emotions of a tragic event, with a healthy side of laughter.
---
BWW Interview: The Anitas: When WEST SIDE STORY stars spoke with BroadwayWorld MSP

December 16, 2021

A lucky BWW editor recalls when interviewing two of the stars of the new WEST SIDE STORY film and small world connections with MSP theatre.
---
BWW Interview: Gerri Weagraff of ANASTASIA at Hennepin Theatre Trust

December 16, 2021

Russian-set musicals figure highly in this actor's nontraditional path to the tour stage. ANASTASIA, the new Broadway musical, and its Dowager Empress are on the Orpheum's stage till Dec. 19.
---
BWW Interview: Sasha Hutchings of OKLAHOMA! at Hennepin Theatre Trust

November 9, 2021

With a face and head of glorious hair you may recognize at first glance, Sasha Hutchings (Laurey) opens OKLAHOMA!'s national tour in Minneapolis at Hennepin Theatre Trust's Orpheum in the first Equity tour of the show in 40 years. The actor gives some insight into the reimagined production and more in 6 Questions.
---
BWW Interview: Caroline Innerbichler of FROZEN at Hennepin Theatre Trust

October 18, 2021

Caroline Innerbichler (Anna) in FROZEN returns home to Minneapolis to play her first Broadway tour on a new-to-her stage but her local resume proceeds her and fans fill the seats for this actor and the beloved musical's first staging locally. She shares her experience getting this role and her time waiting for theatre to return, and reveals her very Minnesotan self in 6 Questions.
---
BWW Interview: Dessa of ON THE LINE at 45North

June 25, 2021

Minneapolis native, rapper, singer and writer Dessa is now adding playwright to her list of titles. She has written and is starring in an audio play ON THE LINE, part of UK company 45North's Written on the Waves season, and the show premieres tonight (June 25, 2021). She shared some thoughts on the play and her career in this Q&A.
---
BWW Interview: A COUNTRY CHRISTMAS CAROL, ON AIR at Audio Stages

December 19, 2020

James A. Rocco (Minneapolis/St. Paul based producer, director, writer and performer) and Jayme McDaniel believe #NothingCanStopLiveTheatre, not even a pandemic. Reviving a project that works well as audio, A COUNTRY CHRISTMAS CAROL, ON AIR, comes to Audio Stages tonight, Dec. 19; star-studded cast album drops Monday, Dec. 21
---
BWW Previews: CHRISTOPHER JACKSON: LIVE FROM THE WEST SIDE Virtual Benefit Concert via Hennepin Theatre Trust

August 14, 2020

Hennepin Theatre Trust joined forces for a virtual benefit show happening live on Saturday, Aug. 15 bringing 'CHRISTOPHER JACKSON: LIVE FROM THE WEST SIDE,' to your computer screen at 7 p.m. Central time. They brought him live to reporters' screens to give you a little preview of what to expect and talk about the other big summer debut he was in first.
---
HOLD YOUR HAND TWIN CITIES by James A. Rocco

May 7, 2020

Minneapolis and Saint Paul theatre artists joined James A. Rocco to create HOLD YOUR HAND TWIN CITIES, proving #NothingCanStopLiveTheatre
---
BWW Interview: Andrew Malone of THE COLOR PURPLE at Ordway Center For Performing Arts

March 13, 2020

While COVID-19 is keeping us from catching this award-winning musical at the Ordway this spring, read about 'Mister' Andrew Malone and listen to THE COLOR PURPLE soundtrack so you'll be ready for the rescheduled show in the future.
---
BWW Feature: TWELFTH NIGHT at Guthrie Theater

March 8, 2020

Two ensemble members highlight how production design influenced their performances in this unique look at Shakepeare's TWELFTH NIGHT.
---
BWW Feature: MY FAIR CITY at Hennepin Theatre Trust

March 6, 2020

While MY FAIR LADY plays at the Orpheum, you can go next door and explore what Minneapolis was like during the time period of the early 1900s. Exhibit My Fair City is available through March 2020.
---
BWW Interview: Kelli Foster Warder of ORDWAY CABARET: GOTTA DANCE! at Ordway Center For Performing Arts

February 16, 2020

You don't really have 'triple threats' without all three aspects, though often the dance part is not highlighted in the way acting and singing are. This edition of the Ordway's ORDWAY CABARET high kicks that to the curb with GOTTA DANCE! Choreographer and Producer Kelli Foster Warder shares her thoughts.
---
BWW Interview: Gamze Ceylan of NOURA at Guthrie Theater

February 7, 2020

NOURA star Gamze Ceylan took time from the Guthrie's latest main stage production to answer 6 Questions & 6 Quick Hits.
---
BWW Interview: Phyre Hawkins of ONCE ON THIS ISLAND at Ordway Center For Performing Arts

January 27, 2020

Phyre Hawkins answers 6 questions and 6 quick hits before taking the Ordway stage as a Storyteller in this area premiere show.
---
BWW Interview: James Delisco Beeks of JESUS CHRIST SUPERSTAR at Hennepin Theatre Trust

January 26, 2020

James Delisco Beeks plays Judas in the national tour production celebrating 50 years of JESUS CHRIST SUPERSTAR. Learn a bit more about this singer/actor in this new version for 2020 of 6 Questions/6 Quick Hits.
---
BWW Review: OPRAH'S 2020 VISION: YOUR LIFE IN FOCUS WITH TINA FEY at Xcel Energy Center

January 13, 2020

Writer and performer Tina Fey was featured guest on the second stop of OPRAH'S 2020 VISION Tour at Saint Paul's Xcel Energy Center on Jan. 11, 2020, where this creator of Broadway's MEAN GIRLS shared some insights and more than a few good one-liners with a sold-out crowd of 15,000.
---
BWW Interview: Joe Joseph of THE BAND'S VISIT at Hennepin Theatre Trust

December 17, 2019

Six questions and a plug, after the fact: Joe Joseph of THE BAND'S VISIT responded to some questions just before leaving town but it warrants sharing now to get the word out further about this quiet, unique Broadway tour.
---
BWW Interview: RITA MORENO at Ordway Center For Performing Arts

December 3, 2019

Rita Moreno's long, legendary career continues with more work than she had as a young Oscar winner, and she's grateful for every bit of her seven plus decade career. (Read about her until the Ordway reschedules her one-woman show that's postponed due to illness.)
---
BWW Interview: Joy Dolo of SNOW WHITE at Children's Theatre Company

November 29, 2019

Joy Dolo shares some insights into this unique telling of the well-known fable of Snow White in this 6 Questions & a Plug. Catch Dolo and Dean Holt in this production only through Dec. 8.
---