BEOWULF Comes to The MN Fringe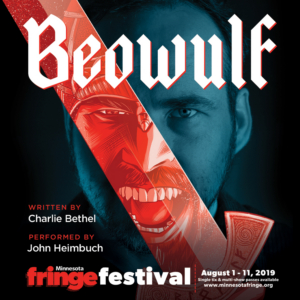 Walking Shadow Co-Artistic Director John Heimbuch performs Charlie Bethel's Beowulf at the Minnesota Fringe Festival, directed by Walking Shadow Co-Artistic Director Amy Rummenie, with dramaturgy by Sarah Heller.
Charlie Bethel's one-man Beowulf is a faithful and accessible adaptation of this classic Old English poem about a warrior king and some famous monsters, emphasizing the wit, vigor, and meaty language of this Anglo-Saxon epic. This is the first time Charlie Bethel's Beowulf has been performed by someone other than Charlie himself.
Visit the Beowulf page for tickets and show times.
Charlie Bethel was the creator of numerous critically acclaimed solo shows, including The Odyssey and Beowulf.
He performed for Orlando Shakespeare Theater, Trinity Rep, Utah Shakespearean Festival, North Carolina Shakespeare Festival, Illinois Shakespeare Festival, Illusion Theater, Jungle Theatre, Walking Shadow Theatre Company, the Minnesota Fringe Festival, Joseph Campbell's Centenary Celebration, and the Mythic Journeys Conference in Atlanta.
He passed away in 2017 and is deeply missed by his many friends and family. The Minnesota Fringe Festival runs August 1-11 at venues throughout the Twin Cities. While Walking Shadow isn't officially involved, we are proud to promote this amazing eleven day festival of theatrical adventure. Check out the 2019 show list and go see some theatre!