Photo Flash: Lynn Nottage Attends LAS MENINAS At Asolo Rep
Lynn Nottage attended one of the final Asolo Rep performances of her play, Las Meninas, in Sarasota on the evening of May 12, 2011. Her visit included a gathering on stage with the director and cast after their standing ovation performance.
Asolo Repertory Theatre was thrilled to introduce Florida audiences to Las Meninas, by Pulitzer Prize-winning playwright Lynn Nottage. The play is directed by Asolo Rep Producing Artistic Director Michael Donald Edwards, who directed the World Premiere of Las Meninas at San Jose Rep in 2002.
The Asolo Rep production of Las Meninas closes in Sarasota on May 15, 2011; then will travel to Miami to perform as part of the South Miami Dade Cultural Arts Center (SMDCAC) soft opening for four performances from May 20-22. The SMDCAC run is hoped to foster a further artistic exchange between the two cities and the two organizations, and lead to more projects.
"We are mounting only the second professional production of this important and largely unknown great American play, by a playwright who over the course of the last decade has become one of the most celebrated living American theatre artists. It was, quite simply, an incredibly powerful opportunity to engage with this work once again, and to present it to our audiences. I think people will be surprised at how enjoyable the play is...how touching, how humorous, and how easy it is to relate to the human beings in the world of this play. They'll find that they actually understand them and are touched by them. Las Meninas roughly translates as "the waiting women" or "ladies in waiting." The title's import lies in the fact that Louise, Nabo, and even Queen Marie-Thérèse have been waiting. Waiting for their stories to be told. And ideally their stories will resonate out into the larger world. We are also thrilled to be able to take this production to Miami and share it with even more people through this new SMDCAC collaboration," explains Michael Donald Edwards.
Set in the glittering court of King Louis XIV, the play is based on the little known true story of Queen Marie-Thérèse and the consequences of her scandalous relationship with Nabo Sensugali, her African servant. Was the mysterious Black Nun of Moret really the illegitimate daughter of Queen Marie-Thérèse, wife of Louis XIV? Was she hidden away in a convent to cover up the queen's illicit love affair with Nabo? Las Meninas offers a dramatic and humorous view as it unravels this historical mystery.
Lynn Nottage's Pulitzer Prize-winning play Ruined has also received an OBIE, the Lucille Lortel Award, New York Drama Critics' Circle Award, Drama Desk Award, and Outer Critics Circle Award for Best Play (Manhattan Theatre Club, Goodman Theatre). Other plays include Intimate Apparel (New York Drama Critics' Circle Award for Best Play; Roundabout Theatre, CENTERSTAGE, South Coast Repertory); Fabulation, or the Re-Education of Undine (OBIE Award; Playwrights Horizons, London's Tricycle Theatre); Crumbs from the Table of Joy; Las Meninas; Mud, River, Stone; Por'knockers and Poof! Nottage is the recipient of numerous awards, including the 2007 MacArthur Foundation "Genius Grant," the National Black Theatre Festival's August Wilson Playwriting Award, the 2004 PEN/Laura Pels Award for Drama, the 2005 Guggenheim Grant for Playwriting, as well as fellowships from the Lucille Lortel Foundation, Manhattan Theatre Club, New Dramatists and New York Foundation for the Arts. She is a member of The Dramatists Guild, an alumna of New Dramatists and a graduate oF Brown University and the Yale School of Drama, where she is a visiting lecturer. www.lynnnottage.net
Michael Donald Edwards is in his fifth season as Producing Artistic Director of Asolo Rep. He was previously the Associate Artistic Director for Syracuse Stage and served as Artistic Director of Shakespeare Santa Cruz. A Garland Award and Drama Logue Award winning director, Mr. Edwards has directed at Indiana Repertory Theatre, GeVa Theatre, Syracuse Stage, The Shakespeare Theatre, San Jose Rep, Opera San Jose, the Oregon Shakespeare Festival, The Old Globe in San Diego, Virginia Stage Company, the Virginia Opera, the State Theatre of South Australia, Opera Australia, Victoria State Opera and the Metropolitan Opera. Previously for Asolo Rep, Mr. Edwards has directed The Smell of the Kill, Amadeus, Nobody Don't Like Yogi, Darwin in Malibu, A Tale of Two Cities, Equus, The Winter's Tale, Perfect Mendacity, The Last Five Years, The Life of Galileo, La Bête and pieces in the first annual Unplugged festival of new plays.
As previously announced, in addition to direction by Michael Donald Edwards, the creative team includes sets by Lee Savage, costumes by B. Modern, lighting design by Burke Brown, projection design by Dan Scully, composition by Mark Van Hare, sound design by Toby Jaguar Algya, choreography by Leymis Bolaños Wilmot, movement direction by Jim Hoskins, wig and hair design by Michelle Hart, voice & dialect by Patricia Delorey, and production stage management by Kelly Borgia.
The cast of 15 includes Resident Company Members David Breitbarth (Doctor), Douglas Jones (Painter), Barbara Redmond (Queen Mother/Superior), and Guest Artists Jud Williford (King Louis), and Kate Hampton (La Valliere). Other cast members include Alicia Dawn Bullen (Lady), Adam S. Carpenter (Courtier), Devereau Chumrau (Therese), Kim Hausler (Lady), Danny Jones (Courtier), Ron Kagan (Courtier), Will Little (Nabo), Angela Sauer (Lady), Lindsay Marie Tierce (Marie Therese), and David Valdez (Attendant).
Las Meninas premiered at San Jose Repertory Theatre, San Jose, CA, in 2002
(Timothy Near, Artistic Director; Alexander Urbanowski, Managing Director)
It was developed in Genesis 2000 at Crossroads Theatre Company.
It received a developmental workshop at ACT/Hedgebrook
Women's Playwrights Festival, ACT, Seattle, WA.
LAS MENINAS is presented by special arrangement with Dramatists Play Service, Inc., New York.
Contains Mature Themes.
SPONSORED BY COMCAST, MICHELOB ULTRA, TREISO, AND MEZZACORONA
CO-PRODUCERS KEN & PEGGY ABT, LISA CARLTON, MABRY CARLTON RANCH, KATHY COLE IN LOVING MEMORY OF TRENT COLE, NATE & ANNIE ESFORMES, HERMAN & SHARON FRANKEL, NONA MACDONALD HEASLIP, ELAINE KEATING, DIANA LAGER, NANCY MARKLE, CARL MEYER MORTON & CAROL SIEGLER, EDWARD & MARY LOU WINNICK, SALLY W. YANOWITZ.
Performances: final Sarasota performances on May 14 & 15, at 2 p.m.
Tickets: $17 to $65, contact the box office at 941-351-8000 or toll-free at 800-361-8388, or
www.AsoloRep.org
.
Asolo Repertory Theatre is Florida's premier professional theatre and one of the most important cultural forces in the Southeastern United States. As a center for theatrical excellence, Asolo Rep crafts the highest quality productions of classical, contemporary and newly commissioned work all performed in the rarest form of rotating repertory. Featuring an accomplished resident company - complemented by distinguished guest artists - Asolo Rep offers audiences a unique and dynamic theatre experience. Under the leadership of Producing Artistic Director Michael Donald Edwards and Managing Director Linda DiGabriele, this world-class institution has taken bold steps toward the future, building landmark partnerships and collaborations which will add to its success for generations to come.
For more information, visit www.AsoloRep.org.
Photo Credit: Cliff Roles Photography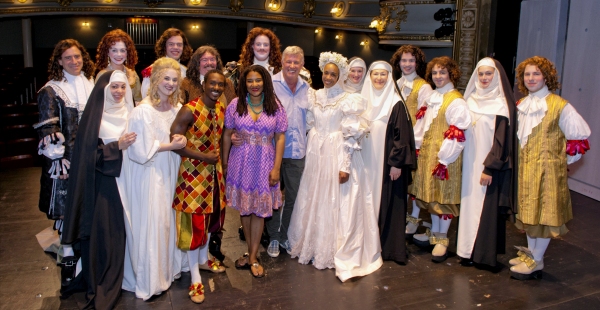 Cast of Las Meninas with Michael Donald Edwards and Lynn Nottage (center front)

Related Articles View More Miami

Stories

Shows
More Hot Stories For You