Palm Beach Dramaworks Announces Cast And Creative Team For Woody Guthrie's AMERICAN SONG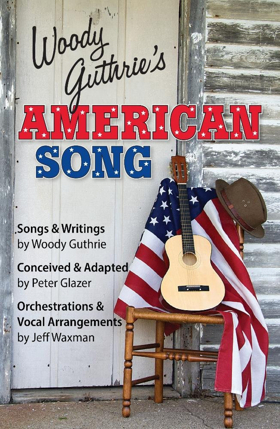 Palm Beach Dramaworks has announced the cast and creative team of Woody Guthrie's American Song. The musical revue runs from July 13 - August 5 at the Don & Ann Brown Theatre, with a specially priced preview on Thursday, July 12.
The cast of five actor/musicians features, in alphabetical order, Cat Greenfield, Don Noble, Sean Powell, and Jeff Raab, all making their PBD debuts, and Julie Rowe, fresh off her performance as Dora Strang in Equus. They will be joined onstage by musicians Joshua Lubben, Michael Lubben, and Tom Lubben, West Palm Beach-based triplets who are familiar to many South Floridians as The Lubben Brothers, an acoustic folk band that also includes two of their wives.
Bruce Linser directs, and Powell is the musical director. Scenic design is by Michael Amico, costume design is by Brian O'Keefe, lighting design is by John Hall, and sound design is by Brad Pawlak.
The show, conceived by Peter Glazer and orchestrated by Jeff Waxman, features more than two dozen of the legendary balladeer's songs, including "Bound for Glory," "Grand Coulee Dam," "Nine Hundred Miles," "Hard Travelin'," "Union Maid," "Pastures of Plenty," and, of course, his most famous piece, "This Land is Your Land." In addition, all the dialogue was compiled by Glazer from Guthrie's writings. A powerful storyteller and insightful chronicler of America, Guthrie was a wandering troubadour who listened to the people he met in his travels and wrote songs based on what he'd seen and heard. He was a poet of the downtrodden, the voiceless, the powerless, and the forgotten, a humanist who railed against injustice but also celebrated the splendors of this country.
Guthrie's work had a powerful influence on subsequent generations and remains strong to this day. Bob Dylan, whose "Song to Woody" appeared on his debut album, wrote in his memoir, Chronicles: Volume One, that Guthrie's works "had the infinite sweep of humanity in them." He went on to say, "I could sing all these songs, every single one of them and they were all that I wanted to sing. It was like I had been in the dark and someone had turned on the main switch of a lightning conductor." Woody Guthrie's American Song had its world premiere in 1988 at the American Stage Festival in Milford, NH. It has since been seen at scores of theatres across the United States and earned numerous awards and countless accolades. The Boston Globe called it "a dazzling, dizzying explosion of Guthrie's genius," and the Seattle Times raved that it is "an exuberant musical celebration of our nation, our history, and our shared humanity."
Palm Beach Dramaworks is a non-profit, professional theatre and is a member of the Theatre Communications Group, the South Florida Theatre League, Florida Professional Theatres Association, and the Cultural Council of Palm Beach County.
The performance schedule is as follows: Evening performances are Thursday at 7:30PM, Friday and Saturday at 8PM. Matinees are Saturday and Sunday at 2PM. Individual tickets are $75, with specially priced preview tickets at $55 and Opening Night tickets at $90. Pay Your Age tickets are available for those 18-40. Student tickets are available for $15; tickets for educators are half price with proper ID (other restrictions apply). Group rates for 20 or more are also available.
The Don & Ann Brown Theatre is located in the heart of downtown West Palm Beach, at 201 Clematis Street. For ticket information contact the box office at (561) 514-4042, open Monday-Friday from 10-5 and Saturday from 10-2. On show days, the box office remains open through intermission. You can also visit www.palmbeachdramaworks.org.