HOW TO SUCCEED IN BUSINESS WITHOUT REALLY TRYING is Currently On Stage at the Maltz Jupiter Theatre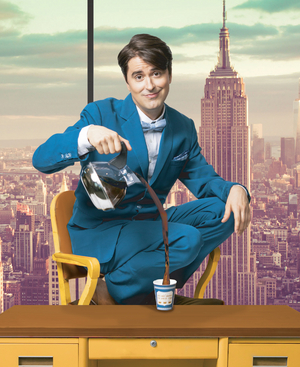 Take a break from the office and treat yourself to the Broadway megahit How to Succeed in Business Without Really Trying!
Onstage at the Maltz Jupiter Theatre March 17 - April 5, this nine-time Tony Award®-winning musical follows the wild adventures of J. Pierrepont Finch, who discovers a handbook that shows him how to climb the corporate ladder from lowly window washer to high-powered executive. Filled with iconic tunes such as "Brotherhood of Man," "I Believe in You" and "Paris Original," this charming musical sendup will keep you laughing as it skewers corporate life and office politics.
"Our two most recent musicals have sold out before performances even started, so I want to encourage patrons to purchase tickets now before it's too late," said Andrew Kato, the Theatre's producing artistic director and chief executive. "How to Succeed in Business Without Really Trying has all of the ingredients of a terrific evening out to the theater; it's funny, clever and smart, with an infectious score, sensational dancing and a delightful look at office life in the '60s. Don't miss it!"
With music and lyrics by Frank Loesser and book by Abe Burrows, Jack Weinstock and Willie Gilbert, How to Succeed in Business Without Really Trying is unique for winning both a slew of Tony Awards® and the Pulitzer Prize for its 1961 debut. An instant audience favorite, a film version was released in 1967, followed by Broadway revivals in 1995 and 2011.
The musical "stings mischievously and laughs uproariously!" raved The New York Times, while the New York Daily News deemed it "the definitive musical about high life in the city" and the New York Herald Tribune dubbed it "exhilarating!" as well as "crafty, conniving, sneaky, cynical, irreverent, impertinent, sly, malicious, and lovely, just lovely." The New York Journal American declared it to be "inventive and stylized and altogether infectious."
The Theatre's production will be directed by Andy Sandberg (an award-winning director, writer, and Tony®-winning producer whose credits span Broadway, Off-Broadway, and London, and who also serves as Artistic Director and CEO of the Hermitage Artist Retreat in Sarasota) and choreographed by Rommy Sandhu (known for work regionally across the country and on and off Broadway).
"I am incredibly excited to be directing How to Succeed in Business Without Really Trying at the Maltz Jupiter Theatre with this extraordinary cast and team," said director Andy Sandberg, who returns to the Theatre after workshopping a new version of his play Application Pending as part of the ARC Festival (2018) following its Off-Broadway premiere. "I had a wonderful experience being part of the ARC Festival, and I am thrilled to be back in Jupiter directing one of the all-time great musical comedies as the last show of the subscription season. It's going to be a fun ride!"
Showcasing a cast of 21 triple-threat performers, the musical will feature 2019 Lucille Lortel Award nominee Sam Bolen as J. Pierrepont Finch (who co-conceived and stars in the new Off-Broadway musical Midnight at The Never Get) and Clara Cox as secretary Rosemary Pilkington (Katherine in the Theatre's production of Disney Newsies The Musical). Johnnie Hawkins will star as World Wide Wicket Company boss J.B. Biggley (known for performances across the world and the 2007 tour of I Love a Piano), while Blake Zolfo will portray his nephew Bud Frump (known for originating the role of Andrew in John Kander and Greg Pierce's Kid Victory), Broadway's Leslie Donna Flesner will portray Biggley's mistress Hedy La Rue (Tootsie, Hello, Dolly! and An American in Paris, among others) and Tara Tagliaferro will portray Rosemary's best friend and fellow secretary Smitty (seen recently the Theatre's hit production of The Producers).
The musical's creative team features a host of talented professionals, including scenic designer Adam Koch (known for the Theatre's productions of Chicago, West Side Story, Disney Beauty and the Beast and Disney Newsies The Musical) and his longtime collaborator, associate scenic designer and projection designer Steven Royal; lighting designer Kirk Bookman (Brighton Beach Memoirs, A Doll's House, Part 2, An Inspector Calls, Hairspray, Thoroughly Modern Millie and Glengarry Glen Ross); costume designer Leon Dobkowski (The Wiz); music director Eric Alsford (Chicago, A Chorus Line, The Wiz, Les Miserables, South Pacific and Mamma Mia!), hair and wig designer Gerard Kelly (who has designed for Hair on Broadway and on London's West End), associate choreographer Dennis O'Bannion (seen in the Theatre's productions of The Music Man, The Producers and Crazy For You, among others) and award-winning resident sound designer Marty Mets.
Looking for a unique outing for your group? Look no further than the Theatre! Gather your family, neighbors, employees or colleagues for an unforgettable and fun-filled experience seeing the show. To compliment your exceptional outing, consider one of the Theatre's many preferred restaurants and hotel packages. Great seats and discounted group rates are available, and The Green Room Club Level Lounge is available for private events and functions.
Patrons may purchase tickets for club level premium seats in the Theatre's premium space, The Green Room, and enjoy the stylish lounge and amenities throughout the season. Amenities include spacious 23" seats, a lounge with a private bar and restrooms, one free drink of choice with ticket purchase (evening performances only for season shows), panoramic views of the stage and a private entrance and elevator. Groups who purchase all 62 Club Level seats to a performance receive full access to The Green Room Club Level Lounge at no additional charge to host a private event, such as a catered dinner or cocktail party.
How to Succeed in Business Without Really Trying is sponsored by John Osher, Priscilla Heublein and Jana and Ken Kahn, LRP Media Group and Carol and Jack Parker. Single tickets start at $62. For tickets and showtimes, call (561) 575-2223 or visit www.jupitertheatre.org. For more information on bringing your group to the Theatre, contact group sales associate Lina Lacy at (561) 972-6117.
Photo Credit: Jason Nuttle