Actors' Playhouse Launches New Internship Program In Partnership With Miami Arts Studio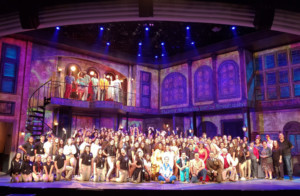 Actors' Playhouse at the Miracle Theatre is proud to partner with Miami Arts Studio 6-12 @ Zelda Glazer, one of Miami-Dade County Public Schools' most exciting magnet programs, on a new internship program that will enhance the professional skills of eleventh and twelfth grade students with first-hand work experience in a professional regional theatre environment. This program is made possible thanks to a $15,000 grant provided by AT&T Aspire.
"We are thrilled to partner with Miami Arts Studio on this exceptional arts industry program and to have the generous support of AT&T for this project," said Actors' Playhouse Executive Producing Director Barbara S. Stein. "Nothing can be more educational than hands-on experiences, especially in the performing arts industry."
Actors' Playhouse will offer hands-on work experience for up to 200 students, with a special focus on its Mainstage productions and business administration, during its 2018 - 2019 season. The curriculum will be planned with Miami Arts Studio's Magnet Lead Teacher NICK GARCIA, with support from Principal Dr. Miguel A. Balsera. The program will take place from October 2018 through August 2019.
"Through this innovative partnership with Miami Arts Studio 6-12, Actors' Playhouse is providing our theatre and technical theatre students the unique opportunity for real-world experiences within a professional theatre, both onstage and backstage," said Principal Balsera. "The students are eager to begin working immediately and incorporating the skills they acquire at school, to a live theatre setting. As a prominent community partner, Actors' Playhouse is playing a vital role in promoting careers in Theatre and keeping the Arts alive."
The program will include mentoring experiences for students in dance and choreography for musical theatre and plays, acting, orchestration, vocal performance, costume design and building, technical production and stage craft including sound, lighting, engineering and set building, photography, videography, arts business administration, marketing, graphic art, public relations, social media technique and entertainment law. This instruction will be combined with student participation in all theatre arts and administrative categories, combined with master classes at the school led by Actors' Playhouse's professional staff, and visiting authors and artists.
In the fall, students will work alongside New York and Los Angeles-based seasoned professionals during the company's Pre-Broadway World Premiere of Havana Music Hall playing now through November 18, 2019. This experience will support the knowledge that the student's have learned at school with a unique opportunity to be an integral part of the process of mounting a world premiere production with professional New York and LA artists and designers. The program will continue throughout the year during the company's productions of One Man, Two Guvnors (January 23 - February 10, 2018), Memphis (March 13 - April 7, 2019) Doubt (May 15 - June 9, 2019), and Murder For Two ( July 17-August 11, 2019). Each production will offer students a new and challenging learning experience. There will be a change over of students for each event to broaden opportunities for all.
The internship program will have mutual value to both the students and to the theatre, while also paving the way for future employment opportunities for part-time and full-time work. In fact, several of Miami Arts Studio's teachers have been previously employed by Actors' Playhouse, creating an added benefit of direct knowledge of the company's operations and structure, which will help in the overall goals of the program.
For more information on Actors' Playhouse at the Miracle Theatre, visit www.actorsplayhouse.org.