Actors' Playhouse At The Miracle Theatre Presents British Comedy ONE MAN, TWO GUVNORS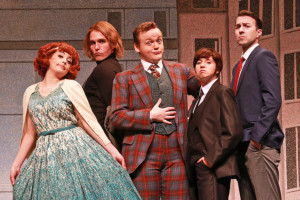 Actors' Playhouse is proud to continue its 2018-19 Season with Richard Bean's internationally acclaimed One Man, Two Guvnors, a sassy update of Carlo Goldoni's classic knee-slapper, The Servant of Two Masters. This award-winning comedy will play January 23 - February 10, 2019 at the Miracle Theatre.
Set in 1963 Brighton, England, One Man, Two Guvnors is a brilliantly delicious mash-up of splendid comedy, British pantomime, and music-hall revues. The uproarious plot features a disarming and doltish Francis Henshall who finds himself trapped by farce into working for two bosses - who are connected in wildly improbable ways. He just has to keep them from discovering each other. Inspired insanity, high-low antics, and nimble wordplay ensue - all backed by live musicians paying homage to rockabilly and a certain Fab Four.
Directed by David Arisco - artistic director of Actors' Playhouse at the Miracle Theatre - and with songs by Grant Olding, One Man, Two Guvnors is a riotous blast complete with a colorful cast of characters in a topsy-turvy world of love triangles and mistaken identities. The company features Wesley Slade (Hand to God, GableStage) as Francis Henshall, Cliff Burgess (Unnecessary Farce, Actors' Playhouse) as Stanley Stubbers, Clay Cartland (The Toxic Avenger, Actors' Playhouse) as Alan, Christopher Chisholm (Fiddler on the Roof, The Banyan Bowl) as Harry Dangle, Anna Lise Jensen (Once, Actors' Playhouse) as Dolly, Paul Louis (Real Men, Off-Broadway, New World Stages and Regionally, Actors' Playhouse) as Charlie "The Duck" Clench, Christian Ortega (A Christmas Carol, The Musical; Actors' Playhouse) as Gareth, Krystal Millie Valdes (Crooked, Thinking Cap Theatre) as Rachel Crabbe, Phillip Andrew Santiago (Havana Music Hall, Actors' Playhouse) as Alfie, Leah Sessa (Company, MNM Theatre Company) as Pauline Clench and Reggie Whitehead (All The Way, Actors' Playhouse) as Lloyd Boateng.
One Man, Two Guvnors includes toe-tapping music by a skiffle band featuring accomplished musicians Daniel Bailey (Musical Director/bass), Lukas Webber (percussion), Erik Fabregat (guitar) and Chase Maddox (electric guitar).
The creative team for One Man, Two Guvnors includes Set and Properties Design by Jodi Dellaventura, Lighting Design by Eric Nelson, Costume Design by Ellis Tillman, Sound Design by Shaun Mitchell and Wig Design by Gerard Kelly.
Ticket prices range from $30 to $75. Tickets can be purchased by calling (305) 444-9293, visiting www.actorsplayhouse.org, or at the Actors' Playhouse Box Office (280 Miracle Mile, Coral Gables, FL 33134). The theatre offers 10 percent off all weekday performances for seniors and $15 student rush tickets to any performance 15 minutes prior to curtain with identification. Group discounted rates are offered for 15 patrons or more through the group sales department at (305) 444-9293 ext. 1 or on www.actorsplayhouse.org.
Preview performances will take place January 23 - 24, 2019. The show will open on Friday, January 25, 2019 at 8 p.m. and the final performance will take place on February 10, 2019. Evening performances will be held Wednesday through Saturday at 8 p.m., and Sunday at 3 p.m. A special weekday matinee is scheduled on Wednesday, January 30, 2019 at 2 p.m.
Actors' Playhouse Artistic Director David Arisco will lead a group discussion with the cast following the performance on February 1, 2019 as part of the company's "Second Fridays" series.
Photo: Leah Sessa, Clay Cartland, Wesley Slade, Krystal Millie Valdes and Cliff Burgess in One Man, Two Guvnors. Photo by Alberto Romeu.