THE LIGHT IN THE PIAZZA Comes to City Theater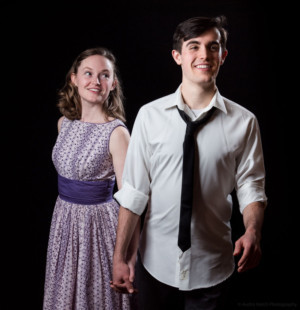 The Light in the Piazza will be lighting up City Theater in Biddeford for 3 weekends in March. This exciting production features some the best vocal talent in Southern, Maine and an extraordinary 5 piece chamber orchestra. This new production has been said to have "the most intensely romantic score of any musical since West Side Story" (NY Times) THE LIGHT IN THE PIAZZA will sweep you off your feet as it transports you to a beautiful, sun-drenched Italian piazza.
Summer 1953. As American Margaret Johnson (Rebecca Rinaldi of Yarmouth) and her daughter Clara (Jacklyn Grigg of Portland) take in the city's wonders, a fateful gust of wind whisks Clara's hat into the hands of the handsome young Fabrizio Naccarelli (Miles Obrey of Gorham)... and it's love at first sight. But Clara isn't quite what she appears, and soon they must all confront a secret that's been kept in the shadows for far too long.
Originally developed with the assistance of The Sundance Institute Theatre Laboratory, The Light in the Piazza premiered at Lincoln Center and was nominated for eleven and was the winner of 6 Tony Awards in 2005, including Best Original Score and Best Orchestrations. Craig Lucas (author of such other works as Prelude to a Kiss and the film The Dying Gaul) wrote the book for the musical. Adam Guettel, the grandson of Richard Rodgers (of Rodgers and Hammerstein fame), wrote the music and lyrics. Critics have praised the show all over the country; The Chicago Tribune describes it as having "...the most beautiful score written for the American theatre in at least 20 years [with] uncommonly wise and emotional lyrics." New York Magazine calls the show "breathtaking, original and daring," and the New York Observer praises The Light in the Piazza as "a work of such consummate beauty, truth, energy and accomplishment that you leave the theater filled with joy and revived by hope for the future."
The Light in the Piazza is generously supported by Alex's Pizza, the Journal Tribune, Saco Biddeford Savings Bank, P&C Insurance and Jim Godbout Plumbing.
Don't miss The Light in the Piazza Performances are March 8- 24 Fridays and Saturdays at 7:30 and Sundays at 2:00. There is no performance March 10. Tickets are $20 and are available by calling: 207-282-0849 or www.citytheater.org
More Hot Stories For You