Tom Hanks and Rita Wilson Attend PIRATES OF PENZANCE At Pasadena Playhouse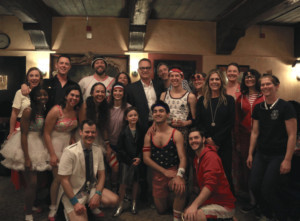 The wackiest beach party in town continues! Pasadena Playhouse, the State Theatre of California, announces a one-week extension of Gilbert and Sullivan's Pirates of Penzance, as reimagined by the Chicago theatre hooligans The Hypocrites, now through February 25, due to high demand. Tickets are now on sale at pasadenaplayhouse.org or by calling 626-356-7529.
Stars Tom Hanks and Rita Wilson dropped in on the production this week. Check out the cast with the famous couple below!
This wacky beach party - with flying beach balls, rubber duckies, ukuleles, banjos, plastic swimming pools, and a tiki bar - brings the audience on stage for a night they won't forget.
Pirates of Penzance by Gilbert and Sullivan is presented by Pasadena Playhouse in association with The Hypocrites. It is adapted and directed by Sean Graney; co-adapted by Kevin O'Donnell and with music direction by Andra Velis Simon.
"We are over the moon with the response to this production," stated Producing Artistic Director Danny Feldman. "Our audiences have wholeheartedly embraced The Hypocrites' wild and fresh adaptation of this Gilbert and Sullivan classic, and we are delighted to keep the party going!"
After a successful run in New York City and much critical acclaim (including New York Times Critic's Pick), The Hypocrites have taken over Pasadena with this irreverent and playful adaptation that celebrates the music of Gilbert and Sullivan. For this production and for the first time in its history, the layout of The Pasadena Playhouse has been completely transformed. All of the orchestra seats have been covered by an enormous deck, making the entire orchestra level of the theatre a playing area with actors and audience sharing the space promenade style: everyone brought together to create a fun, magical evening of theatre.
With its sappy pirates, dewy-eyed damsels, bumbling bobbies and a stuffy Major General, Gilbert and Sullivan's hilarious and hopeful farce follows the story of young Frederic, an orphan who has mistakenly been apprenticed to an ineffectual but raucous band of pirates, as he disavows the pirates' way of life and falls for the beautiful Mabel.
Director Sean Graney said the Pirates of Penzance "... is joyful, playful and welcoming, which was a perfect place to start to remove the walls between actors and audience and get rid of the pretense of theatre."
That project continues to be a hit with critics and audiences alike, following the trend everywhere else it has played: in Chicago, Berkeley, Olney, Maryland (Washington D.C.), Cambridge, Louisville, and New York. The Hypocrites were previously represented in Los Angeles with their production of Our Town directed by David Cromer and starring Helen Hunt at The Broad Stage.
New York Times Chief Theatre Critic Ben Brantley - who named this production a Critic's Pick - wrote "Exuberant! A paradise of inanity ... colonized by a band of exceedingly likable brigands -- a sweet restorative. [With] remarkable resourcefulness ... delivers period satire with a thorough appreciation of its artful, evergreen absurdity."
Chris Jones in the Chicago Tribune said that this is "director Sean Graney's wacky but supremely joyous little tribute to W.S. Gilbert and Arthur Sullivan's famously scurvy musical tale of dutiful orphans and their simpering amours, not to mention comic coppers and that most modern of Major-Generals ... it's hard not to have big-time fun at this carnival of a "Pirates," which lands in one of rare but sweet spots where a fairly outlandish conceit meshes deliciously with the original material."
Hedy Weiss said in the Chicago Sun Times, "When a director can turn a crowd of about 200 mostly young, trendily dressed Wicker Park types into the happily participatory members at a loony pajama party set to the music of Gilbert & Sullivan - well, it is impossible to dance around the fact that some mutual magic is at work. This is a campy romp that comes complete with gender-flipped role-playing, floral print flannel pajamas, pillow fights in a mosh-pit like pool, and a group of 10 actors, game-for-anything ... and yes, there is a bar on the premises."
Robert Hurwitt in the San Francisco Chronicle, said "Fun-fun-fun! Acoustic guitars and ukuleles blazing, beach balls flying everywhere - the party is in full swing by the time you enter ... there's already a line at the small thatched-hut refreshment stand. Actors from Chicago's irreverently adventurous Hypocrites company intermingle with the audience, amid the faux tiki torches and brightly colored plastic beach pails and children's wading pools that are strewn everywhere. The essential highlights of Sullivan's great melodies are there ... reorchestrated for guitars, banjo, concertina, accordion, clarinet, violin and musical saw."
The scenic designer is Tom Burch; prop designer is Maria DeFabo; lighting design is Heather Gilberg; sound design by Kevin O'Donnell; and costume design by Alison Siple. The choreography is by Katie Spelman.
The cast includes Mario Aivazian, Eddie Curillo, Matt Kahler, Amanda Martinez, Dana Omar, Tina Munoz-Pandya, Doug Pawlik,, Shawn Pfautsch. Leslie Ann Sheppard and Lauren Vogel,
A LITTLE MORE ABOUT PIRATES OF PENZANCE -- Composer Arthur Sullivan and librettist W.S. Gilbert - widely known as Gilbert and Sullivan - wrote three of the most well known musical theatre pieces: HMS Pinafore, The Mikado, and The Pirates of Penzance, which received its official premiere at the Fifth Avenue Theatre in New York on New Year's Eve 1879. Pirates is mostly known through its traditional D'Oyly Carte Opera Company production. The company performed it widely in the United States and there have been thousands of productions of it ever since.
While the entire score is familiar, most famous is "Poor wand'ring one," and the frequently parodied patter song "I am the model of a modern Major-General":
I am the very model of a modern Major-General
I've information vegetable, animal, and mineral
I know The Kings Of England, and I quote the fights historical
From Marathon to Waterloo, in order categorical
I'm very well acquainted, too, with matters mathematical
I understand equations, both the simple and quadratical
About binomial theorem I am teeming with a lot o' news
With many cheerful facts about the square of the hypotenuse
An interesting side note is the title is one of witty references: in 1879, Penzance was a docile seaside resort and no place to have found a pirate. And in their day, the title directly refers to piracy of the era -the large number of unauthorized performances of HMS Pinafore that had taken place in North America that played without royalties to its authors.
In more recent times (1981) Joseph Papp and the New York Public Theatre produced a new version that ran for 787 performances on Broadway - and used a much broader musical comedy style of performance, freeing its from earlier conventions. And now, The Hypocrites production frees Pirates of Penzance of most theatre conventions altogether.
ABOUT THE HYPOCRITES -- Artistic Director Sean Graney created The Hypocrites in 1997. The company is currently run by Graney and Executive Director Kelli Strickland. One of Chicago's premier off-Loop theater companies, The Hypocrites specializes in mounting bold productions that challenge preconceptions and redefining the role of the audience. The company has a reputation in Chicago for creating exciting, surprising, and deeply engaging theater as it re-interprets classics and tackles ambitious new works.
Their recent production of Graney's All Our Tragic, a twelve-hour adaptation combining all 32 surviving Greek Tragedies, garnered the company six 2015 Equity Jeff Awards in its first year of eligibility. Graney's musical adaptations of Gilbert & Sullivan's Pirates of Penzance, The Mikado and H.M.S. Pinafore have become audience and critic favorites, being remounted numerous times in Chicago as well as going on tour to American Repertory Theater (A.R.T.), Berkeley Repertory Theatre, Actors Theatre of Louisville and Olney Theater Center. The company has grown significantly in the past few years, receiving acclaim for productions at the Steppenwolf Garage, Goodman Theatre, Museum of Contemporary Art, DCASE Storefront, Chopin Theater and nationally at American Repertory Theater (A.R.T.), Berkeley Repertory Theatre and Actors Theatre of Louisville.
The American Theatre Wing, best known as the creator of the Tony Awards, presented The Hypocrites with one of the 2013 National Theatre Company awards. The company's smash-hit production of Our Town, directed by David Cromer, transferred in 2009 to Off-Broadway, Los Angeles and Boston. Since the company's founding, The Hypocrites have produced over sixty mainstage productions and a dozen festival pieces, securing thirty-one Non-Equity Joseph Jefferson awards, six Equity Joseph Jefferson awards and two After Dark Awards.
Sean Graney has directed over 30 productions for The Hypocrites since 1997. He recently returned from a Fellowship at the Radcliffe Institute for Advanced Study at Harvard University. In 2004 was a participant in the NEA/TCG Career Development Program for Directors. He has won four Joseph Jefferson Citation awards for the Direction and Adaptation for Sophocles: Seven Sicknesses, and Directing of Equus and Machinal. He has directed Edward II (Chicago Shakespeare Theater), The Hairy Ape (Eugene O'Neill Festival at Goodman Theatre), The Comedy of Errors, The Mystery of Irma Vep and What the Butler Saw (Court Theatre), Yankee Tavern (Milwaukee Rep), The Elephant Man (Steppenwolf for Young Audiences).
ABOUT The Pasadena Playhouse -- Celebrating its Centennial Season, The Pasadena Playhouse is one of the top regional theaters in the country and the State Theater of California. Under the new leadership of Producing Artistic Director Danny Feldman, it presents a full season of artistically innovative productions and engaging educational outreach activities to nearly 150,000 Southern California residents annually in two spaces: the 647-seat main stage theater and the 99-seat flexible Carrie Hamilton Theater. By focusing on the creation of great productions, the expansion of educational and outreach programs, the development of new plays, and the creation of innovative programs to build community, The Playhouse will boldly lead the field into the next 100 years of great theater.