Theatre West Announces Michael Van Duzer to Direct THE MAN WHO SAVED EVERYTHING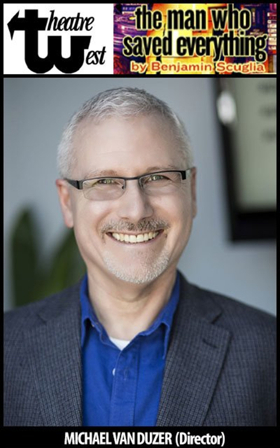 Theatre West is delighted to announce acclaimed director, Michael Van Duzer will direct the world premiere of Benjamin Scuglia's production of "THE MAN WHO SAVED EVERYTHING"- Opening August 24 and currently scheduled to run through September 23, 2018.
THE MAN WHO SAVED EVERYTHING, an original drama, is a timely, compelling and absorbing exploration of hoarding, family and memory, our possessions and the connections that bind us together.
Michael Van Duzer has directed local productions of: The Collection, What the Butler Saw, As You Like It, Rosencrantz and Guildenstern are Dead, Edward II, The Double Dealer (Best Direction), Halsted Street: Chicago(GLAAD nomination), The Lisbon Traviata and the local premiere of Daniel MacIvor's In On It (Weekly Nomination). He has helmed the world premieres of his own plays: Hopeful Romantic (Best Playwright), Recalled to Life and the one-act collection, Tawdry Tales (Best Comedy for Posing Strap Pirates), as well as The History of Gay Theatre in Something More than 60 Seconds and Trattoria of Terror both commissioned by Theatre Out in Orange County. Michael has been the resident director for the Opera Buffs since 1991, directing all their showcases as well as last year's Carmen in Concert and the upcoming La Bohemein Concert this September. At Theatre West, he directed the main stage production of The Musical Comedy Murders of 1940 and several one-acts for WestFest.
Video teaser:
ONLINE TICKETING: www.theatrewest.org
Facebook: https://www.facebook.com/TheManWhoSavedEverything/
More Hot Stories For You