Theatre Of Note Presents MARIAN, OR THE TRUE TALE OF ROBIN HOOD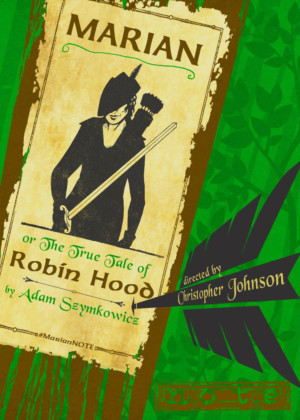 Theatre of NOTE continues its 2018 season with the West Coast premiere of MARIAN, OR THE TRUE TALE OF ROBIN HOOD, written by Adam Szymkowicz and directed by Christopher Johnson.
MARIAN, OR THE TRUE TALE OF ROBIN HOODis a gender-bending, patriarchy-smashing, hilarious new take on the classic Robin Hood myth. In Szymkowicz's retelling of the tale, Robin Hood is (and has always been) Maid Marian in disguise, and leads a motley group of Merry Men (a few of whom are actually men) against the greedy Prince John. As the poor get poorer and the rich get richer, who will stand for the vulnerable if not Robin? What is the cost of revealing your true self in a time of trouble? Modern concerns and romantic entanglements clash on the battlefield and on the ramparts of Nottingham Castle. A play about selfishness and selflessness and love deferred and the fight. Always the fight. The fight must go on.
MARIAN, OR THE TRUE TALE OF ROBIN HOOD will preview Friday and Saturday, August 17 and 18 at 8pm, and will open on Thursday, August 23 at 8pm and run through Saturday, September 22 at Theatre of NOTE, 1517 N Cahuenga Blvd (just north of Sunset) in Hollywood.
ABOUT THE CREATIVE TEAM
Adam Szymkowicz (Playwright) His plays have been produced throughout the U.S., and in Canada, England, The Netherlands, New Zealand, Australia, Germany, Greece, Mexico, Turkey, South Korea, Slovenia and Lithuania. His work has been presented or developed at such places as Portland Center Stage, MCC Theater, Ars Nova, South Coast Rep, Playwrights Horizons, LCT3, LAByrinth Theater Company, The Lark, Rattlestick Playwrights Theater, Primary Stages and The New Group, among other. Published plays include Deflowering Waldo, Pretty Theft, Food For Fish, Hearts Like Fists, Incendiary, Clown Bar, The Why Overhead, Adventures of Super Margaret, 7 Ways To Say I Love You, Rare Birds, Marian, Or the True Tale of Robin Hood, and Nerve. His plays are published by Dramatists Play Service, Samuel French, Playscripts, Broadway Play Publishing, Original Works Publishing, and featured in New York Theatre Review, the Dionysian, NYTE's Cino Nights, Geek Theater, and numerous Smith and Kraus books. He was the premier Resident Playwright at The Chance Theater in Anaheim, CA and the first playwright to participate in Bloomington Playwrights Projects' Square One Series. He has been to The Orchard Project and to JAW at Portland Center Stage, served twice as Playwright in Residence at the William Inge Center, and took part in The Dramatists Guild Fund's Traveling Masters program. Szymkowicz received a grant from the Connecticut Commission on Culture and Tourism, and has been commissioned by South Coast Rep, Rising Phoenix Rep, Texas State University, The NOLA Project, Single Carrot Theater, and Flux Theater Ensemble. Adam received a Playwright's Diploma from The Juilliard School's Lila Acheson Wallace American Playwrights Program and an MFA from Columbia University where he was the Dean's Fellow. Szymkowicz is a two-time Lecomte du Nouy Prize winner, a member of the Dramatists Guild, Writers Guild of America, and was a member of Primary Stages' Dorothy Strelsin New American Writers Group, the MCC Playwrights' Coalition and of the first Ars Nova Play Group. He has interviewed 1000 playwrights on his blog. Szymkowicz is the Literary Manager at The Juilliard School, supporting the playwriting program there.
Christopher Johnson (Director) is a co-founder of The School of Night for whom he has directed Hercules Insane, Punch and Judy, The Final Girl and The Faggot King or The Troublesome Reign and Lamentable Death of Edward II. Other Los Angeles directing credits include Entropy (Theatre of NOTE), The Pity of Things - Desert Aria (also Theatre of NOTE) and Henry VI, Part I (The Production Company). Before LA, Christopher was the founding artistic director of Chicago's historic Defiant Theatre, for whom he served as producer on dozens of projects including the U.S. premieres of Sarah Kane's Cleansed and Phaedra's Love and multiple iterations of the cult classic Action Movie: The Play. Defiant directing credits include Macbeth, Titus Andronicus, Hamlet, A Clockwork Orange and Dope. Chris also penned and directed Defiant's world-premiere adaptations of Stephen King's Apt Pupil and Thomas Harris's Red Dragon (Joseph Jefferson Citation for Best New Adaptation). Other Chicago directing credits include Balacarita: The Adventures of Young Krishna (Silk Road Theatre Project), Cave Dwellers (North Avenue Productions) and Dulcitius (The School of Night, pre-LA). Christopher has appeared as an actor at The Goodman Theatre, Chicago Shakespeare Theater, Lyric Opera, Chicago Opera Theatre, Redmoon Theater, The Building Stage, A Crew of Patches and Defiant Theatre.
ABOUT THE CAST AND DESIGN TEAM
The cast of MARIAN, OR THE TRUE TALE OF ROBIN HOOD features:Kirsten Vangsness, Dan Wingard, Sierra Marcks, Joel Scher, Stephen Simon, Cat Chengery, Alysha Brady, Liesel Hanson, Kelby McClellan, Brad C. Light, Kristian Bikic, Alexis DeLaRosa, Michelle McGregor and Sarah Lilly.
MARIAN, OR THE TRUE TALE OF ROBIN HOOD features Fight Choreographer Jen Albert, Set Designer Bill Voorhees, Lighting Designer Matt Richter and Costume Designer Linda Muggeridge. The production is Stage Managed by Kelly Egan.
SCHEDULE AND PRICING
MARIAN, OR THE TRUE TALE OF ROBIN will preview on Friday and Saturday, August 17 and 18 at 8pm and will open onThursday, August 23 at 8pm andruns through Saturday, September 22 at Theatre of NOTE, 1517 N Cahuenga Blvd (just north of Sunset) in Hollywood.
Performances are Fridays and Saturdays at 8pm, Sundays at 7pm.
Ticket prices are $25; students and seniors $20. For tickets and details, please call 323-856-8611, or visit www.theatreofnote.com to purchase tickets online and to view the complete schedule.
Special Q&A event with Kirsten Vangsness, Christopher Johnson, Kelby McClellan and vocal director Jake Anthony will be held on Sunday August 26th to discuss gender fluidity in the theater. For tickets and details for this special event please call 323-856-8611 or visit www.theatreofnote.com.
More Hot Stories For You