THE DIARY OF ANNE FRANK (LATINX) Returns to LA in January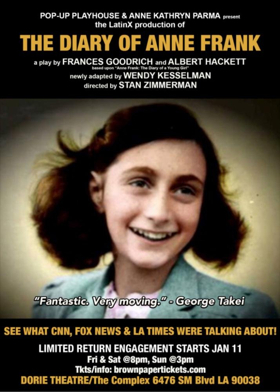 After a sold out run last fall, the recent revival of The Diary of Anne Frank, by Frances Goodrich and Albert Hackett and newly adapted by Wendy Kesselman ('97 Broadway version) will return for a limited engagement previewing January 11, 2019. Stan Zimmerman continues as director, with the original cast that includes Aris Alvarado ("Gilmore Girls"), Keith Coogan ("Adventures in Babysitting"), Tasha Dixon (Miss Arizona USA), David Gurrola ("Insecure"), Heather Olt ("The Middle"), Raquenel ("My Life is a Telenovela"), Robert C. Raicch ("Are We There Yet?"), Raymond Abel Tomas, Emiliano Torres ("Shooter"), Nikki Mejia ("Big Dogs") and introducing Genesis Ochoa as Anne Frank. The classic play will run 6 WEEKS ONLY (January 11-February 24 2019) at the Dorie Theatre, part of The Complex on LA's famed Theatre Row (6476 Santa Monica Blvd, LA CA 90038). Tickets are $25 & $35 online/ $30 door and can be purchased at https://www.brownpapertickets.com/event/3921444 Show times are Fridays & Saturday at 8pm and Sundays at 3pm. No shows February 1-3. Preview performance is Friday January 11 with an Opening Night set for Saturday January 12 @8pm. The limited engagement must close Sunday February 24 @3pm.
Diary of Anne Frank is once again being produced by Pop-Up Playhouse in conjunction with Anne Kathryn Parma. show received 4 Broadway World nominations, including Best Play, Best Actress (Genesis Ochao), Best Actor (Emiliano Torres) and Best Director (Stan Zimmerman). Filmmaker, Alan Loayza (Buzzfeed) has been following the company as the show gained worldwide notoriety for using a predominately LatinX cast. This artistic choice was inspired by a CNN report about the true story of a Jewish woman in Los Angeles who created a "Safe House" for a Latina mother and her two daughters after her husband was deported by ICE. https://www.youtube.com/watch?v=VO3c9PvZxck&t=7s
THE CAST
GENESIS OCHOA (ANNE) was born in Houston, TX and moved to Los Angeles at the age of 6. She became fascinated with singing and performing through watching her father perform with live bands. Genesis has appeared in many commercials including ones for McDonald's, Disney Channel and the WB Network. She's also lent her voice to Fox when working on the major animated film 'The Book of Life" portraying young Maria. Genesis has voiced numerous television commercials and promotions as well as for other major films. In her free time, Genesis plays many instruments including the piano and guitar. She's gone on to compose and record her own music. This year she won first place at Burbank's Singing Star competition. Genesis is also a member of John Burroughs' advanced women's show choir 'Sound Sensations'.
ALVARADO (MR. DUSSELL - SUNDAY MATINEES) studied acting at NYU and The Imagined Life studio. He performed a couple off-off Broadway shows before moving Los Angeles. He has numerous TV and film credits. His first TV role was recurring as Caesar on "Gilmore Girls". He was also a regular on Starz's "Head Case", guest starred on CBS's "Cold Case" and "NCIS". Aris starred in the movies "Kickin' It Old Skool" and "God Bless America". He appeared in the Los Angeles premiere of A Storefront Church by John Patrick Shanley as Donald Calderon. His recent work includes ABC's "American Housewife", CBS's "Mom" and a California National Parks commercial.
Keith Coogan (MR. KRALER) Born into Hollywood as the proud grandson of Jackie Coogan, Keith picked up the acting bug while watching "Sesame Street" when he was five years old. After "The Waltons", three after-school specials, four pilots, four MOWs, numerous guest appearances on your favorite TV shows from the 70s and 80s, voiced "Tod" the young fox in the last classically animated Disney film ever produced, "The Fox and the Hound", sang and danced live on The Oscars, performed stand-up comedy, and starred in dozens of feature films, including "Adventures in Babystiting", "Hiding Out", "Book of Love", "Cheetah", "Cousins", "Don't Tell Mom the Babysitter's Dead", and "Toy Soldiers". Recent credits include the feature films, "Beautiful Garden", "Limelight", and the Lifetime Original Movie, "A Tale of Two Coreys". Keith is featured in over 100 national television commercials, then over the course of four decades he performed as a regular in 3 series. He recently starred in Desperately Seeking Loveat the Whitefire Theatre.
TASHA DIXON (MRS. FRANK) is half Cuban/Puerto Rican actress in LA. She has worked on TV sitcoms like "Sh!t My Dad Says" opposite William Shatner and on dramas like Shawn Ryan's FX show "Terriers", as well as studio features. She was Miss Hispanic Arizona and Miss Arizona USA. Tasha stood up for what she believes and went on CNN and the BBC, arguably the first woman to come out on camera, to discuss Trump's abuse of power when he owned Miss USA. This performance is extremely important to her for a number of reasons. When her mom was a little girl, her family fled from Cuba when Castro took over. Her mother's journey inspired her to take on this role. Tasha is not afraid to speak up to defend human rights. Tasha continues to use her art to create and perform in projects that encourage compassion for all walks of life. She is currently developing an off-Broadway production of her experiences.
DAVID GURROLA (Peter van Daan) is a young Latino actor of Mexican decent, and a Northern California native. Both of his parents migrated from Mexico to the United States at a very young age in search of opportunity and a better life. He has always been a passionate entertainer starting by self taught break dancing at only 5 years old. Whether it's by dancing, singing, or acting David is always ready to entertain. He has been in shows like as "Insecure" and "Shameless". He has also been a part of short films such as "Dogs and Tacos", "Balloon", and a lead role in "Sin Cielo".
NIKKI MEJIA (MARGOT) is an artist from Honduras whose family immigrated to the United States when she was 6 years old. She wanted to be an actor from a young age and after being accepted into Cornish College of the Arts she found her passion for directing and writing as well. Her works are driven towards socially conscious narratives and her goal is to put underrepresented stories on TV screens and theaters across the world. She appeared in "Mala" which premiered at the Austin Film Festival, recurs on "Big Dogs" and made her network TV debut on "I'm Dying Up Here". Her theatre credits include, The Value of Moscow at Sacred Fools, Hot n' Throbbing with Illyrium Players, Truth Like the Sun at Book-It Theatre, El Nogalar and Ajax in Iraq at Cornish and many readings of new works.
*Heather Olt (MIEP) recently appeared in Mutt House at the Kirk Douglas Theatre. Other favorite theatre roles include The Max Factor Factor (Cordelia Goodwife-Celebration Theatre/ NMI), The Dianalogues, Tea and Sympathy(Laura), The West Street Gang(Anita Bryant), Brigadoon (Meg - Nat'l tour), and Best Little Whorehouse...(Angel). TV credits include recurring and guest-starring roles on Marvel's "Runaways," "The Middle," "Baskets," "Justified," "Shameless," "Major Crimes," "American Horror Story," and "Brooklyn Nine-Nine."
RAQUENEL (MRS. VAN DAAN) was first discovered at the age of 15 by Mexican music producer Sergio Andrade. After enjoying a successful career in the music industry as a singer and a composer, she shifted her focus to acting, where she is best known for her portrayal of Transito Carvajal on Telemundo's "Santa Diabla". Her work on the Telenovela earned her a Premio Tu Mundo in 2013. She has also starred in numerous other Telenovelas in Mexico and the US, including "Muchachitas Como Tu", "Las Tontas No Val Al Cielo", "Una Familia con Suerte", and "Eva La Trailera". Raquenel has also lent her talents as a host to shows like Estrella TV's "Estudio 2" and "Buscandote Un Angel" on Televisa and in 2011, she was a fan favorite as a contestant on "Mi Sueño Es Bailar", Mexico's version of "Dancing with the Stars". As well as acting in several plays and musicals throughout the US and Latin America, Raquenel has also worked as a director and a producer on many shows. Her extensive background in theatre includes productions such as "Princesas Desesperadas" (Snow White), Monologos De La Vagina" (The Vagina Monologues), and Vaselina (Grease), which she also directed. She also speaks three languages: Spanish, English, and Portuguese. Notable film credits include the role of Laura in "El dinero o la vida", as well as leading roles in "Cowboys: Gang Life 4 Ever" and "Blue Line Station". She recently starred in the WE tv series, "My Life is Telenovela". Look for her as Mariana in "Prescience", along side co-stars Eric Roberts and Linda Gray, currently in post-production.
*ROBERT C. RAICCH (MR. VAN DAAN) was part of the ensemble of The Tempest at the Noise Within Theater in Pasadena, CA. He has performed at the Repertorio Español in New York City in the production Parece Blanca. With TALEX de la SALLE Theater Group in Puerto Rico, Robert played leading and ensemble roles in the Spanish versions of The View From the Bridge by Arthur Miller, Sleuth by Anthony Shaffer, Quatre Pièces Sur Jardinby Pierre Barillet and Jean Pierre Grédy, Aquí No Paga Nadie and La Mueca del Miedoby Darío Fo.
ABEL TOMAS (MR. DUSSELL-FRIDAY & SATURDAY EVENINGS ONLY) has performed professionally all over Texas-Austin, Houston, and Corpus and was a resident performer at the Austin staple, Esther's Follies. He has appeared in such plays as Rocky Horror Picture Show, Julius Caesar, Noises Off and Psycho Beach Party.
EMILIANO TORRES (MR. FRANK) Born and raised in Oakland, California, Emi always found himself using any excuse to get on stage and entertain. He began his acting career by receiving a Bachelor of Arts degree in theatre from California State University, Long Beach. Even though he has worked on such films as "Foster Boy", "Street Kings", "The Revenant", and the family comedy, "Christmas in Compton", he prefers acting on the stage. Emiliano has appeared in such plays as Romeo and Juliet, Much Ado About Nothing, Streamers, two plays at South Coast Rep and the National Tour of Veteranos: A Legacy of Valor. Recent television credits include a recurring guest star role on "Shooter", "2 Broke Girls", "Raising Hope", "Weeds", "Justified", "NCIS: Los Angeles" and "CSI: Crime Scene Investigation".
*AEA members
THE CREATIVE TEAM
Frances Goodrich & Albert Hackett (PLAYWRIGHT) began their prolific collaboration in 1928, a partnership that lasted 34 years. The two were married while collaborating on their first Broadway hit, Up Pops the Devil. Their success on Broadway eventually led to the pair being signed by MGM, where they launched the popular "Thin Man" series. Among their most famous film credits were adaptations of Owen Wister's "The Virginian",S.N. Behman's "The Pirate", Edward Streeter's "Father of the Bride", and the musical "Seven Brides for Seven Brothers". Goodrich and Hackett were also among the many writers who toiled on Frank Capra's "It's a Wonderful Life". It took the couple two years and eight rewrites before they came up with a draft of The Diary of Anne Frankwhich pleased Otto Frank, Anne's father. The original Broadway production received the 1956 Tony Award for Best Play, and the script received the 1956 Pulitzer Prize for Drama. Goodrich and Hackett also adapted the play for the screen in 1959. Frances Goodrich and Albert Hackett remained married until her death in 1984. Albert Hackett passed away in 1995.
Wendy Kesselman (PLAYWRIGHT-NEW ADAPTATION) received a Tony Award nomination for her adaptation of The Diary of Anne Frank. which was produced on Broadway. Her other plays include My Sister in this House; The Notebook; The Last Bridge; I Love You, I Love You Not; The Executioner's Daughter; The Juniper Tree, A Tragic Household Tale; Maggie Magalita; Merry-Go-Round; Becca, A Musical; a musical adaptation of Dickens' A Tale of Two Cities; and a musical adaptation of Chekhov's The Black Monk. A member of the Dramatists Guild, she is the recipient of the New England Theatre Conference Major Award for outstanding creative achievement in the American theatre, the Susan Smith Blackburn Prize, the first annual Playbill Award, the Roger L. Stevens Award, the Jane Chambers Playwriting Award, the Lecomte du Noüy Annual Award, and a Guggenheim, McKnight, and two National Endowment for the Arts fellowships. She is also a seven-time winner of the ASCAP Popular Award in Musical Theatre. Ms. Kesselman's screenplays include "Sister My Sister" (adapted from My Sister in the House), directed by Nancy Meckler; "I Love You, I Love You Not" (adapted from her play of the same name), directed by Billy Hopkins; and "Mad or in Love" for Fox 2000. Her adaptation of John Knowles' A Separate Peace, directed by Peter Yates, aired on Showtime, won a WGA award, and was nominated for an Emmy.
Stan Zimmerman (DIRECTOR/PRODUCER) Director/Writer/EP/Creator: "secs & EXECS", "Skirtchasers" - (telloFilms web series). Consultant: "Katya" aka Russian "Roseanne" (Sony/CTC). Writer/EP/Creator: "Rita Rocks". Writer/Producer: "Gilmore Girls", "Roseanne" (WGA nomination - "Kiss Episode"). Writer: "The Brady Bunch Movie", "A Very Brady Sequel", "Annie" (ABC-TV movie), "The Golden Girls" (WGA Nomination), "Fame", "Brothers". Writer: Right Before I Go- all star benefit directed by Michael Wilson (Town Hall). Director: Pledge- World Premiere, Synthesis- World Premiere, Warm Cheese, Daughter Of..., Entertaining Mr. Sloane, BLINK & You Might Miss Me (Best Director winner- Broadway World), Spike Heels, A Tuna Christmas, Gemini. Music video "All I Want" - Whore's Mascara. Writer/Director: Knife to the Heart, Yes Virginia, Suicide Notes: In Their Own Words, Meet & Greet, It's On!(workshop-NYMF/Signature Theatre, Falcon Theatre). Dancer/Broadway: Nureyev & the Joffrey Ballet (Mark Hellinger Theatre). TV Host/Showrunner: "Situation: Comedy" (Bravo/Producer Sean Hayes). Teacher: Chapman University, Beverly Hills Playhouse, American Comedy Institute (NYC), Grand Prairie Fine Arts Academy (TX). Actor: Right Before I Go (Orlando, Claremont). Education: Cranbrook Theatre School, BFA-Drama NYU/Circle-in-the-Square.
POP-UP PLAYHOUSE (PRODUCER) presented three highly successful productions last year for their inaugural season in at the Dorie Theatre/The Complex. First up was the the all-star revival of Justin Tanner's Heartbreak Help with Melissa Peterman, Teresa Ganzel, Sarah Gilman and Tony winner Marissa Jaret Winokur, followed by the World Premier of Paul Shoulberg's Pledge. They concluded with the World Premier production of Knife to the Heart by Stan Zimmerman and Christian McLaughlin. The sold-out run starred Andrea Bowen, Anne DeSalvo, Todd Sherry and Josh Zuckerman. Pledge, Knife to the Heart and the initial run of The Diary of Anne Frank garnered a whopping fifteen BroadwayWorld 2018 nominations. Currently, Pop-Up Playhouse is presenting Zimmerman & McLaughlin's two character comedy, Yes, Virginia starring Mindy Sterling and Arnetia Walker at the Dorie until December 30th.
ANNE KATHRYN PARMA (PRODUCER) has worked as an actor with directors such as Kenny Ortega, Agnieska Holland and Michael Gallagher. Anne was also the winner of Twinkie Byrd's Hollywood Monologue Slam. This is Anne's second time producing theatre in Los Angeles, previously working on Paul Shoulberg's Synthesis, also with Stan Zimmerman.