THE MIRACULOUS JOURNEY OF EDWARD TULANE Announced At 24th Street Theatre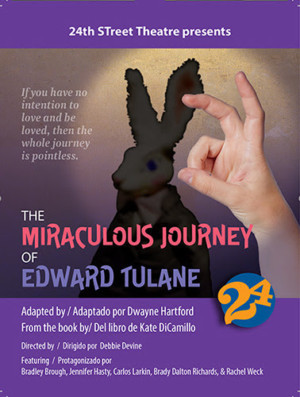 Renowned for presenting sophisticated and provocative theater that appeals to both kids and adults, 24th Street Theatre puts a cutting edge spin on a seemingly simple tale. The Los Angeles premiere of The Miraculous Journey of Edward Tulane, adapted for the stage by Dwayne Hartford from the award-winning novel by Kate DiCamillo, opens on April 6 at 24th Street's converted carriage house on the edge of L.A.'s historic West Adams historic district. Low-priced previews take place on March 9 and 10.

In this powerful and highly stylized story, Edward Tulane is a porcelain rabbit who must learn the meaning of love: what it is to love, what it is to lose that love and how to find the courage to love again.

"What is so powerful and moving is that we see firsthand what happens - the consequences -when someone is unable to love, or even to grasp the concept," says director Debbie Devine. "Edward finally learns - but only through hardship, pain and heartbreak. Yet the people around him are healed when they encounter this inanimate object, simply because they believe they can confide in it. This porcelain object is able to give solace and comfort through the act of listening. Only the audience knows it has a soul and a brain."

Edward Tulane is the latest in a string of 24th Street productions, including Walking the Tightrope, Man Covets Bird, Hansel and Gretel Bluegrass (each one a Los Angeles Times "Critic's Choice") and ICE to tackle provocative, emotionally rich subjects that can be enjoyed by both adults and kids, separately or together. In addition to sharing 24th Street's trademark sensibility with its predecessors, Edward Tulane utilizes the same award-winning creative team, including director Devine; set designer Keith Mitchell; video designer Matthew Hill; lighting designer Dan Weingarten; sound designer Christopher Moscatiello; and costume designer Shannon Kennedy. The ensemble features Jennifer Hasty, Brady Richards and Rachel Weck in multiple roles, and Carlos Larkin as the voice of Edward. The production is scored live by Bradley Brough and presented with Spanish supertitles.

24th Street Theatre is a multiple award-winning professional theater company with a unique connection to its local inner-city community: the giant green doors to the theater (a historic 1928 carriage house) are literally kept open to the street every day. Neighborhood residents, homeless people, local kids, students and visiting parents from nearby USC, and others stop in daily for coffee, conversation or to access educational, cultural and social service resources. Founded in 1997 as a more traditional theater, the community needs changed the theater's focus from simply creating high caliber art to using that art to make a difference in the lives of the local neighborhood residents. With a mission to engage, educate, and provoke its diverse community and city with an eclectic array of high quality artistic programming, 24th Street Theatre serves over 10,000 people annually: 6,000 children and youth, and 4,000 adults, the majority of whom are low-income. The 24th Street brand, marked by resolute commitment to the integrity of the work and a heightened, minimalistic style, is reflected in its arts education programs as well as in its mainstage productions for families.

The Miraculous Journey of Edward Tulane opens on Saturday, April 6 and continues through May 19, with performances on Saturdays at 7:30 p.m. and Sundays at 3 p.m. Preview performances take place on Saturday, March 9 and Sunday, March 10 on the same schedule. Tickets to all performances except previews are $24 for adults; $10 for kids under 16; $15 for students, seniors and teachers; and $2.40 for residents of the theater's surrounding North University Park neighborhood. Tickets to previews are $5. 24th Street Theatre is located at 1117 West 24th St., Los Angeles, CA 90007 (at the intersection of 24th and Hoover). Secure parking is available for $5 in the lot on the southwest corner of 24th and Hoover. The theater is air-conditioned and wheelchair accessible. For reservations and information, call (213) 745-6516 or go to www.24thstreet.org.