THE LOST VIRGINITY TOUR Opens 4/13 At McCadden Theatre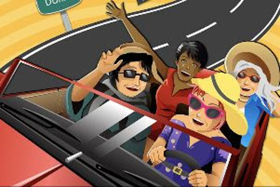 The Los Angeles premiere of The Lost Virginity Tour by Cricket Daniel has been announced by producers Jay Donohue and Michelle Hanzelova for a limited run at the McCadden Theatre in Hollywood. Under the direction of Kristin Towers-Rowles, the cast will feature (in alphabetical order) Paulette Dozier, Madonna Magee, Toni Perrotta, and Joy Rinaldi. There will be one preview performance on Friday, April 12, at 8pm. Opening is set for Saturday, April 13, at 8pm and the engagement runs through May 5 only.

Funny, profound, and provocative, this adventurous road trip through memories conjures up the choices we make that shape our lives forever - and the friendships that hold us up when we can't walk on our own. The Lost Virginity Tour is a comedy about four women recalling their first time, mining the importance of female issues, and the progress made in the past few decades.

Scenic design is by Peter Hickok, lighting design is by Derek Jones, costume design is by Halei Parker, sound design is by Christopher Moscatiello, and projection design is by Nicholas Santiago. Amanda Bailey is the assistant director and the stage manager is Rebecca Schoenberg.

Cricket Daniel has an extensive background in stand-up, theatre, and improv. She is a former member of Comedy Sportz-Santa Barbara and has worked stand-up at The Improv and The Ice House. Other plays include Couple Dating; Love, Laughter AND Lucci; Gina Galdi and Guest; Helen On Wheels; The Night Before the Night Before Christmas; I Shot Jennifer Lopez, and her award- winning 10-minute play Break Dreams which was adapted into a short film that debuted at the 2014 Santa Barbara International Film Festival. She is a recipient of the Arts Beautification and Culture Award for her contributions to theatre and also produces Bend, Oregon's annual 24/SEVEN Theatre Project.

Kristin Towers-Rowles recently directed Stage Raw's Musical of the Year, Sweeney Todd at the El Portal Theatre. Other directing credits include Scarlet Letter, the Musical (Greenway Court), Ink Fest (The Hudson), Company(Morgan Wixson), Nunsense (Crown City Theatre), The 25th Annual Putnam County Spelling Bee (El Portal), Altar Boyz and The Musical of Musicals, The Musical (Chromolume Theatre), Rent (SLO PAC), Little Women, the Musical(Sustaining Sound/Co-Artistic Director). Musical Theatre Star of the Year/Director of the Year (StageSceneLA), Best Actress/Best Director (Eddon Awards), Best Actress/Best Director (BroadwayWorld nominations).

The regular running schedule is Friday and Saturday at 8pm and Sunday at 3pm. General admission seating is $5 for the preview and $20 for regular performances. Discount tickets ($15) are available for students with valid ID and seniors. Tickets may be obtained online at www.brownpapertickets.com/event/4191014 or by calling (800) 838-3006.

The McCadden Theatre is located at 1157 McCadden Place in Hollywood, 90038.
More Hot Stories For You