SUBURBAN SHOWGIRL, Starring Palmer Davis, Comes To The Colony Theatre In Burbank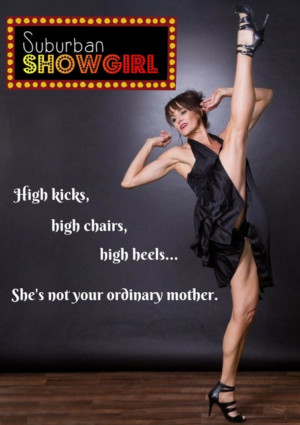 The Colony Theatre in Burbank has announced a four-performance engagement of Suburban Showgirl starring Palmer Davis from September 13-16. With musical direction by Ross Källing, Suburban Showgirl is directed by multiple award-winner Cate Caplin.
Suburban Showgirl is a hilarious and heartfelt tour-de-force about the life of the professional dancer Wendy Walker, who finds her perfectly choreographed life spinning out of control. Singing and dancing non-stop, Davis plays over 18 characters that will take audiences deep into the unpredictable journey of a dancer's life.
Palmer Davis grew up in La Jolla, CA. She complemented her dance instruction by competing in track and volleyball, earning the high jump record and MVP Award. After graduating from UCLA, Palmer danced in over a dozen regional musicals and commercials, was a Radio City Rockette, worked with Keith Carradine in the first National Tour of The Will Rogers Follies, and danced on several awards shows including the Oscars and the Emmys. She also guest starred on Castle, CSI: NY, 90210, Secret Life of An American Teenager, and she recurred as attorney Margaret Finn on CSI: Las Vegas for 10 seasons. Recently, she starred in the dance film Stepping High (now available on YouTube). Film credits include Rent, What Women Want, Dark Streets, The New Muppet Movie, Where Children Play, and Trew Calling.
Cate Caplin has produced, directed, and choreographed over 200 productions and her work has been seen on television, in films, music videos, commercials, and in theatrical venues worldwide from the Paris Opera House to the Broadway stage. She is a 34-time Regional and International Theatrical Ballroom Champion and she wrote and directed the feature film Mating Dance. She has won a Garland Award, a Women in Theatre Red Carpet Award, multiple LA Stage Alliance Ovation, Eddon, and Scenie Awards, and she was the recipient of an Award of Excellence from the LA Film Commission for her work as a writer, director, choreographer, and producer.
Ross Källing received a Drama-Logue Award for Musical Direction for Marat/Sade and The Three Penny Opera with F.A.T.E. He worked on Liz Swados' Nightclub Cantata at the Odyssey Theatre and Happy End at the Pacific Resident Theatre, among many others. He was also Musical Director at Beverly Hills Playhouse for 15 years and was founding director of music curriculum at the Academy for New Musical Theatre in North Hollywood. His plays have been produced all over Los Angeles, Seattle, Chicago, and London.
The running schedule for Suburban Showgirl is Thursday 9/13 at 8pm, Saturday 9/15 at 3pm and 8pm, and Sunday 9/16 at 3pm. Admission is $35 and tickets may be purchased online at www.colonytheatre.org or by phone at (866) 811-4111. The Colony Theatre is located at 555 N. Third Street (between Cyprus and Magnolia) in Burbank, 91502. Ample free onsite parking is available.